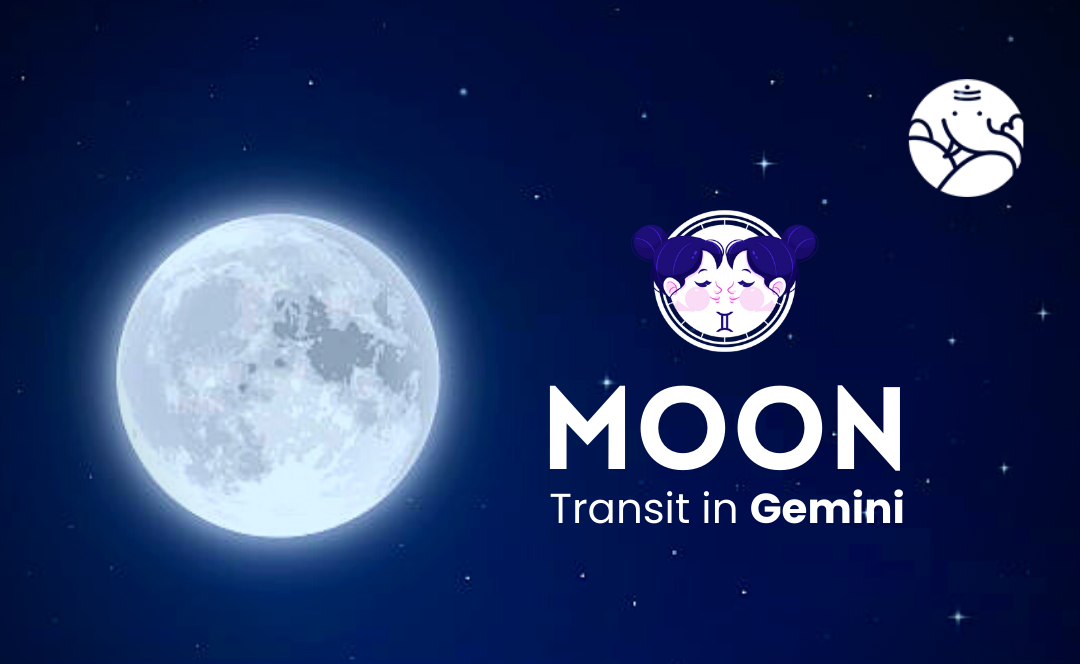 Moon Transit in Gemini
Today in January to December 2024, according to the planetary position, the Moon is transiting in Gemini, which is the first sign of the planet Mercury. According to astrological predictions, the work of Aries will be hindered by the transit of the Moon. Taurus zodiac will get auspicious results from the court. Gemini sign people should beware of enemies during this period. Cancer sign people should take important decisions in business wisely. Leo signs people can buy the new property during this transit. Virgo sign people will work hard during this time. Libra will have to work hard for money during this period. Scorpios can have problems with the eyes. Sagittarius sign people may get disappointment in every field. Capricorn sign people will attract people with their melodious voices. Aquarius sign people should avoid investing in speculation. Pisces sign people can start a new business during this period. Through this block, what will be the effect on all the zodiac signs due to the transit of the Moon in the sign of Gemini?
Moon Transit in Gemini 2024
Moon transit in Gemini 20th January 2024 
Moon transit in Gemini 16th February 2024 
Moon transit in Gemini 14th March 2024 
Moon transit in Gemini 11th April 2024
Moon transit in Gemini 8th May 2024
Moon transit in Gemini 5th June 2024
Moon transit in Gemini 2nd July 2024
Moon transit in Gemini 29th July 2024
Moon transit in Gemini 25th August 2024
Moon transit in Gemini 22nd September 2024
Moon transit in Gemini 19th October 2024
Moon transit in Gemini 16th November 2024
Moon transit in Gemini 13th December 2024
Aries
Ganesha says you may feel somewhat upset or sad due to the transit of the Moon. There may be obstacles at work. Be careful while driving there. Money can be invested in land or a house. Disagreement may arise due to ideological differences with the spouse. This time will be inauspicious for your love relationship. Keep balance in your speech, otherwise, you may have to face unnecessary problems.
Taurus
Ganesha says marriage proposals will come from unmarried people. Lovers will get an opportunity to meet. The businessman will receive a proposal for a new partnership. In a court case, the results will be in your favor. Relationships with spouses will be sweet. There are signs of getting money or financial assistance from somewhere. You will get to see the courage of your children. Students will have to make more effort to get the best results. Be cautious about your health.
Gemini
Ganesha says health may remain weak. One should beware of opponents. Do not share your mind and your strategy for working with anyone else. As far as possible, do not borrow money or things from anyone, otherwise, it may be difficult. If you are going to participate in any competitive examination, then there is a possibility of getting success with struggle. Avoid any kind of argument. Opponents will try to harm you.
Cancer
Ganesha says students will take more interest in the study of the class. This time will be fortunate for the loving couple. Businesspeople can take important decisions for their businesses. If you are employed, then your day will be normal. Today will be a favorable day to invest in some new income. Your fitness will be good and you will feel energetic.
Leo 
Ganesha says family support will continue to be received. If you want to buy a new property then this is a good time. You can buy any electronic item, you can go to the cinema or go for a picnic. There will be a romantic relationship with the spouse. There will be some additional construction work or home decoration-related work in the house. There are also chances of attending any social or family celebration.
Virgo
Ganesha says you will need special hard work and effort to achieve your goal. Many new friends can be made. There may be VAT disputes with neighbors. It is possible that there will be opportunities to participate in some festivals in the house of a close relative. Be careful when buying a vehicle. Take extra care of your health. Avoid eating unnecessary outside food. There may be an unexpected meeting with an old friend.
Libra
Ganesha says it is time for you to struggle hard due to which you may remain stressed and tired. The support of younger siblings will keep your confidence. You will have to work harder for the success of your courageous decision. Be patient during this time and keep up your work. You have to work harder to obtain money. Relationship with life partner will remain favorable.
Scorpio
Ganesha says there will be a festive atmosphere in the family or you can participate in any social activity. You will be happy from the financial side. Your house members will be pleased with you. You will captivate the hearts of others with your melodious voice. This time is not favorable for any new purchase. There may be some problem with your feet. You are likely to receive money from various sources. You will get the support of your spouse in religious works.
Sagittarius
Ganesha says during the period of the Moon, Sagittarius is showing extravagance and sadness for the people. You may get dissatisfied results in each area. So work patiently and be careful while going on a journey. This time is auspicious for lovers to get each other's company. Married life will be favorable.
Capricorn
Ganesha says this transit is particularly auspicious for making investments. Investments made in difficult times will prove to be helpful for you. Your speech will be sweet and people will be attracted to you. There are unexpected possibilities of the arrival of a guest in the house. Avoid working tirelessly as health is not showing favorability. Put aside the idea of ​​partnership in business for now.
Aquarius
Ganesha says for the people of Aquarius, this transit will definitely bring respect to society. Traders are definitely likely to make profits from somewhere. This time is favorable for investing. Your confidence will increase. Overall, this transit will be blissful for you. It will be good if some important decisions are taken after careful consideration.
Pisces
Ganesha says you will participate in some religious activities. The courage of children will fill your heart with joy and enthusiasm. Students' studies will be satisfactory. This transit will be auspicious for your love affair. In married life, the attachment towards your spouse will increase. Health will be normal. This is the best time to start a new business for the business class.