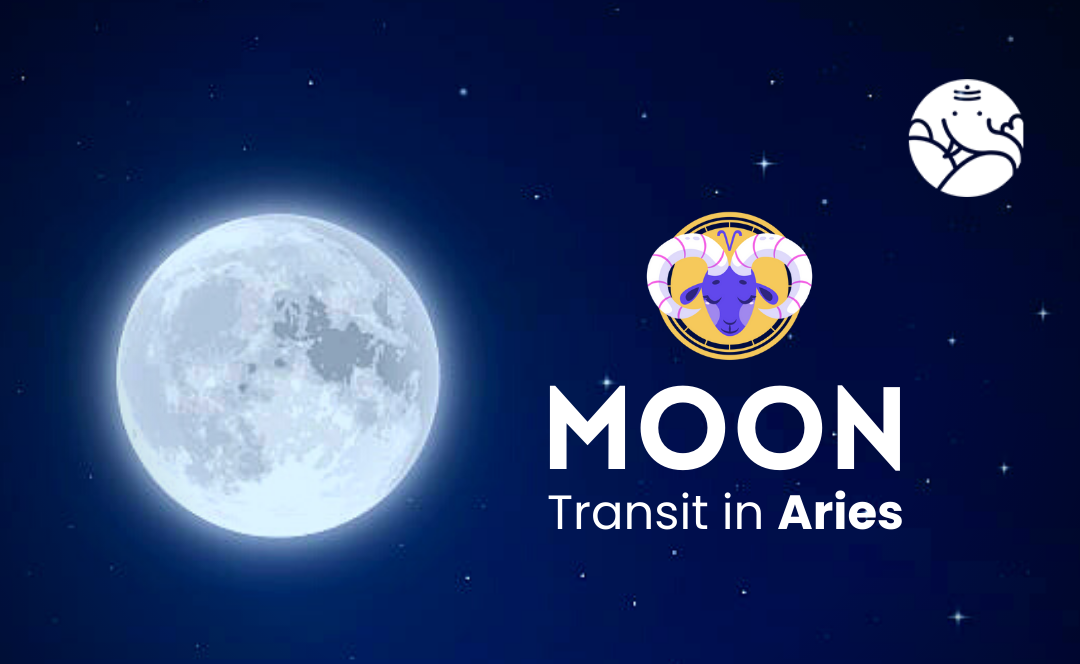 Moon Transit in Aries
Moon will move into Aries from Mars on January to December 2024. According to astrological predictions, the Moon in the 12th house is a growth factor and increases income. This moon will give special benefits to the occupations class. People of Libra and Cancer will have to be careful about their health. On the other hand, the people of Aries and Virgo will be successful in politics during this period. Business-related in iron, medical, chemical, land, building, and vehicle are very favorable during this transit. Chant a rosary of Budh Mantra for financial benefits. Also worship Lord Ganesha. Offer Durva or grass. For peace of the disease, sprinkle Ganges water in the whole house. Feed green fodder to the cow. Donate green things to eunuchs. Let us know what the effect of the Moon transiting in Aries on the twelve zodiac signs will be.
Moon Transit in Aries 2024
Moon transit in Aries 16th January 2024
Moon transit in Aries 12th February 2024 
Moon transit in Aries 10th March 2024 
Moon transit in Aries 7th April 2024
Moon transit in Aries 4th May 2024
Moon transit in Aries 31st May 2024
Moon transit in Aries 28th June 2024
Moon transit in Aries 25th July 2024
Moon transit in Aries 21st August 2024
Moon transit in Aries 18th September 2024
Moon transit in Aries 15th October 2024
Moon transit in Aries 12th November 2024
Moon transit in Aries 9th December 2024
Aries
Ganesha says that the economic condition will be very good. The obstacles coming to work will be removed. Family happiness is likely to increase. Going on a journey related to business will bring benefits. There are chances of promotion in the job place. Married life will be blissful. Health will remain good. Overall, this time is auspicious for you.
Taurus
Ganesha says that your work situation will improve. You will get relief from your worries. Your father's health will improve. You will get support from such important people who can improve your work status. Take proper care of your mother's health. Students will be focused on their study work. You will have the total support of your spouse.
Gemini
Ganesha says that time will be auspicious for you. You will earn more wealth than you expect. Your luck will be with you continuously. Your relationship with your spouse may deteriorate. So be careful. Otherwise, bitterness may increase in the future. You will get some good news from your children or they will get an award or respect in society. Soundness will be normal but there will be some mental problems.
Cancer
Ganesha says to be careful while driving, walking on the road, and working. Today is not an auspicious day to invest. Keep pace with your spouse. Some unnecessary tension may remain. Avoid unnecessary debate. Any inauspicious news can cause disappointment. Today will be a normal day for love affairs.
Leo
Ganesha says that this is the best time to get the support of your life partner. You will definitely get support. The day is favorable for studies. The business class is expected to get progress with the new partner. This time is best for increasing the accumulated capital. But it is not auspicious for speculative investment. Your health will be normal. Be careful in terms of eating and drinking outside.
Virgo
Ganesha says that time is the best for the student to get success in education. Salaried people will do their work with full confidence. Your health will be good. Pleasefulness and enthusiasm will remain in your brain. Will participate in any family function or social festival. Business people will go on a long journey for the purpose of progress in their occupations.
Libra
Ganesha says that the people of the Libra zodiac can suddenly get money. There will be relief in court cases. A friend sitting abroad can benefit you. The health of the kids has to be taken care of. This time can also prove to be auspicious for business people. During this time old friends can be met. New schemes will prove beneficial.
Scorpio
Ganesha says that you will get rid of your stress and problems. At this time you will be happy with your family and friends. You may participate in a social event or family function. Will buy a new vehicle or can get money from his parents. Your relations with your mother will remain auspicious. This transit is good for increasing your accumulated capital.
Sagittarius
Ganesha says that you will be a victim of fatigue and laziness. Your confidence will increase. A difficult decision taken by you will make you work hard. You will get wealth only through hard work. Relations with the spouse will remain sweet. Good news will also be earned from children. Students will be well-turned in fulfilling their objectives.
Capricorn
Ganesha says that you will try your hand at some extraordinary tasks with enthusiasm and courage. Will also do some short trips. Economic conditions will be normal. Be careful about your health. If you are planning to buy a vehicle then postpone it at this time. Your relationship may get strained due to any dispute with your life partner.
Aquarius
Ganesha says that he will definitely get respect in society. There are definitely chances of many profits for the trader's business. This time is not auspicious to invest in speculation. You will be self-sufficient. Overall, the day will be happy for you. It will be good if all important decisions are taken alertly.
Pisces
Ganesha says that your expenditure will be more than your revenue. Avoid spending money unnecessarily, otherwise, you will have to face a financial crisis. Your younger siblings may try to harm you. There can be bitterness in the relationship with your life partner. So control yourself and avoid unnecessary debate, otherwise, your home environment may get affected. Today will not be auspicious for your health and investment work.