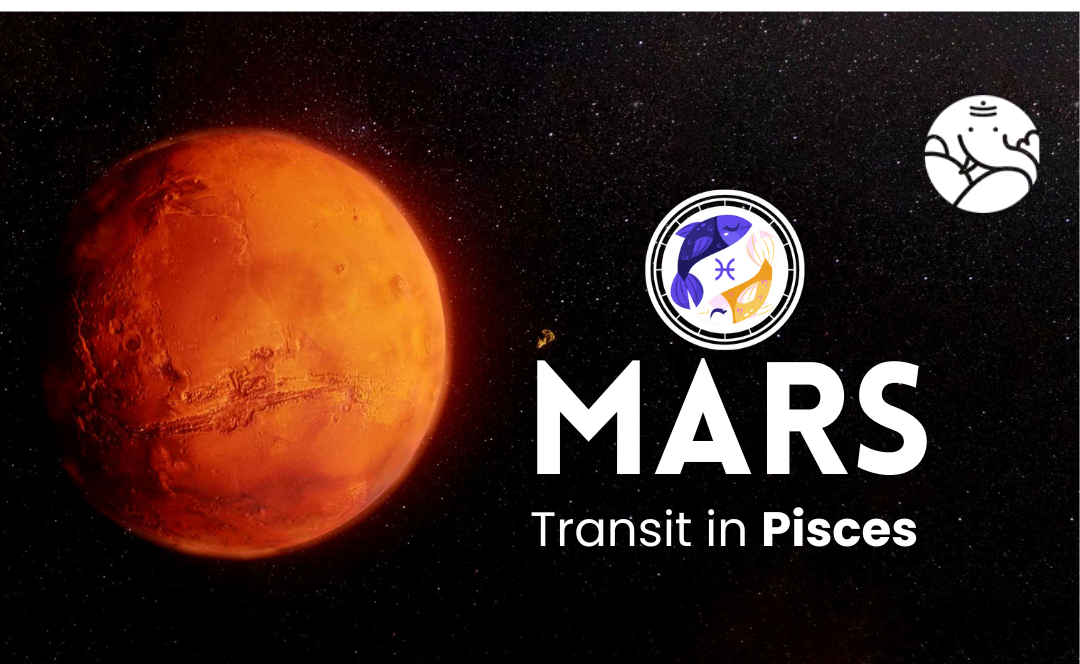 Mars Transit in Pisces
On April 23, the generals of the planets are going to move out of Aquarius and transit into Pisces, the sign of Jupiter. Being a friendly sign, Mars will give auspicious results for most of the zodiac signs. In mythology, Mars is considered the god of war, while in astrology, Mars is related to the element of fire, so it is a fierce planet. According to Vedic astrology, Mars is considered to be the factor of energy, speed, land, power, brother, bravery, courage, bravery, etc. What kind of results a person will get during the transit of Mars depends on the house in which Mars is transiting in the horoscope or zodiac sign. Because the results of Mars transit in all the 12 houses of the zodiac are different. Let us know from astrological predictions that the transit of Mars will affect all zodiac signs…
Mars Transit in Pisces 2024
Mars Transit in Pisces 23rd April 2024
Aries
Ganesha says that your competitive energy will increase and you will be strongly motivated to do any work. You will be determined and strong enough to pursue your goals with dedication. From the point of view of health, there is a possibility of your health being fragile during this period. You may have problems like fever, and headache. You are advised to take care of your health and be careful while driving or walking on the road.
Taurus
Ganesha says that due to the influence of Mars, there can be disagreements in the family about some things. Try to harmonize the relationship with your energy by agreement between loved ones. You would desire a peaceful and comfortable environment during the transit. For those who are working in multinational companies or dealing with foreign customers, this time is also going to be favorable for them. You are more likely to benefit from your dealings abroad during this period.
Gemini
Ganesha says to move forward to motivate and inspire your siblings toward fulfilling their goals and ambitions. This transit of Mars will empower you for direct, clear, and firm communication. There is a strong possibility that during this time you can be successful in getting the job of your choice. Apart from this, the natives who want to enter into a new venture or are planning to start something new may get successful in their endeavors during this period.
Cancer
Ganesha says that you will have a desire to increase the sources of income. Find a new source of income. You should use your energy in preparing financial planning strategies, budgeting, and investing for the long term. From the point of view of education, this is such a time that if you are planning for further studies then you are more likely to get positive results in your plans. During this time you will be able to see some improvement in your relationship with your father.
Leo
Ganesha says that you will not be afraid to express your opinion clearly and strongly. You may indulge in some physical activity or a challenging project, which will be physically exhausting to complete. During this time you may have to face some health-related problems. You may feel a decrease in your energy or rather feel weak.
Virgo
Ganesha says that this transit of Mars will strongly motivate you to combat self-doubt, negative energies, and criticisms and reduce emotional burden. At this time, doing meditation or taking the help of counseling will be very beneficial. During this time you may have to face some problems in your married life due to the interference of a third person. There may be some disputes and arguments between you.
Libra
Ganesha says that your determination and decisive action can inspire and motivate others. This is the right time to set ambitious goals and explore opportunities. Small risks can be taken to fulfill your further objectives. There is a possibility of deterioration in your health as well. During this time problems like back pain and ulcers may trouble you.
Scorpio
Ganesha says it is time to showcase your unique talents and abilities to the world. You may look for opportunities to lead a project. Your competitive energy will propel you to cover long distances. This time is going to be very good for your married life. You may seem more attracted to your beloved and may try hard to fulfill his/her every little wish, in other words, you may be completely devoted to him/her.
Sagittarius
Ganesha says that during the transit of Mars, your craving for knowledge and exploration will increase and you will seek new experiences through travel, higher education, and spiritual pursuits. This time can prove to be favorable for those natives who are working with foreign customers. During this time you will be able to earn a lot of profit from your dealings.
Capricorn
Ganesha says that the transit of Mars will deeply affect your emotional and intimate relationships. Disputes may increase in relationships but try to handle this carefully. This is the time to sort out problems with your partner and maintain a balance between your desires and the needs of your partner. This time is also strong for those people, who want to convert the work of their interest into their profession. By doing this you can get success quickly and easily.
Aquarius
Ganesha says that this is the time to express your point of view firmly, negotiate compromises, and maintain a balance between professional and personal life. Single people of Aquarius can hear good news related to marriage. Talking about students, Mars can give you some hindrances in your education. For this reason, you will not be able to give a good performance in your studies due to your ill health or confused attention. On the other hand, from the point of view of health, this transit can give you some eye problems.
Pisces
Ganesha says this is the time to adopt a fitness routine, good habits and focus on your overall health. Avoid getting angry or losing your temper. You will be able to perform your tasks in the best way with more energy. Your inclination will be more towards your family and near and dear ones and you may plan to do something special for them by gifting some things or spending time with them.