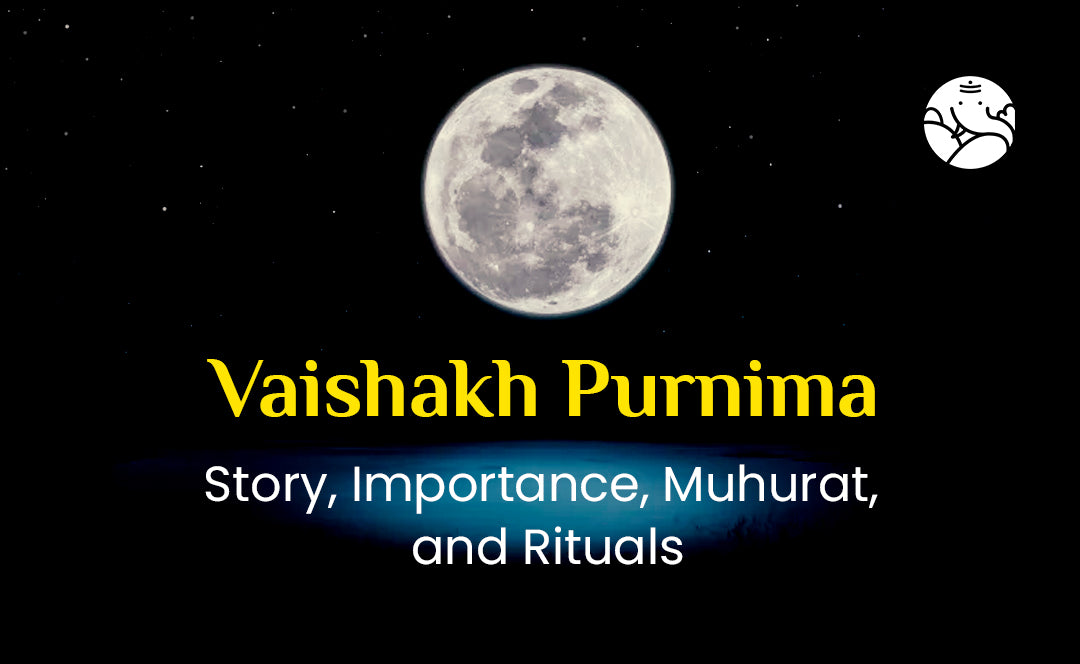 Vaishakh Purnima Story, Importance, Muhurat, and Rituals
Purnima has special religious significance in Hinduism. Lord Vishnu and Chandra Dev are worshiped on every full moon day. Of these, the full moon of Vaishakh month is very important. According to mythology, Lord Budha was born in Vaishakh Purnima. For this reason, the importance of Vaishakh Purnima increases even more and this full moon is also known as Budha Purnima. According to religious scriptures, Lord Buddha himself was the ninth incarnation of Lord Vishnu. That's why special virtue is achieved by worshiping methodically on the day of Budha Purnima.
Vaishakh Purnima Story
It is a matter of Dwapar Yug, once Mother Yashoda said to Lord Krishna, O Krishna, you are the protector of the whole world, you tell me such a law that no woman should be afraid of becoming a widow and get the result of fulfilling her wishes. After listening to the mother, Shri Krishna ji says, Mother, you have asked me a very good question. Let us tell you in detail about one such fast.
All women should fast for the whole 32 months to get their good fortune. It brings good luck and protects children.
There was a city named Kantika full of gems under the rule of a very famous king Chandrahasya. In which a Brahmin named Dhaneshwar used to reside. His wife's name was Sushila, she was very beautiful. There was no dearth of wealth in his house. But, the Brahmin and his wife had no children. One day a monk comes to that city, he takes alms from everyone's house but does not take alms from a Brahmin's house. Now that monk does the same every day. Taking alms from everyone's house in the city, he goes to the banks of the river Ganges and eats. Seeing all this the Brahmin becomes very sad and goes to the sage and asks that you take alms from everyone's house in the city but not from my house, what is the reason for this? That's why the monk says that you are childless, taking donations from such a house becomes like the food of a fallen person. That's why I don't want to be a partaker of sin. Hearing this, Dhaneshwar becomes very sad and with folded hands says to the monk Munivar, you tell me such a solution, by which I can get a child. Then the sage asked him to worship Maa Chandi for sixteen days. After that, the Brahmin couple did as told by the monk.
Mother Kali appeared after sixteen days after being pleased with her worship. Mother Kali gave a boon to the Brahmin's wife to become pregnant and said that you should light a lamp on every full moon according to your ability. In this way, keep increasing the lamp till every full moon, until there are at least thirty-two lamps. The Brahmin plucked the unripe mango fruit from the tree and gave it to his wife for worship. His wife worshiped and as a result, she became pregnant. On every full moon, she used to light a lamp as per the instructions of Maa Kali. By the grace of Maa Kali, a son was born in his house, who was named Devdas. When Devdas grew up, he was sent to Kashi to study with his maternal uncle. An accident happened to both of them in Kashi, due to which Devdas got married by deceit. Devdas said that she was young, but still, she was forcibly married. After some time, Kaal came to take their lives, but the Brahmin couple had kept a full moon fast, so Kaal could not harm them. Since then it is said that fasting on the full moon gives relief from troubles and all wishes are fulfilled.
Vaishakh Purnima 2023 Muhurat
Vaishakh Purnima: Friday, May 5, 2023




Poornima Tithi Begins: May 04, 2023, at 11:44 PM




Full Moon Date Ends: May 05, 2023 at 11:03 PM
Vaishakh Purnima 2023 Importance
Bathing in the holy rivers on the day of Vaishakh Purnima is considered to be of special importance. Due to this, thousands of devotees earn virtue by bathing and donating in holy places of pilgrimage. On this day, with devotion and devotion, one can get virtuous benefits by mixing Narmada or Ganges water in the bath water. The dates from Vaishakh's Shukla Paksha Trayodashi to Purnima are called Pushkarani, they are very sacred and auspicious and destroy all sins. Bathing in these, meditating on the Lord, and doing charity and charity give the fruits of bathing for the whole month.
It is mentioned in Narada Purana that nectar appeared on the Ekadashi date of Vaishakh month, Lord Vishnu protected it on Dwadashi, Sri Vishnu made the deities happy on Trayodashi, and on Chaturdashi killed the anti-god demons and on the full moon day of Vaishakh, all the deities died. got his kingdom. Therefore, the gods were pleased and gave a boon to these three dates - 'May these three auspicious dates of Vaishakh month destroy all the sins of man and provide all kinds of happiness'. If a creature who is unable to follow the rules for a month can restrain his desires even for the above three days, then he experiences bliss in the abode of Lord Vishnu after getting the full fruit. The person who recites the Gita on the last three days of Vaishakh month gets the fruit of Ashwamedha Yajna every day. Those who recite the story of Lord Satyanarayan on the full moon day, get the immense blessings of Lord Vishnu.
Vaishakh Purnima 2023 Rituals
On the day of Vaishakh Purnima, devotees take a holy dip in the holy river before sunrise.





After that, prayers are offered to the deity by worshiping the idol of Lord Vishnu.





Observing the fast of 'Vaisakh Purnima' or 'Satyanarayan' is considered auspicious for this special day.





Devotees should also chant 'Satyanarayan Katha' to please the deity





Sacred food is prepared and offered to the idol of Lord Vishnu.





Devotees are required to perform Satyanarayan Puja and along with it, they must necessarily offer sandalwood paste, betel nuts, fruits, flowers, banana leaves, etc.





In the evening, devotees also worship the Moon God by performing the ritual of 'Arghya'.





Donating food, clothes, and money on the day of Vaishakh Purnima is also considered auspicious and is considered the practice of 'Anna Daan'.
Highlights of Buddha Purnima
Buddha Purnima is celebrated on the last date of Vaishakh month.





Shri Krishna had told them about the importance of the Vaishakh Purnima fast with his friend Sudama.





Keep in mind that the full moon fast is not considered complete without seeing the moon.
Conclusion
According to the scriptures, Vaishakh Purnima has special significance. It is believed that donating on this day is very auspicious. It is said that the donation made on this day gives manifold results. Apart from this, it is also believed that fasting on Vaishakh Purnima gives freedom from sinful deeds. Also, after death, one gets a place in Vaikunth Lok. Also, on this day, worship of Lord Vishnu removes sorrows, such is the belief. Talk to astrology to know more about Vaishakh Purnima.