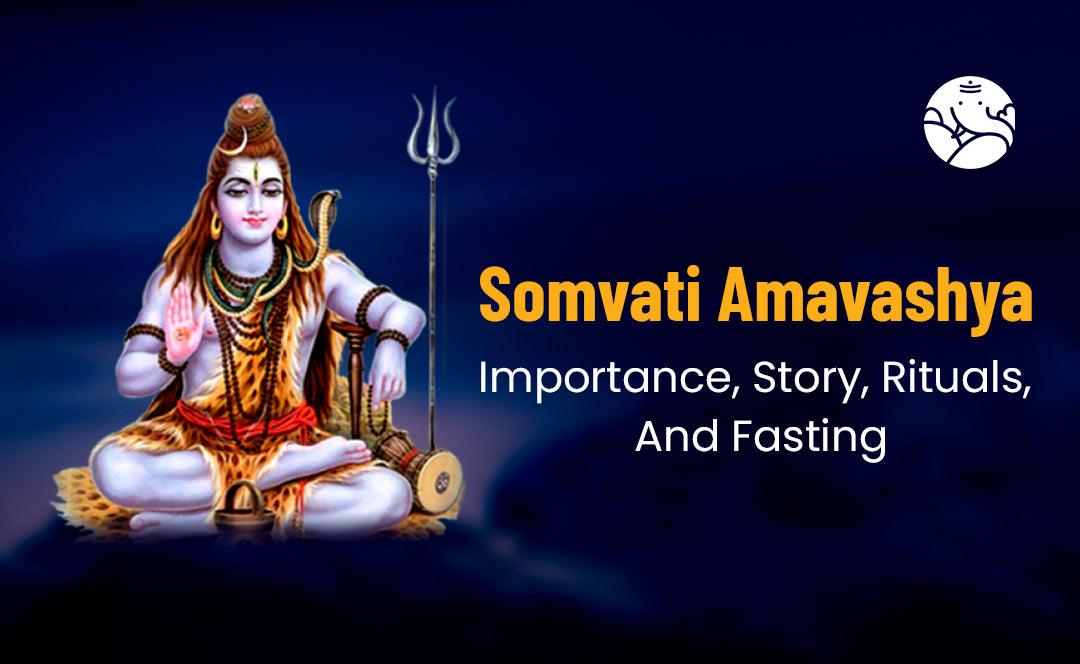 Somvati Amavashya Importance, Story, Rituals, And Fasting
Somvati Amavasya is considered to have special importance in Hinduism. Amavasya deciduous on Monday is called Somvati Amavasya. Somvati Amavasya is dedicated to Lord Shiva. It is believed that the person who fasts on this day does not face any problems in his life and happiness and prosperity increase. There is also a law to worship ancestors on this day. Somvati Amavasya coincides only 2-3 times a year. Worshiping ancestors on Somvati Amavasya brings their blessings and their souls find peace. According to beliefs, by taking a dip in the Ganges and donating on this day, many times virtuous fruit is obtained.
Somvati Amavasya 2024 Date and Time
Somvati Amavasya in April
Amavasya Tithi starts: Monday, April 08, 2024 at 3:21 am
Amavasya Tithi ends: Monday, April 08 2024 at 11:50 pm
Somvati Amavasya in September
Amavasya Tithi starts: Monday, September 02, 2024 at 5:22 am
Amavasya Tithi ends: Tuesday, September 03, 2024 at 7:25 am
Somvati Amavasya in December
Amavasya Tithi starts: Saturday, December 30, 2024 at 4:02 am
Amavasya Tithi ends: Sunday December 31, 2024, at 3:56 am
Significance of Somvati Amavasya
Somvati Amavasya is an auspicious day, as it is also associated with Lord Shiva. There is special importance in fasting on this day. Along with this, people also pray to their ancestors on this special day. Thus, Pitru Puja is featured on the auspicious day of Somvati Amavasya. Also, people wish for salvation after taking a dip in the holy river Ganga.
The importance of Somvati Amavasya has also been explained in the conversation between Bhishma Pitamah and Yudhishthira in the Mahabharata epic. According to the Mahabharata legend, Dharmaraja Yudhishthira was concerned about the fate of the Kuru-Pandava lineage. Taking this concern of his, he went to Bhishma Pitamah and expressed his concern to him. Bhishma Pitamah advised Yudhishthira to observe Somvati Amavasya Vrat to fulfill his wishes. At the behest of his grandfather, Yudhishthira kept a fast on Amavasya, as a result of which he got the solution to all his worries.
Rituals and Fast of Somvati Amavasya
On this day, it is a common sight to see Hindu women worshiping the Peepal tree, which is considered a sacred tree in India. The sacredness of the Peepal tree is attributed to the belief that the Hindu trinity – Brahma, Vishnu, and Shiva (also known as Trimurti) – resides in this tree. Women tie a sacred thread dipped in turmeric and sandalwood paste around the trunk of the Peepal tree. They circumambulate the tree 108 times with folded hands. This ritual performed by women is called Parikrama. On Somvati Amavasya, pouring milk and water into the roots of the Peepal tree is another common practice. They offer flowers, sandalwood paste, vermilion, turmeric, and rice (Akshat) near the trunk of the Peepal tree. Ardent devotees of the Hindu trinity sit under the Peepal tree and chant mantras to please the trinity. Married women fast and pray for the long and healthy life of their husbands. Lord Shiva is specially worshiped by married women on this day.
Story of Somvati Amavasya
According to legend, a poor Brahmin had a daughter. She was very beautiful, gentle, and all-rounded. But due to being poor, he was not able to get married. One day that Brahmin showed his daughter's horoscope to a monk Maharaj. Sadhu Maharaj said that there is widow yoga in the life of this girl. The girl's parents got upset due to this, and they asked Sadhu Maharaj for a solution, what should Maharaj do so that this defect can be removed from her life? The monk said that a washerwoman named Sona lives with her son and daughter-in-law in a nearby village. He is rich in rituals, the husband is devoted and loyal.
If this girl serves him, and in the marriage of this girl, that woman applies vermilion of her demand, then her widowhood can be eradicated. The next day the girl got up early and went to serve the washerwoman and there she would do all the household chores and return before he woke up. This went on for many days, the girl would go in the morning and return after doing all the work. The washerman did not know about this. One day the washerwoman said to her daughter-in-law that you get up early in the morning and do all the work and do not even know.
The daughter-in-law said mother-in-law, I thought that you woke up in the morning and do all the work. I wake up late. After this, both of them made up their mind to monitor who gets the job done. After many days the washerman saw that a girl comes in the dark and left after doing all the work. One day that washerwoman pleaded with that girl and started asking who are you and why do you do my housework secretly like this? Then the girl told all the things told by the monk. Sona the washerwoman was loyal to her husband, she was sharp. She agreed. Sona Dhobin's husband used to be unwell.
She left with the girl, asking her daughter-in-law to stay at home till she returned. After this, as soon as the washerman applied the vermilion of his demand to that girl's demand, her husband died. The washerman came to know about this. She had left home waterless, thinking that if she finds a Peepal tree somewhere on the way, she will receive water only after circumambulating it by giving it a whirlpool. That day was Somvati Amavasya.
Instead of the pue-dish found in the Brahmin's house, he circumambulated the Peepal tree 108 times by giving Bhandari 108 times with pieces of brick and then took water. As soon as she did this, her husband came back to life. That's why it is believed that fasting on this day brings good results.
Conclusion
Observing Somvati Amavasya Vrat brings positive results in life as well as the divine blessings of Lord Shiva. Whoever remembers Lord Shiva in his prayers, all his wishes are fulfilled. Pitra Puja or rituals for our ancestors in the family are performed on Somvati Amavasya. Many Hindus observe a fast on this day as it is believed to bring peace and well-being to the family. Taking a bath in holy rivers like the Ganga on Somvati Amavasya, especially in Haridwar or Triveni, will bring prosperity and peace as well as a healthy life that will ward off diseases and be free from them. If you want detailed information about Somvati Amavasya, then talk to the astrologer.