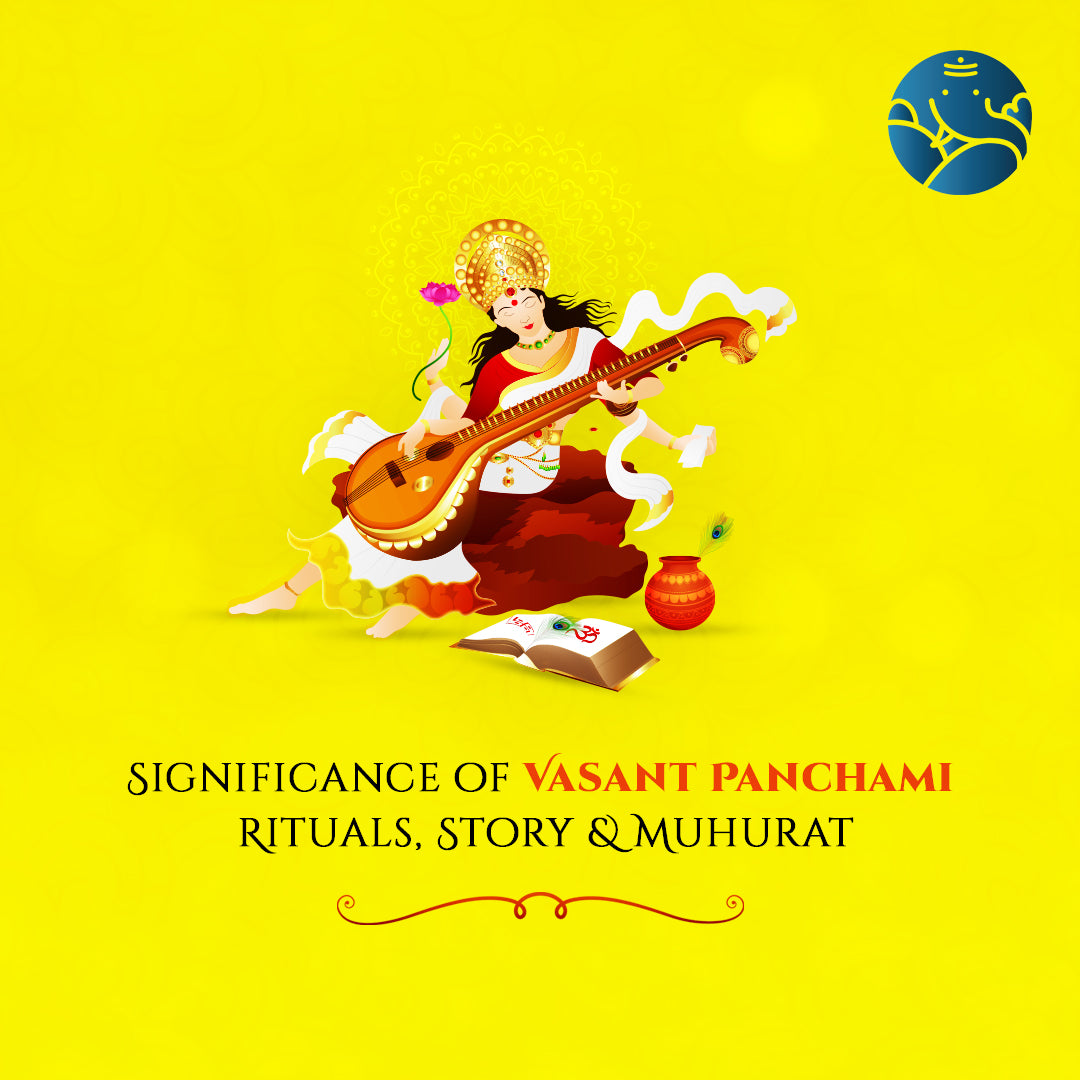 Significance of Vasant Panchami Rituals, Story and Muhurat
Vasant Panchami is a traditional Hindu festival. Which is celebrated when the spring season comes in India. On this day people worship Goddess Saraswati with proper rituals. And take the blessings from Goddess to get rid of lethargy, ignorance, and sluggishness. It is celebrated on the fifth day of the bright half month of Magha which is mostly January or February. In 2022 the festival of Vasant Panchami falls in February Month, where the people worship the Goddess, take her blessing. And start their journey of life in this new year. This festival has great importance astrologically. 
Vasant Panchami is known as the festival ideal of creation, music, knowledge, love, wisdom, learnings, and art. Apart from all of this, the astrological importance is that the sun completed 30 days on the bright day of the month Magha. By this, there are some new and positive changes from this day. It gives pleasant changes in each sign for the betterment of life.
Story of Vasant Panchami
The Vasant Panchami is one of the most ancient and traditional festivals of India. It is celebrated at the start of the Spring Festival. The festival holds great importance in Hindu tradition. The festival is celebrated as the birth day of Goddess Laxmi, this day people worship the goddess with proper rituals and seek blessings from the goddess. IT gives knowledge, wisdom, happiness, and peace in life. It is the festival of new beginnings in life and gives good times in life.
On this auspicious day, Lord Brahma incarnated Goddess Saraswati. This day becomes the symbol of prosperity and good times in life. On Vasant Panchami, Goddess Saraswati is covered in yellow making her association with the festival. People also dress in traditional yellow clothes and share yellow-colored food items on this day. And, Vasant Panchami which is a special occasion to worship Goddess Saraswati is a day to celebrate knowledge as in some traditions, children are initiated into education on this day.
Rituals of Vasant Panchami
For the Rituals of Vasant Panchami, there are ingredients which are necessary like Idol of Saraswati, Kesar, Haldi, Rice, Turmeric, Tilak, Flowers, Kum Kum, gangajal. Diyas, and candles.
On the special day of Vasant Panchami, everyone cleans their house first and then prepares for puja. Before that, take a bath with a paste of Neem or Turmeric as a white or yellow color favorite of Goddess Saraswati.
Clean the Goddess Saraswati Idol on the temple or Puja Pandal.
Place a book, notebook, or musical instrument in front of Idol for worship.
Decorate this temple place with yellow and white flowers, KumKum, turmeric, rice, and Diyas.
Recite chants, mantras, and aarti for Goddess Saraswati.
Pray with your family to seek blessing, happiness, peace, and good times by the Goddess Saraswati on the festive day of Vasant Panchami.
Muhurat of Vasant Panchami
On such a special and traditional important festival, Muhrat is really important while worshiping the god. The prayers should be done in the respected Muhurat only. Otherwise, it won't bring any blessing and a good time in life. Make sure to have the knowledge of the Muhrat before performing the rituals. For the year 2022. The date of Vasant Panchami is February 5 on Saturday. The Murat for praying is from 07:18 am to 12:54 pm. And the tithi begins at 03:47 am on Feb 5, 2022. And ends at 03:46 am on Feb 6, 2022. Pray in the perfect Muhurat and get the blessings and good beginnings in life.
In conclusion
We can say that the festival of Vasant Panchami is an ideal festival to open up the direction in our life. And filled it with the blessings of Goddess Saraswati. To know more about it take online astrology consultation for proper guidance.