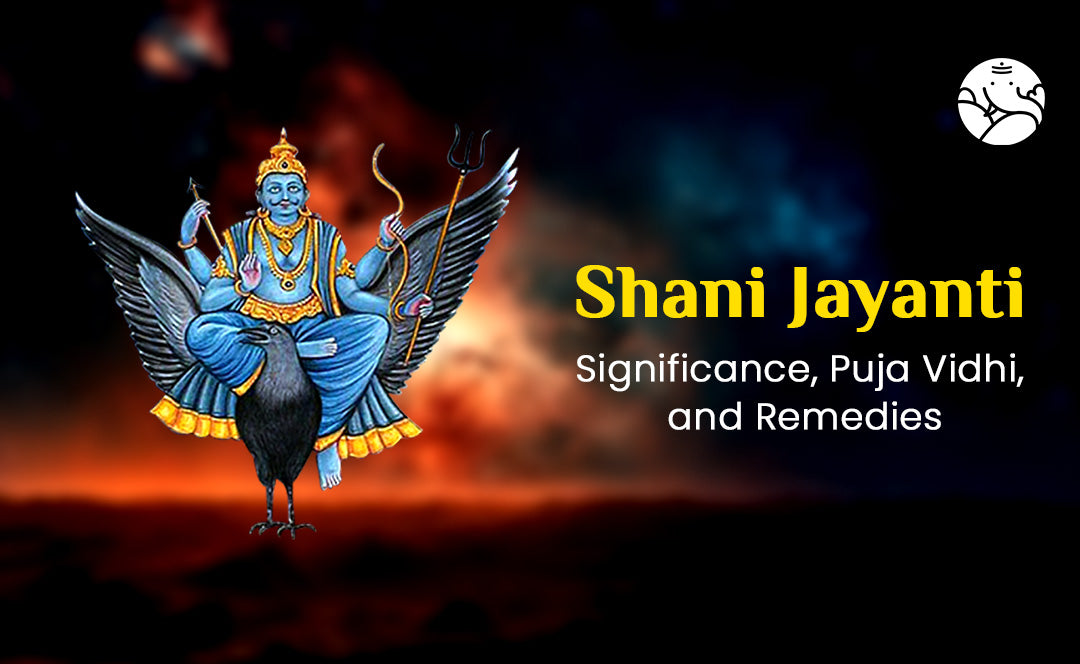 Shani Jayanti Significance, Puja Vidhi, and Remedies
Shani Jayanti is celebrated on the new moon day of Jyestha month, this time the auspicious date is 06 June. According to religious belief, Shani Dev, the son of Sun God and Goddess Chhaya was born on this day. Along with this, Yama and Jawane are also his brothers and sisters. On the day of Shani Jayanti, the official worship of Shani Dev, the god of justice, is considered very small. By the grace of Shani Dev, one gets freedom from the inauspicious effects of Saturn's half-and-half and Mahadasha. This year, many auspicious yogas are being made on Shani Jayanti, due to which the importance of this day increases even more, in such a situation, people who are affected by Shani do special worship of Shani Dev on this day. Let us know the importance, auspicious measures, and celebrations of Shani Jayanti.
Shani Jayanti 2024
Thursday, 06 June 2024
Shani Jayanti Begins: 05 June 2024 at 07:54 PM
Shani Jayanti Ends: 06 June 2024 at 06:04 PM
Shani Jayanti Significance
Shani Dev is considered the god of justice. Shani Dev gives the same result as one does, that is, the actions of a man give the same result. Shani Dev has a prominent place among the nine planets and it is also the slowest-moving planet among all the planets. Even by jurisprudence, Shani Dev has been described as the cause of inauspicious sight as a sin planet. People who are suffering from Shani Mahadasha, Sadhesati, and Dhaiyya get good benefits from worshiping on the day of Shani Jayanti. Shani Jayanti is the best day to get the grace and blessings of Shani Dev. By the grace of Shani Dev, there is never a shortage of anything in life and there is a flow of positive energy all around.
Shani Jayanti Puja Vidhi
On the date of Shani Jayanti, take a pledge to fast and worship in Brahma Muhrat. If you are worshiping at home, place a black colored cloth in a clean house and place an idol or picture of Shani Dev on it. After this, light a lamp of ghee or oil and anoint the idol of Shani Dev with Panchamrit, then offer perfume. After this make kumkum, akshat, gulal, fruit, blue flower, etc. offer things of worship. Offer sweets made of oil or Imarti to Shani Dev. Then after Panchopachar and Puja do Aarti chant the mantra and then recite Shani Chalisa. If you are worshiping in a temple, anoint Shani Dev with oil along with Panchamrit. Do this work selflessly there too. On this day, donate items related to Shani like sesame oil, black sesame, iron items, black urad dal, etc. After worshiping Shani Dev, also worship Lord Shiva and Hanumanji.
Shani Jayanti Remedies
On Shani Jayanti, recite Shani Stotra in Dasarathakrit.

Serve parents and respect and help elders as well as poor and religious people.

Abhishek Shani Dev with oil and light an oil lamp.

Donate black gram, black urad dal, black sesame, etc. things related to Shani.

Keep fast on Shani Jayanti and recite Shani Chalisa.

Plant a Peepal tree on the day of Shani Jayanti.

Along with Shani Dev, worship Lord Shiva and Hanumanji on Shani Jayanti.
Conclusion
It is said that remembering Lord Shani on this auspicious day reminds one to become a better person in life. The day is very relevant as it teaches us to walk on the side of ethics which helps others and makes us a better version of ourselves. If you want to know more details about Shani Jayanti then you can talk to astrologers.