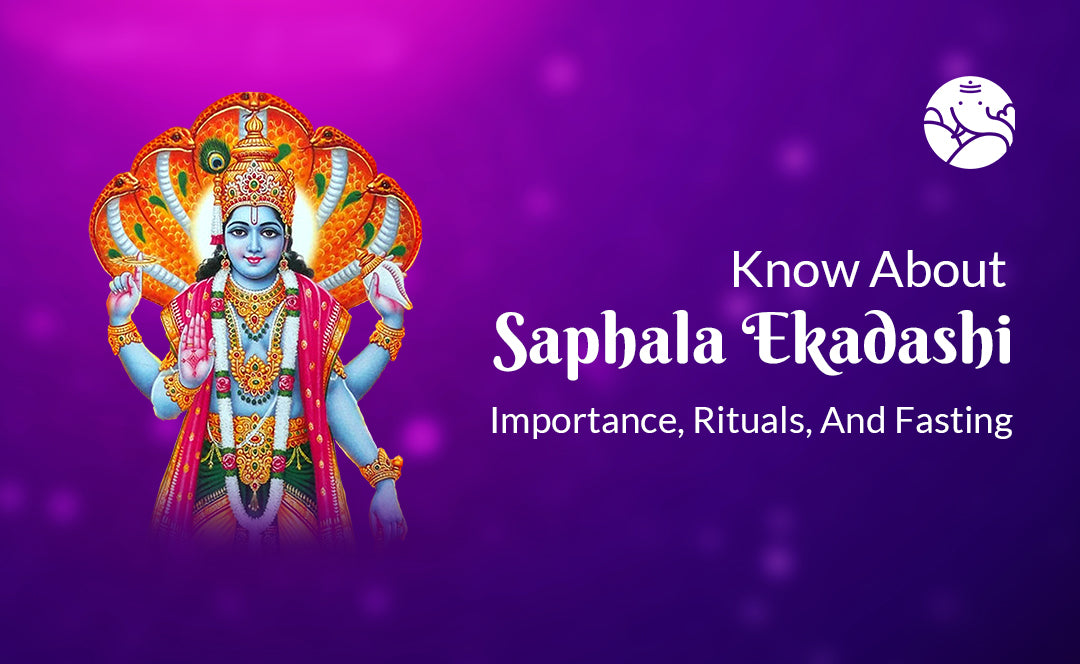 Know About Saphala Ekadashi Importance, Rituals, And Fasting
Saphala Ekadashi will be celebrated on 19th December, Monday. Lord Achyut and Lord Vishnu will be worshiped on this day. It is considered very auspicious to feed the poor and Brahmins on this day.
Saphala Ekadashi is considered the first Ekadashi out of 24 Ekadashis. But this year Saphala Ekadashi will be celebrated as the last Ekadashi of the year. Ekadashi fast has been said to be very good in Hindu scriptures. It is believed that the merit of this fast is greater than that of rigorous penance, Ashwamedha Yagya, and bathing in all holy rivers. Due to the virtue of fasting on Ekadashi, a person's sins are destroyed and he lives happily on earth and finally moves towards the supreme abode. If you also want to be a part of its virtue by observing this fast, then you can start this fast from Saphala Ekadashi.
Saphala Ekadashi 2022 Shubh Muhurat
Saphala Ekadashi will be celebrated on the date of Krishna Paksha of Paush month. According to the Hindu calendar, Saphala Ekadashi will begin on Monday, December 19, 2022, at 03:32 am and will end the next day, December 20, Tuesday, at 02:32 am. Saphala Ekadashi will be celebrated on December 20 from 08:05 am to 09:18 am.
Saphala Ekadashi Puja Method
Any Ekadashi fast starts after sunset on Dashami. Have food before sunset on Dashami Tithi. After this follow the rules of fasting. On the morning of Ekadashi, wake up before sunrise and first of all, take a bath and take a pledge to fast. Then duly worship Lord Vishnu by sprinkling Ganges water. Offer Roli, Akshat, sandalwood, flowers, basil leaves, incense sticks, supari, and fruits to God. After this, read the story of Saphala Ekadashi fast. Offer prasad and perform aarti. Keep fast throughout the day. Stay awake at night and chant the hymns of Narayan. The next day, after taking a bath, gives food to a Brahmin and donates it according to his ability. After this, break the fast yourself after taking his blessings. It is necessary to observe celibacy from the night of Dashami till the fast of Dwadashi.
Saphala Ekadashi Importance
The importance of Safla Ekadashi was described by Lord Krishna himself to Dharmaraj Yudhishthira. Regarding this fast, Lord Krishna had said that I do not get as much satisfaction even from big Yagya, as much as from the rituals of the Safla Ekadashi fast. This fast is going to provide desired success to a person in all works and is very virtuous and auspicious. Those devotees who keep fast on Safla Ekadashi and do bhajan kirtan by staying awake in the night, get the best fruit from this fast, which is not possible even by the best Yagya. Such a person after enjoying the pleasures of life attains Vishnu Lok after death.
Conclusion
The deity of Saphala Ekadashi is Shri Narayan. Every devotee should observe this fast methodically. Just as Sheshnag is the best among snakes, Garuda among birds, Moon among all planets, Ashwamedha among Yagyas, and Lord Vishnu among deities, in the same way Ekadashi fasting is the best among all fasting. Those people who always fast on Ekadashi are very dear to Sri Hari. If you want to know more about the method of this fast, then talk to astrologers.