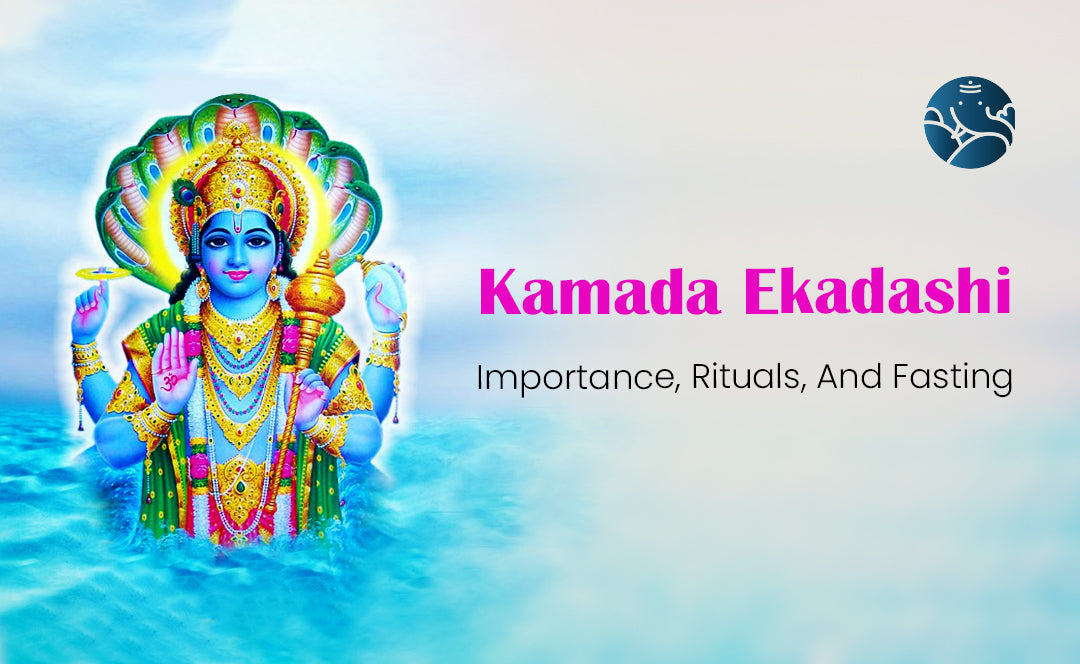 Kamada Ekadashi Importance, Rituals, And Fasting
Kamada Ekadashi is commemorated on the Ekadashi of Shukla Paksha of Chaitra month. Monday is Kamda Ekadashi for the Vaishnav people. Bright saints celebrate Ekadashi a day before. Lord Narayana's fast is observed on this day. It is believed that fasting on Kamda Ekadashi gives relief from all troubles. 
Ekadashi date of Shukla Paksha of Chaitra month is known as Kamada Ekadashi. This is the first Ekadashi of the Hindu calendar. It is believed that by observing a fast on this auspicious date and worshiping Lord Narayan, all wishes are fulfilled and one gets freedom from evil spirits. It has been told in the Puranas that as much virtue is obtained by donating a daughter, donating gold, and thousands of years of penance, more virtuous results are obtained by fasting on Kamada Ekadashi.
Kamada Ekadashi 2024
Friday, 19 April 2024


Ekadashi begins - April 18, 2024 at 05.31 pm
Ekadashi ends - April 19, 2024 at 08:04 pm
Importance of Kamada Ekadashi
It is told in the Puranas that by observing Kamda Ekadashi fast, the worshiper gets freedom from all sins and attains salvation. This Ekadashi is considered very auspicious for accomplishing all tasks and fulfilling wishes. By worshiping Lord Narayan on this day, one gets freedom from evil spirits, and troubles and sorrows go away in the house. Along with this comes happiness, peace, and prosperity in life. With the effect of this fast, all the bad habits of the worshiper also go away.
Kamada Ekadashi Fast Worship Method
It is necessary to follow the rules from Dashami Tithi, a day before the Kamda Ekadashi fast. One day before Ekadashi one should observe celibacy. On the day of Ekadashi, one should wake up early in the Brahma Muhurta, take a bath and meditate and take a vow of fasting. After this, worship Lord Vishnu duly. Get Lord Vishnu bathed with Panchamrit and then apply sandalwood tilak, offer flowers, and offer prasad. After this, perform the aarti of Lord Vishnu with camphor and lamp and recite Vishnu Sahastranam. Along with this, the story of the Ekadashi fast must be heard. After this, perform the aarti of Lord Vishnu in the evening and do bhajan kirtan at night. On the second day, worship in the morning of Dwadashi and give food to Brahmins or the poor and give them charity and then break the fast.
Kamada Ekadashi Fast story
In ancient times, even King Dilip had heard the greatness of fasting on this Ekadashi from his Guru Vashishtha. The Guru had told him that once King Pundrik ruled in a city called Bhogipur, many Apsaras, Kinnars, and Gandharvs lived in that kingdom. In the same state lived a husband and wife named Lalita and Lalit and there was a deep love between the two. One day Lalit was singing in the court, when he remembered his wife, Lalita, due to which the tone, rhythm, and rhythm started deteriorating. The king caught his mistake. Lalit told the whole thing to the king, which enraged the king and cursed Lalit to become a demon. Because of the curse, he had turned from a human into a demon. This hurt Lalita a lot and she reached Shringi Rishi. Then the sage advised observing Kamda Ekadashi fast. Lalita observed a fast on Chaitra Ekadashi and prayed to Lord Narayana that her husband gets the fruits of this fast. Lord Narayan gave the fruit of his wife's fast to her husband Lalit, who had become a demon so he became a human once again from a demon. It is also said about this fast that by observing this fast, the worshiper becomes free from sins like Brahmahatya and also from vampire vaginas.
Conclusion
Lord Vishnu and Goddess Lakshmi are worshiped on this Ekadashi. According to Hindu beliefs, fasting on Kamda Ekadashi gives freedom from sins like Brahmahatya, etc. On this day the special grace of Lord Vishnu is received and the result equal to the penance of thousands of years is received. Lord Vasudev(Shri Hari) is worshiped on the day of Kamada Ekadashi. This Ekadashi fast has been called the best fast of Lord Vishnu. With the impact of this fast, all wishes are fulfilled and sins are destroyed. One day before this Ekadashi fast i.e. on the afternoon of Dashami, God should be remembered by eating barley, wheat, moong, etc. once. If you want detailed information about the auspicious time and worship method for Kamda Ekadashi, talk to astrologers.