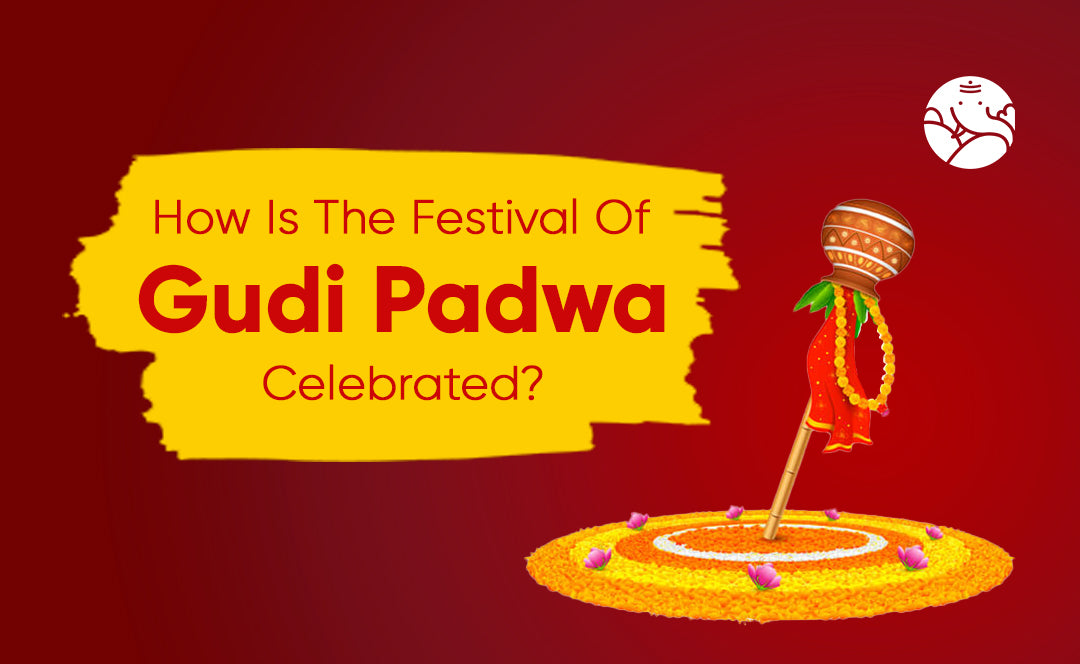 How Is The Festival Of Gudi Padwa Celebrated?
According to the Hindu calendar, the beginning of the new year is considered to be from Pratipada of Shukla Paksha of Chaitra month. Chaitra Navratri starts from this day. This day is celebrated in the name of Gudi Padwa, which is considered very important in Hinduism. Gudi means flag and the Pratipada date is called Padwa. On this day, after taking a bath before sunrise, women put a beautiful Gudi in the house as a symbol of victory and worship it. It is believed that doing this removes negativity there and brings happiness, peace, and prosperity to the house. Especially this festival is celebrated in Karnataka, Goa, Maharashtra, and Andhra Pradesh. The day of Gudi Padwa is also considered very important from the point of view of health. Special dishes such as ShriKhand, Puranpoli, Kheer, etc. are made on this day. It is said about Gudi Padwa that by consuming Puran Poli on an empty stomach, the problem of skin diseases also goes away.
Day of Creation
According to religious belief, on the day of Gudi Padwa, Jagatpita Brahmaji started the work of creation of the universe and Satyuga started from this day itself. That is why it is also called the first day of creation or Yugadi Tithi. On this day Navratri Ghatasthapana, flag hoisting, worship of Samvatsar, etc. are done.
Victory Over monkey king Bali
In the Ramayana period, South India was under the tyrannical rule of Bali. When Lord Ram met Sugriva while searching for Sitaji, he informed Shri Ram about the atrocities of Bali. Then Lord Rama killed Bali and freed the people there from his misrule. Gudi Padwa is believed to be the day of Chaitra Pratipada. That's why Gudi or Vijay Pataka is hoisted on this day.
Shalivahana Shak Samvat
According to a historical legend, a potter boy named Shalivahana made an army of clay soldiers and breathed life into them by sprinkling water on them and defeating the enemies with the help of this army. As a symbol of this victory, the beginning of the Shalivahana Shak Samvat is also considered.
Period of creation of the Hindu calendar
It is said that the great mathematician and astronomer of ancient India, as a result of his research, composed the Indian 'Panchang', calculating the day, month, and year from sunrise to sunset.
Other Beliefs
On this day, Ujjain's emperor Vikramaditya defeated the Shakas and started Vikram Samvat. On this day Lord Vishnu took the incarnation of fish, and from this day the day starts getting longer than the night.
How is Gudi Padwa celebrated?
On this day, people clean their homes and make torans in their homes with rangoli and mango or Ashoka leaves. A flag is placed in front of the house and in addition, a swastika is made on a vessel and a silk cloth is wrapped on it. On this day Sundarkand, Ramrakshasrot, and Goddess Bhagwati are worshiped and mantras are chanted along with the worship of the Sun God. Neem shoots are eaten with jaggery for better health.
Conclusion
All festivals have their own importance in our country. While on one hand Holi Diwali is celebrated equally across the country as the main festival, there are some festivals that are celebrated with great pomp in only a few regions of India. One of these festivals is Gudi Padwa. It is mainly celebrated in Maharashtra, it is also called Samvatsar Padvo. Gudi Padwa is mainly celebrated on the Pratipada day of Navratri Tithi in the month of Chaitra. According to the Hindu calendar, the new year also starts from this day. If you want to know more about the significance of Gudi Padwa, then call Astrology for a consultation.