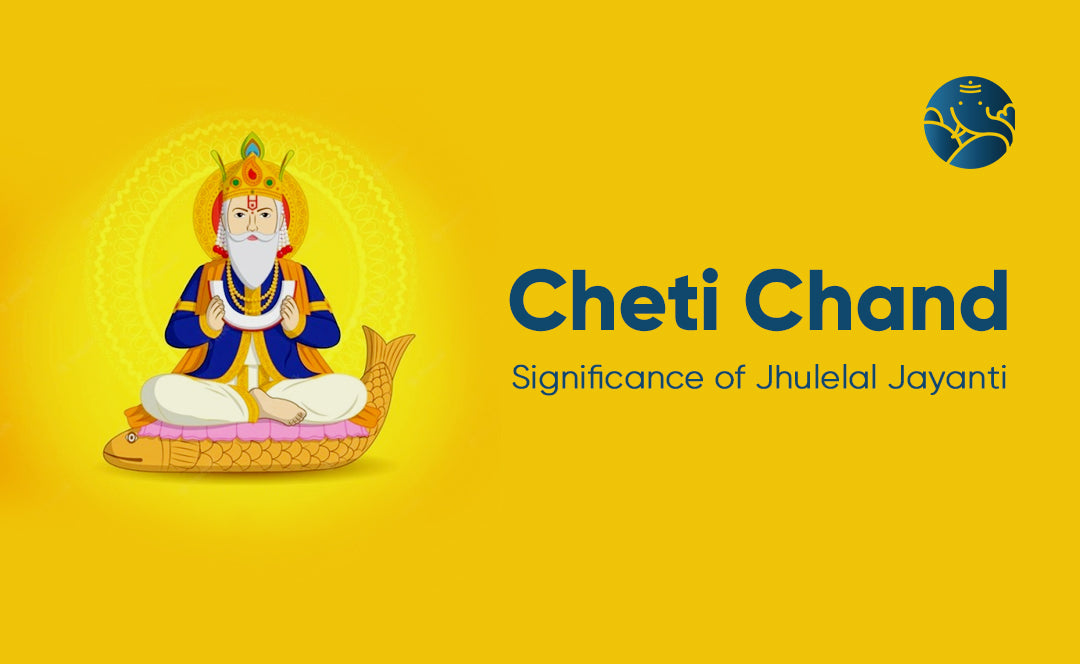 Cheti Chand: Significance of Jhulelal Jayanti
Cheti Chand is a very important festival for the people of the Sindhi community. This festival is also celebrated as Jhulelal Jayanti. The Sindhi society organizes the birth anniversary of their presiding deity Jhule Lal on a large scale. Cheti Chand is celebrated in India as well as in the Sindh province of Pakistan. On the day of this festival, the events organized in Jhulelal Temple and Sindhi Samaj Dharamshala are worth seeing. 
Cheti Chand is a festival of annual frequency. Sindhi New Year is also another name for this festival. This festival is celebrated by Sindhi people as New Year, hence it is addressed as Sindhi New Year. Devotees worship Lord Varun on this day. Worshiping them brings happiness and prosperity. Cheti Chand has made its identity a symbol of the Indus Civilization, not just a festival. In today's time, it is known all over India.
When is Jhulelal Jayanti celebrated?
According to the Hindu calendar, Jhulelal Jayanti is celebrated on the second day of Shukla Paksha in the month of Chaitra. This day falls on the second day of Navratri. According to the calendar used at present, it is celebrated in the month of March or April. This is a festival celebrated every year.
What is Jhulelal Jayanti?
Jhulelal Jayanti is a day celebrated in Sindhi society as the incarnation day of their deity Shri Jhulelal Maharaj. Fasts are observed at this festival and fairs are organized on a large scale. Jhulelal Jayanti is a birth anniversary in the Sindhi community. He worships Varun Dev because the Sindhi people consider Shri Jhulelal Maharaj to be an incarnation of the water god.
Cheti Chand and Muhurta for the year 2024
Cheti Chand on Tuesday, April 9, 2024
Chaiti Chand Muhurta - 06:49 PM to 07:37 PM
Tithi Begins - April 08, 2024, by 11:50 PM
Tithi Ends - April 09, 2024, by 08:30 PM
Story of Jhulelal Jayanti
There are many stories related to this holy anniversary of the Sindhi community, but according to the most popular story, there used to be a king named Mirakhshah in ancient times. This king used to rule the city named Thatha. Mirkhashah was a very tyrannical king and this used to disturb the people of the Hindu religion very much. The whole people were very sad because of this behavior of the king.
This king used to force Hindus to convert and was engaged in this effort again and again. Once he gave a week's time to all the Hindus. Due to the pressure of the king, people could not protest anything at that time. Disturbed by this tyranny of the king, most of the people went toward the banks of the Indus river without eating or drinking anything. After reaching the banks of this river, everyone started worshiping Lord Varun keeping a fast. Everyone continued to worship Varun Dev with full faith.
Varun Dev was very pleased to see this devotion of his devotees and he appeared in the form of a divine man on top of the fish. That's why he told the devotees to go back without worrying and told them that after 40 days they will be born in the house of my devotee in Nasarpur. After which all of you will be free from the atrocities of the king.
After forty days, according to his promise, Varun Dev took birth from the womb of Ratan Rai's wife Mata Devki ji in Nasarpur. According to beliefs, on the day of this birth, Chaitra month was the second time of Shukla Paksha. This incarnation of Varun Dev freed all the villagers from the atrocities of the king. Since then this day started being celebrated as Chetichand.
Significance of Cheti Chand
The festival of Cheti Chand is a very important festival for the Sindhi community. Along with the new year, it is also celebrated as the birthday of Shri Jhulelal ji. On the other hand, Cheti Chand is celebrated a day after Navratri, which adds to its importance. Jhulelal Maharaj ji is known by many names in the Sindhi community such as Dulah Lal, Varun Dev, Lal Sai, Dariya Lal, Zinda Pir, and Udero Lal. Reciting names on this Jayanti is considered very fruitful as these names are different names of the favored deity of the Sindhi people.
Conclusion
This day is considered very important for Sindhi Hindus. Some call Jhulelal a saint, while others call him a fakir; both Hindus and Muslims believe in him and he is greater than Brahma, Vishnu, Mahesh, and Allah of the Sindhi community. If you want to know more about Cheti Chand then talk to astrologers.