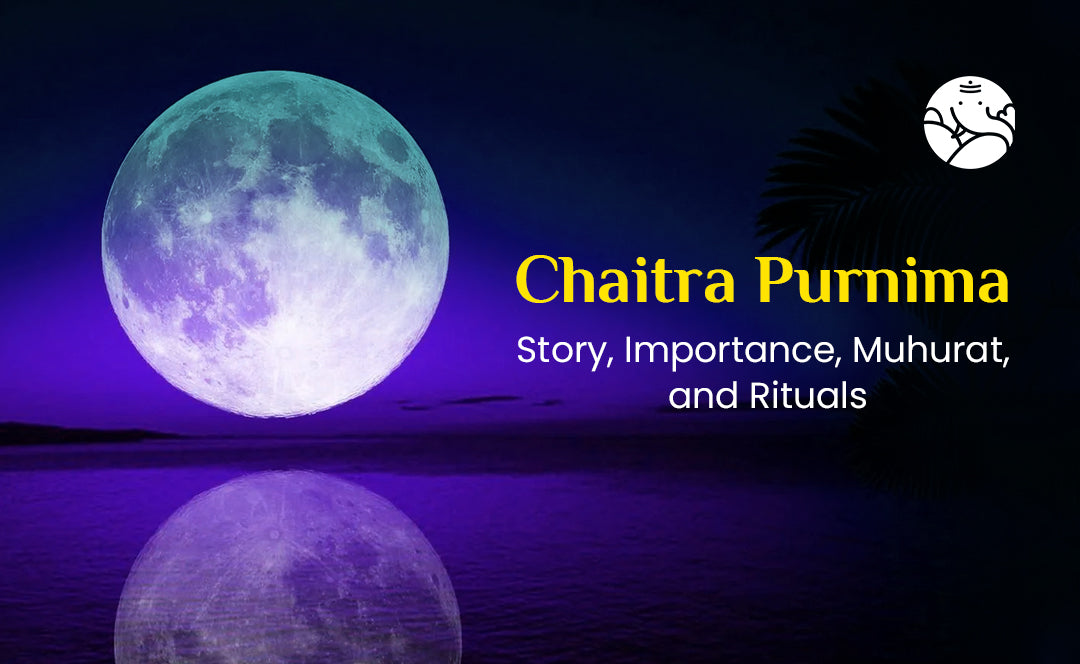 Chaitra Purnima Story, Importance, Muhurat, and Rituals
Anjana's son Hanuman ji was born on the day of Chaitra Purnima. That's why Chaitra Purnima has special importance. It is a religious belief that on this day Lord Shri Hanuman was born on earth for the cooperation of Lord Shri Ram. It is believed that by worshiping Lord Vishnu and Mother Lakshmi on this day, one gets the blessings of Lord Hanuman. If you are also observing Chaitra Purnima fast on this day, then listening to this mythological story is considered auspicious.
Chaitra Purnima Story
According to the legend, Seth-Sethani lived in a city. Sethani used to worship Lord Shri Hari daily with devotion, but her husband did not like Sethani's worship at all. Because of this one day, Seth kicked him out of the house. Sethani left the house and went towards the forest. On the way, Sethani saw that four men were digging soil in the forest, seeing this, Sethani asked them to hire me for some work.
At Sethani's request, he hired Sethani. But Sethani was very soft, due to which she got blisters on her hands. Seeing this, the four men asked Sothani to leave the job. He said that instead of this you do our housework. When Sethani agreed, he took her to his house. There those four men would bring four handfuls of rice and eat it after sharing it. Sethani feels very bad seeing this. Seeing this, Sethani asked those four men to bring eight handfuls of rice.
By obeying Sethani, all four men brought 8 handfuls of rice. Sethani made food from this rice and served it to all the men after offering it to Lord Vishnu. This time the four men found the food very tasty and while praising the food from Sethani, asked for the secret of it. So Sethani said that this food is a lie of Lord Vishnu. That's why it looks delicious to you. On the other hand, after the departure of Sethani, Seth started starving. People around started taunting him that he was eating food only because of his wife. After listening to the people, Seth went out to see Sethani in the forest. On the way, he saw the same four men digging the soil. Seth told him that you hire me.
Then the four men hired him too. But digging the soil like Sethani, Seth's hands also got blisters. Seeing this, he also advised Seth to do the household chores. Seth also obeyed him and went to his house. After reaching home, Seth recognized Sethani, but Sethani could not recognize Seth due to being in a veil. Like every day, this time also Sethani served food to everyone after offering food to Lord Vishnu. But as soon as Sethani started serving food to Seth, Lord Vishnu held Sethani's hand and said what are you doing. Sethani said, I am not doing anything, I am serving food.
The four brothers asked Sethani to show us also the darshan of Lord Vishnu. At the request of Sethani, Lord Vishnu appeared in front of all of them. Seeing this, Seth apologized to Sethani and asked her to go home holding her hand. Then the four brothers bid farewell to their sister by giving her a lot of money. Since then Seth also became a devotee of Lord Vishnu and started worshiping him with full devotion. Due to this, money started raining again in his house. It is believed that by observing fast on this day, along with Lord Satyanarayana, the blessings of Hanuman ji, Lord Shri Ram, and Mother Sita are also received.
When is Chaitra Purnima 2023
In the year 2023, Chaitra Purnima will be celebrated on Wednesday, April 5.
Purnima Tithi will start at 2:25 am on April 5, 2023.
Purnima Tithi will end on April 6, 2023, at 12:24 am.
It is believed that Hanuman ji, a devotee of Shri Ram, was born on the full moon day of Chaitra month, hence Hanuman Jayanti is celebrated on this day, especially in North and Central India. Purnima Tithi will end on April 6, 2023, at 12:24 am.
Chaitra Purnima 2023 Significance
This full moon is considered to be the most important full moon as this full moon is considered to be the first full moon after the beginning of the Hindu New Year. Chaitra Purnima, the birthday of Hanuman ji is celebrated. People keep fast and worship Lord Vishnu and Moon. It is said that doing charity on Chaitra Purnima destroys sins. This full moon is also called Chaiti Poonam because on this day Lord Shri Krishna created the Raas festival in Braj which is known as Maharas. Thousands of Gopis participated in Maharas and Lord Krishna danced with each Gopi.
On this day Lord Shri Krishna with the help of his Yogmaya performed Raj Utsav in Braj. Which was celebrated by Shri Krishna by dancing the whole night with thousands of Gopis. Chaitra Purnima is organized in many areas considering this belief as the origin. At the same time, in some places, the day of Chaturdashi of Krishna Paksha of Kartik month is considered Hanuman Jayanti. But according to beliefs in some places, Chaitra Purnima is considered the day of birth of Hanuman ji. The description of both these dates is seen in Puranas, in which one date has been called Vijay Abhinandan Mahotsav. In places in North and Central India, it is celebrated as Hanuman Jayanti.
Chaitra Purnima Fasting Rituals
It is important to wake up before sunrise on the day of Chaitra Purnima and take a bath.





After taking bath, Lord Hanuman is worshipped. It is also important to go to the temple of God on this day.





Both Purnima Vrat and Hanuman Vrat are observed on the day of Chaitra Purnima.





Lord Vishnu is worshiped along with Hanuman ji on this day and people get the story of Lord Satyanarayan done at their homes.





Havan is performed on the day of Chaitra Purnima so that the atmosphere can be purified.





On this day, the religious practice of offering half of the rituals to the Lord Moon is also considered.





People do charity and virtuous deeds on the day of Chaitra Purnima. By doing this all kinds of sorrows and pains go away.





Lord Hanuman becomes happy by giving wheat, rice, food, clothes, etc. to the poor.





To please Lord Hanuman on the day of Chaitra Purnima, monkeys should be frozen with jaggery and gram. Along with this, gram dal should also be donated to the Pandit in the temple.
Consultation
Chaitra Purnima is celebrated in different regions for different reasons. Some people celebrate it as Hanuman Jayanti, some celebrate it as Chitragupta Jayanti and some people perform Satyanarayan Katha on this day. Overall, this day is very auspicious for Hindus for some reason or the other. If you want to know about Chaitra Purnima then online astrology consultation will tell you more about the puja.