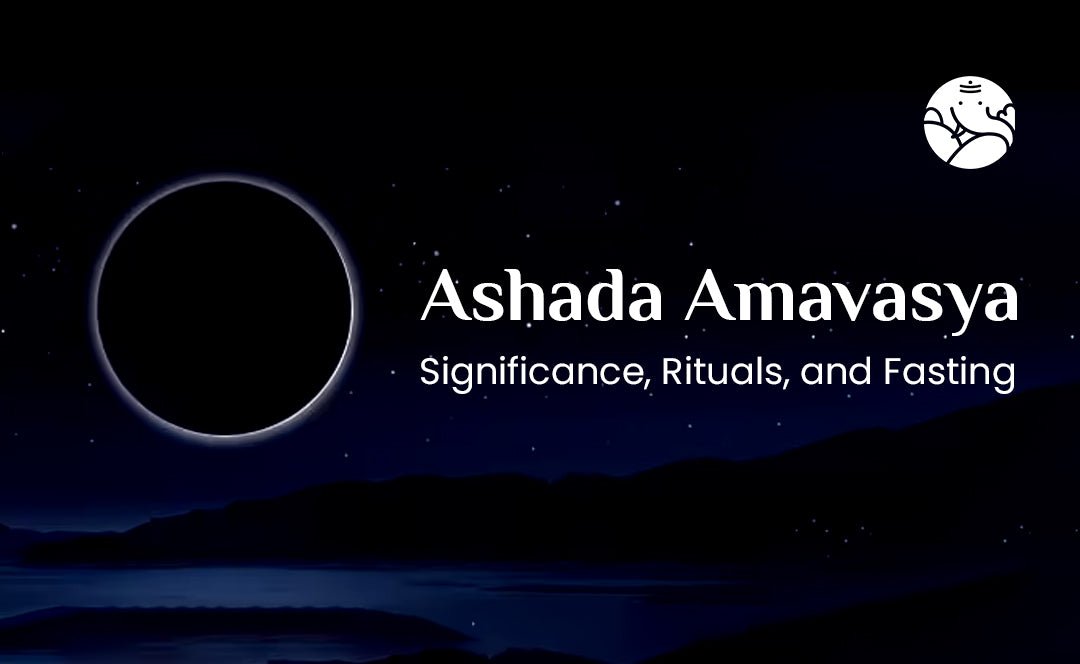 Ashadha Amavasya Significance, Rituals, and Fasting
Every month Shukla and Krishna Paksha have Amavasya and Purnima. The size of the Moon increases in the Shukla Paksha while the size of the Moon gradually decreases in the Krishna Paksha. The size moon appears full and bright on the full moon.
While the moon is not visible in the sky on Amavasya. Amavasya is not considered auspicious according to the scriptures, because its inauspicious results come to the fore, which affects everyone. According to astrology, when the Sun and the Moon come in the same sign, then that day is Amavasya.
Ashadha Amavasya 2024 Muhurat
Ashadha Amavasya 2024: July 5, 2024 Friday
Amavasya date starts: July 5, 2024 from 05:00:08
Amavasya date ends: July 6, 2024 till 04:29:17
Ashadha Amavasya 2024 Story
All sins are destroyed by fasting on the day of Ashadha Amavasya. This fast is going to give happiness in this world and freedom in the hereafter. The description of the story related to Ashadha Amavasya is as follows:
A king named Kuber lived in the city of heaven Dham named Alkapuri. He was a great devotee of Shiva. He used to worship Lord Shiva per day. A gardener named Hem used to bring flowers for worship every day at the king's place. Hem Mali had a beautiful wife. His name was Vishalakshi.
One day the gardener brought flowers from Mansarovar but started joking with his wife. The king kept waiting for the gardener till noon. The king ordered his servants to find out the reason for the gardener not coming as he has not yet brought flowers. The soldiers said that Maharaj's gardener is very sinful and aggressive.
He is joking with his lady. Hearing this, the king got very angry with the gardener and the king called the gardener. Hem Mali appeared before the king trembling with fear.
King Kuber got angry and scolded the gardener and said that he has disrespected the most revered Lord Shiva. That's why he will suffer the separation from the woman and will become a leper after going to death.
Hem Mali fell from Devlok due to the curse of King Kuber. He fell on the earth at that very moment. As soon as he came to the earth, his body got covered. Hem Mali's wife disappeared at the same time. The gardener suffered a lot after coming to earth. He wandered into the forest without food and water.
Hem Mali could not even sleep at night, but due to the effect of worshiping Lord Shiva, he got to know the memory of his previous birth. One day while roaming around, the gardener reaches the hermitage of sage Markandeya. He saw that he was even older than sage Brahma and the ashram looked like Brahma's assembly.
Hem Mali went there and fell at the feet of the sage. Seeing this, the sage asked what sin he had committed. As a result of which he has become in this condition. Hem Mali told the whole situation to the sage. The sage said that he would have to observe a fast, which would save him.
Rishi ji said that if Yogini fasts on Ekadashi of Krishna Paksha of Ashadha month, then all his sins will be destroyed. The gardener was very happy to hear this. He bowed down to Rishi Ji. After this Hem Mali observed a fast. With the effect of this fast, the gardener came into his old form and started living happily with his wife. That's why fasting on the new moon day of Ashadha month removes all the sins.
Ashadha Amavasya 2024 Significance
Bathing and donation have special significance on the day of Ashadha Amavasya. Ashadha Amavasya day is a very important day as many religious activities are performed. And on this day bathing is done in the holy rivers.
On this day the Pinddaan of ancestors is done. On the day of Ashadha Amavasya, Shraddha Karma, the ritual of doing charity is told.
People who have mental stress due to Pitridosh caused by Rahu-Ketu and at the same time there is a hindrance in work, therefore the ancestors are pleased and their blessings are obtained by worshiping on the day of Ashadha Amavasya.
Ashadha Amavasya 2024 Fasting
On the day of Ashadha Amavasya, there is a law of some special worship, which is performed on this day. Lord Shiva and Mother Parvati are worshiped in some temples on this day. Along with this, Maa Durga is also worshiped on this day in many places. You can worship on the day of Ashadha Amavasya with the following method:
First of all, one should take bath and wear clean clothes.
After this, you clean the place of worship. For this, you use incense and incense sticks.
After cleaning the place of worship, one should worship Lord Shiva and Mother Parvati and offer flowers, incense, and lamps to them.
You should also keep an idol of Maa Durga at your place of worship and offer flowers, incense, and lamps to her.
After this, worship God according to the rules and regulations and recite meditation, mantras, etc.



In the end, perform aarti to the lord and pray to him.
Follow these rules on Amavasya Tithi
Ashadha Amavasya is considered a very auspicious day in Hinduism and religious rituals are performed on this day. On this day, most people do charity, water-related work, fire worship, Mahamrityunjaya chanting, etc.
People also keep a fast on this day and taking a bath in the river on the day of Ashadha Amavasya is considered very auspicious. Taking a bath on this day removes body odor and also reduces stress of the person.
Works related to the scriptures are also done on the new moon day. By worshiping one's Guru on this day, one gets wealth, children, and prosperity.
Religious rules should be followed on this day, such as not wearing jewelry, not wearing new clothes, not starting new work, etc.



Jatak should do religious work on Amavasya Tithi. Also, no unethical work should be done on this day.
Ashadha Amavasya 2024 Rituals
Like every Amavasya, Pitridan is very important in Ashadha Amavasya too. The religious fasting rituals performed on this day are as follows:
Take a bath in a holy river, lake, or pond in the morning. Offer Argh to Sun God and then do Pind Daan of Pitra.
Fast for the peaceful life of your ancestors and donate things to the poor.



On this day in the evening, light a mustard oil lamp under the Peepal tree. Remembering your ancestors, circumambulate the tree 7 times.
Conclusion
Many people perform Shradha rituals on Amavasya Tithi to please their ancestors. On this day, doing Pitra Tarpan, river baths, charity, etc. are considered more fruitful. Not only this, this date has been considered helpful in getting rid of Pitra Dosha. Therefore, this date is considered very auspicious for Pitru Karma. It has also been considered special fruitful for religious deeds done on this day. Bathing in the holy river and pilgrimage sites on this day gives manifold results. Through astrology consultation, you can know in detail about the importance of Ashadha Amavasya, fasting, and worship methods.