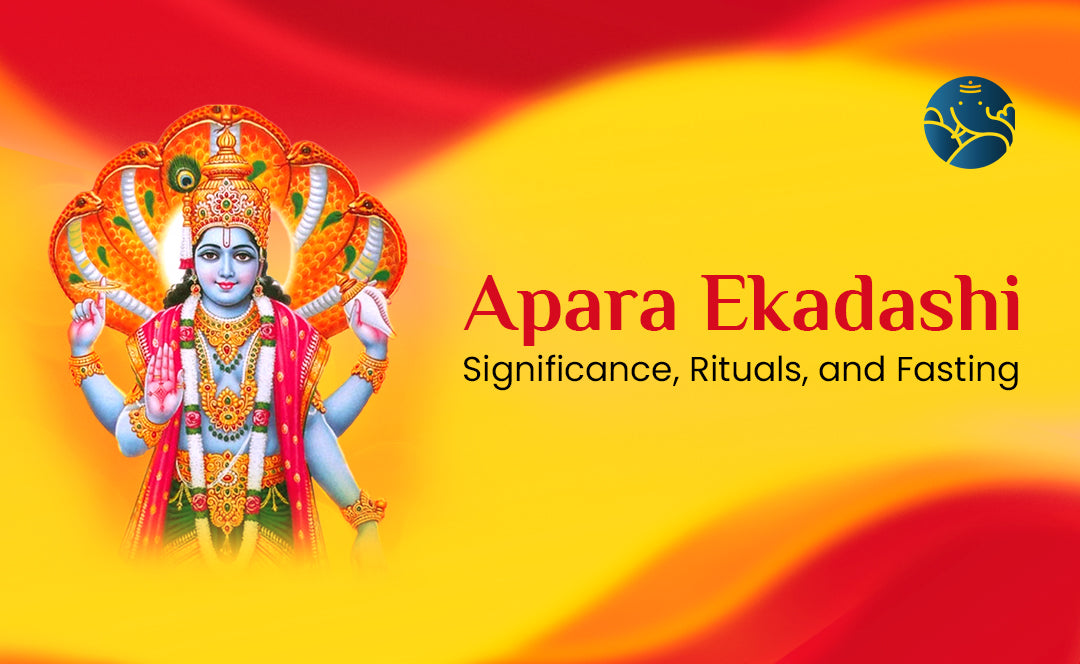 Apara Ekadashi Significance, Rituals, and Fasting
The Ekadashi of Krishna Paksha of Jyestha is known as Apara Ekadashi. Like all Ekadashis, Apara Ekadashi is also dedicated to Lord Vishnu. It is believed that observing Apara Ekadashi fast washes away all the sins of a person. This Ekadashi is also known as Achala Ekadashi and gives divine and auspicious results.
The meaning of the word "Apar" is "limitless or immense" because by observing this fast one gets unlimited wealth, hence this Ekadashi is known as 'Apara Ekadashi'. Another meaning of this Ekadashi is that it gives unlimited benefits to its worshipper. The importance of Apara Ekadashi has been told in 'Brahma Purana'. Apara Ekadashi is celebrated all over the country with full commitment. Apara Ekadashi is known by different names in different states of India. In the states of Punjab, Jammu and Kashmir, and Haryana, Apara Ekadashi is celebrated as 'Bhadrakali Ekadashi', and worshiping Goddess Bhadrakali on this day is considered auspicious. In Orissa, it is known as 'Jalkrida Ekadashi' and is celebrated in the honor of Lord Jagannath.
Apara Ekadashi Muhurat 
Apara Ekadashi 2023: 15 May 2023, Monday
Start: 15 May 2023 at 02:46 am
End: May 16, 2023, at 01:03 am
Apara Ekadashi Story
According to an old story, there was a pious king named Mahidhwaj, but the king's younger brother was unrighteous and sinful. His younger brother hatched a conspiracy and killed his elder brother Mahidhwaj and buried the king's body under a Peepal tree. Due to his untimely death, his soul started wandering and he set up his camp on the Peepal tree. The king started living on Peepal and started troubling the passers-by on that road.
One day a sage passed by that way. The king tried to scare him too, but sage Muni, who was an ascetic, subdued the spirit and asked him the reason for becoming a ghost. The king told the whole thing to Rishi Muni. After listening to the king's words, sage Muni gave the knowledge of the other world. Rishi Muni thought of getting the king free from the phantom vagina and brought the phantom down from the Peepal tree and preached about the afterlife. That day was also Ekadashi of Jeshtha month. The sage fasted on Apara Ekadashi. Worshiped methodically on this day. Offered the virtue of Ekadashi to the king. By whose majesty the king was freed from the phantom vagina. The king got a place in heaven.
Apara Ekadashi Significance
Apara Ekadashi has a special place in Hinduism. According to old legends and scriptures it is believed that the importance of his work was narrated by Lord Krishna to King Hindi Yudhishthira. According to scholars, all the sins of Brahma murder, ghost vagina, condemnation of others, etc. are removed by the effect of fasting on Apara Ekadashi.
It is believed that one who observes Ekadashi Vrat can easily get rid of his past and present sins and find the path of goodness and positivity.




Devotees become free from the cycle of birth and death and attain the path of salvation by observing Apara Ekadashi Vrat with full devotion and reverence.




Taking a bath in the holy Ganges in the month of Kartik has the same benefits as observing the Achala Ekadashi fast.




This fast helps the devotees to attain wealth, recognition, and success in their life.
Apara Ekadashi Rituals
Apara Ekadashi requires the devotees to wake up early in the morning and take a bath.




It is necessary to have loyalty while performing all the rituals. Devotees should observe Apara Ekadashi.




To complete the fast, the story of Apara Ekadashi should be recited.




Devotees should worship and worship the deity and also offer incense sticks, flowers, and tulsi leaves to the deity.




The sacred food should be distributed to all by performing the aarti of the deity.




Devotees should visit the temple of Lord Vishnu on the day of Apara Ekadashi to seek the blessings of the deity.




All the rituals of Apara Ekadashi begin on the eve of Dashami.




On this particular day, the observers are required to consume food only once, and that too before the period of sunset.




The fast continues till the Ekadashi date ends.




To please Lord Vishnu, he should recite mantras all the time.




Reciting Vishnu Sahastranam is considered very auspicious.




Donating on the evening of Apara Ekadashi is considered fruitful. Devotees should donate food, clothes, and Dakshina to Brahmins.
Apara Ekadashi Fasting
By worshiping the Vishnu form of Shri Man Narayan on Apara Ekadashi, a man becomes free from all sins and goes to Goloka. On this day, by offering Panchamrit, Roli, Moli, Gopi Chandan, Akshat, yellow flowers, seasonal fruits, sweets, etc. to Vishnuji, perform aarti with incense and lamp and donate lamps. The happiness of Shri Hari, Tulsi, and Manjari must also be offered to the Lord. Chanting 'Om Namo Bhagavate Vasudevaya' and reciting Vishnu Sahastranam is very fruitful, especially on this day. On this day, devotees should stay away from the feelings of slander, treachery, greed, and malice, keeping in mind Lord Vishnu, worship him with devotion, and donate as much as possible to the poor. On this day, it is auspicious to listen to or read the story of this Ekadashi with your mind focused on the Lord.
Conclusion
Ekadashi is considered the most important in Hinduism. There are two Ekadashi dates every month. One in Shukla Paksha and one in Krishna Paksha. Each Ekadashi is dedicated to Lord Vishnu. Ekadashi of Krishna Paksha in the month of Jyestha is called Apara Ekadashi. It is also called Achala Ekadashi. This year Apara Ekadashi fast will be observed on 15th May 2023, Monday. According to Padma Purana, Lord Vishnu is worshiped in his Vamana form on this day. It is believed that on this day Maa Bhadrakali appeared from the hair of Lord Shiva, hence it is also called Bhadrakali Ekadashi. This time Apara Ekadashi is falling on a Thursday, in such a situation, if both Apara Ekadashi and Thursday are together, the merit of this Ekadashi increases even more. On this day, worshiping Lord Vishnu and Mother Lakshmi with rituals gives special results. If you want to know more about the fasting of Apara Ekadashi, then you can know from online astrology consultation.