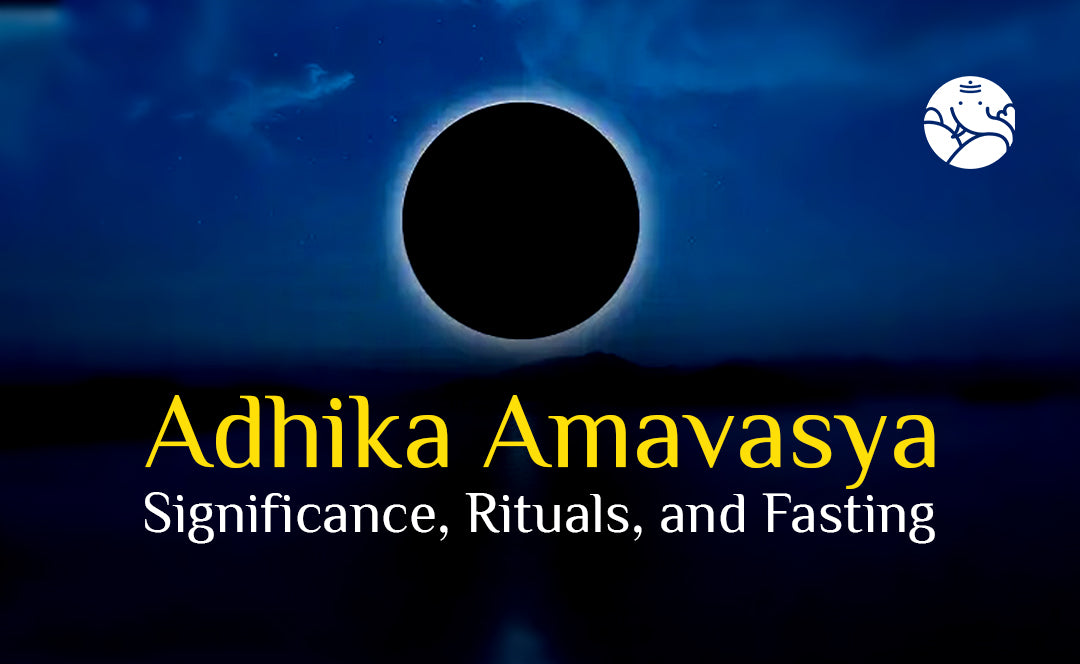 Adhika Amavasya Significance, Rituals, and Fasting
Shravana Adhika Amavasya is considered very important in Hinduism. The moon is not visible on this day which is a sign of Amavasya. Lord Shiva is worshiped on this day, which is very important for Shiva devotees. This day is also called Somvati Amavasya, in which Somvati Argh Daan is also important. While in 2023, Shravana Adhika Amavasya will be celebrated on 17 July.
Shravana Adhika Amavasya 2023 Muhrat
Shravana Adhika Amavasya Date – August 15 2023 Monday
Start – 15 August 2023 at 12:42 PM
Ends  – 16 August 2023 at 03:07 PM
Shravana Adhika Amavasya Significance
Adhika Amavasya is a rare occasion that is auspicious and significant for many followers. The occasion has great significance and importance in Hinduism. It is also known as 'Amavasya Day'.
At this time the energy of the universe is more intense. This contributes to it being an appropriate season for spiritual practices and rituals. It is believed that spirits are more powerful on Amavasya days, so it is best to avoid doing anything bad or thinking negative thoughts of any kind. The day is also considered auspicious for Pitra Daan, Pitra Visarjan, or contribution to the memory of deceased ancestors.
In the meantime, performing Pitru Tarpan for your ancestors can reduce their suffering and bring peace to their souls. Seek his blessings and seek forgiveness for any wrongdoings done in the past. Adhika Amavasya is related to the deity Shiva. Known as the god of time and the remover of evil energy.
Worshiping Lord Shiva during this period can help a person achieve spiritual advancement and deal with life's challenges. Adhika Amavasya is a time of rejuvenation and new beginnings. Many devotees use this time to reflect on their actions in the past and make resolutions to improve their lives and relationships. Overall, for many Hindus, Adhik Amavasya is a period of immense spiritual significance and devotion. 
Shravana Adhika Amavasya Fasting
During Shravana Adhika Amavasya, many devotees observe a fast, abstaining from food and drink for a specified period or a whole day.




The fast is observed as a form of atonement and dedication and helps in the purification of body and soul.




On this day, people also worship Lord Shiva, seeking his blessings for spiritual advancement and victory over life's challenges.




They offer flowers, fruits, and other things to Lord Shiva, perform Abhishek, bathe the Lord, and recite mantras in his honor.




Pitru Paksha is a period of 15 days in which offerings are made to ancestors to seek forgiveness and blessings for all past wrongdoings.




On Shravana Adhika Amavasya, followers make various sacrifices including water, food, and other items for the help and protection of the ancestors.




During Adhika Amavasya, people also worship Goddess Lakshmi, the goddess of wealth, prosperity, and success.




Devotees worship the goddess and offer sacrifices to her to get wealth and success in their lives.




Another major practice performed in Shravana Adhika Amavasya is the distribution of alms to the poor and needy.




Devotees provide food, clothing, and other necessities to those in need, anticipating blessings and merit from his generosity.
Shravana Adhika Amavasya Rituals
Performing Shravana Adhika Amavasya at home requires some basic preparation and arrangements.




Before starting the puja it is necessary to clean your house and establish a calm environment.




Make sure to remove all the dust, clutter, and dirt from the Puja room and decorate it with lights, flowers, and decorations.




Gather all the items for the puja ritual, such as an idol or picture of Lord Shiva or Goddess Lakshmi, fruits, flowers, camphor, incense, ghee or oil (for the lamp), and other necessary ingredients. A puja thali/thali, a bell, and a conch may also be required.




Learn the Puja Vidhi, or ceremonial procedures, and follow them carefully during worship. You may be required to chant mantras, perform abhisheka, or ritual baths of the deity and offer flowers and other offerings to the deities.




If you intend to observe a fast or do charity work during Amavasya, be sure to plan in advance.




Prepare the fasting food or prasad and choose a charitable organization to sponsor.




Lastly, seek the blessings of the deities and offer your prayers and devotion with respect and sincerity. Adhika Amavasya is a period of spiritual growth and dedication.




By preparing for Darsha Amavasya Puja with sincerity and devotion, you can be blessed with peace, wealth, and spiritual growth in your life.
Shouldn't these things be donated on this day?
There is great importance in donating on the day of Shravan Adhik Amavasya. But there are some things that should not be donated on this day. Some of these things are:
Turmeric and Kumkum: Turmeric and Kumkum should not be donated in the month of Shravan.
Donation of relief in the sight of Shani: Donation of relief should not be done in the sight of Shani.
Donation in Saturn's Sade Sati: Donation should be avoided in Saturn's Sade Sati.
Donation of metals: Donation of metals should not be done in the month of Shravan.
Conclusion
"Adhik" means an extra or extra month. By combining these words it appears that "Shravana Adhika Amavasya" refers to the arrival of an additional month of Amavasya in the month of Shravan. Shravana Adhika Amavasya is very popular because of its religious and natural significance. On the other hand, from the religious point of view, on this day the pinddaan of ancestors and other charity is done. If you want to know more about the importance, rituals, and fasting of Shravan more Amavasya, then you can go through online astrology consultation.