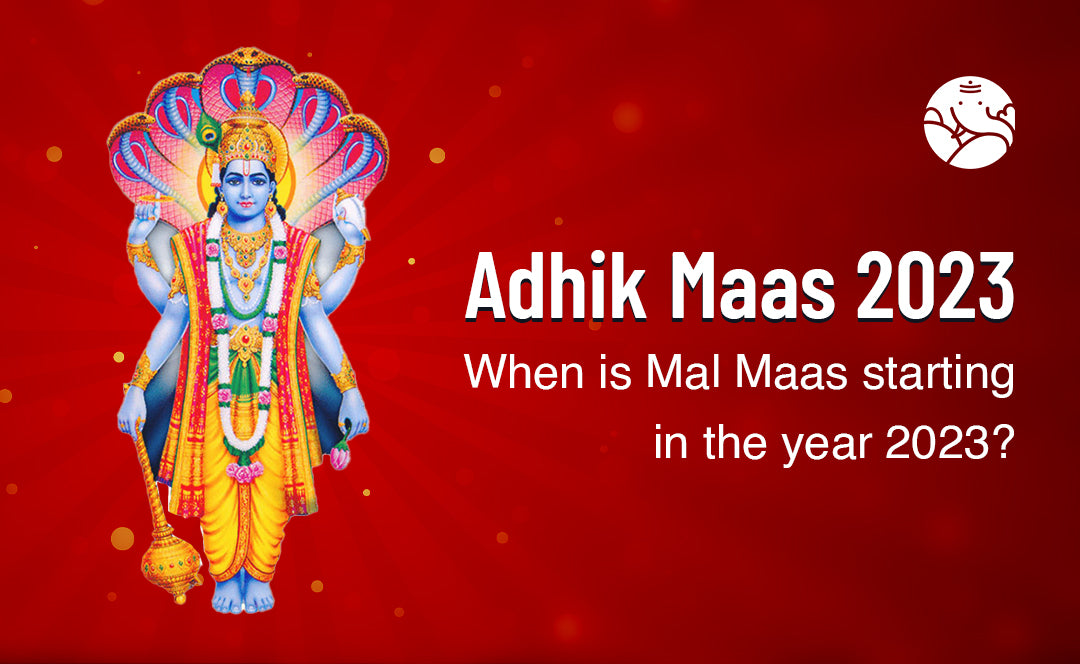 Adhik Maas 2023: When is Mal Maas Starting in the Year 2023?
In Hinduism, the importance of Mal Maas or Adhik Maas has been told. This month is also called Purushottam month. Doing any auspicious work is prohibited this month. In the Hindu calendar, once every three years, an additional month comes, which is called Adhikamas. Adhik Maas in the year 2023 is starting on 18 July 2023, which will end on 16 August 2023. There is no transit or solstice of the Sun in Adhik Maas, that is, there is no change in the sun sign in the whole month. Because of this, this month becomes dirty, that is, it is called Mal Maas.
How does Feel Adhik Maas or Mal Maas?
According to astrology, the process of transition of the Sun from one zodiac sign to another is called Sankranti. Sun God changes his zodiac almost every month. The month in which the zodiac sign of the Sun does not change. That month is called Mal Maas or Adhik Maas. 
Adhik Maas has special significance in Hinduism. The proprietor of this month is Lord Vishnu. Even though auspicious works like marriage, naming, house warming ceremonies are prohibited, it is very beneficial to do religious works like worship recitation, chanting, penance, and fast-fasting. It is believed that worship done in this month gives ten times the yield.
Adhik Maas 2023 Date
According to astrology, Adhik Maas or Mal Maas comes after 32 months and 16 days. In the year 2023, Adhik Maas will start on 18 July 2023 and will continue till 16 August 2023.
Why Adhik Mass Called Purushottam Mass?
According to the mythology, all the gods refused to become the master of this month due to being dirty, then Malmas prayed to Lord Vishnu, Vishnuji was pleased with the prayer of the month and gave his own name to this month. Only Lord Vishnu is called Purushottam. Lord Vishnu gave a boon to this month that any adorer or devotee who worships Shiva, does religious work, listens to Bhagwat Katha, donates, and does charity in this month, will get the never-ending virtue.
Do not Do These Mistakes in Adhik Mass
Wedding Marriage
Marriages are prohibited for more months. If you get married at this time period, you will neither get emotional happiness nor physical happiness. There will be a rift between husband and wife and there will be no peace and happiness in the house.
New Business or Job
Don't start a new business or a new job in the month of August. Starting a new business or occupation in Malmas gives rise to financial difficulties. That's why avoid doing new work, a new job, or big investments.
Building Construction
In this construction of new houses and purchase of property is prohibited. The comfort and peace of the houses built during this period always remain disturbed. If you want to buy a house or buy any land or property, then buy before the arrival of Adhika Maas.
Auspicious work
Other auspicious works such as Karnavedha and Mundan are also considered prohibited because the work done during this period is more likely to spoil relationships.
Conclusion
Due to 1 month more in a year, there is Adhika Maas. And this Adhika Maas is dedicated to Lord Vishnu. That's why the worship of Lord Vishnu has special importance in this month. You can get detailed information about worshiping Lord Vishnu and the method of worshiping it through an online astrological consultation. Planet peace, charity, pilgrimage, and Vishnu mantras should be chanted in Mal Maas. Due to this, the inauspicious results of Mal Maas end, and good results are obtained. It is said that Lord Vishnu himself blesses the devotees who worship Lord Vishnu in Mal Maas. Removes their sins and fulfills their every wish.