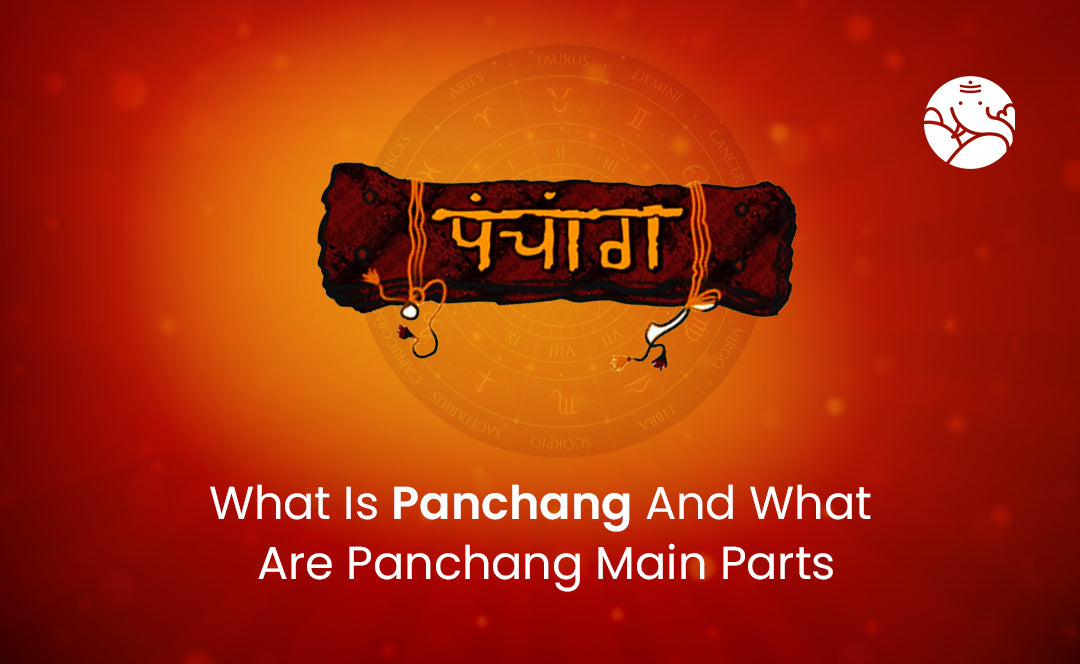 What Is Panchang And What Are Panchang Main Parts
Panchang or Panchagam is a Hindu calendar that is prepared according to Indian Vedic astrology. In Hinduism, auspicious work is not done without consulting the Panchang.
Meaning Of Panchang 
Hindu Panchang is a calendar followed by Hindu society. In its different form, it is believed almost all over India. Panchang literally means Pancha + Anga = Five Angas i.e. Panchang. This is what Hindus call the traditional calendar created by the method of time-counting. The name Panchang is due to it being made up of five major parts, which are as follows, Tithi, Vaar, Nakshatra, Yoga, and Karana. On the basis of its calculation, there are three sections of the Hindu calendar, the first lunar based, the second Nakshatra based, and the third sun-based calendar system.
Five Parts Of The Panchang 
As we mentioned, Panchang is formed on the basis of five organs Tithi, Vaar, Nakshatra, Yoga, and Karana. Let us know the brief information about these parts of it.
Tithi: One phase of the Moon is called Tithi. A tithi is formed by having 12 degrees of difference between the Moon and the Sun. When the difference is 180 degrees, that time is called Poornima and when this difference is 0 or 360 degrees, that time is called Amavas. There are about 30 Tithi in a month. 15 of Krishna Paksha and 15th of Shukla Paksha. Their names are as follows: 1 Pratipada, 2 Dwitiya, 3 Tritiya, 4 Chaturthi, 5 Panchami, 6 Shashthi, 7 Saptami, 8 Ashtami, 9 Navami, 10 Dashami, 11 Ekadashi, 12 Dwadashi, 13 Trayodashi, 14 Chaturdashi and 15 Poornima. This is called Shukla Paksha. This is the 14th Tithi in Krishna Paksha, but the last date is known as Amavasya instead of Purnima.
Vaar: The period from one sunrise to the sunrise of another day is called Vaar. There are seven strikes. 1. Sunday, 2. Monday, 3. Tuesday, 4. Wednesday, 5. Thursday, 6. Friday and 7. Saturday.
Nakshatra: A group of stars is called a constellation. There are 27 constellations. Each Nakshatra has four charans and the combination of nine charans forms a zodiac. The names of the 27 Nakshatras are as follows, 1. Ashwini 2. Bharani 3. Krittika 4. Rohini 5. Mrigashira 6. Ardra 7. Punarvasu 8. Pushya 9. Ashlesha 10. Magha 11. Purva Phalguni 12. Uttara Phalguni 13. Hasta 14. Chitra 15. Swati 16. Vishakha 17. Anuradha 18. Jyeshtha 19. Moola 20. Purvashadha 21. Uttarashada 22. Shravan 23. Dhanishtha 24. Shatbhisha 25. Purva Bhadrapada 26. Uttara Bhadrapada 27. Revati.
Yoga: Yoga is formed by the combination of the Sun and Moon, these are also 27. Their names are as follows- 1. Vishkumbh, 2. Preeti, 3. Ayushman, 4. Saubhagya, 5. Shobhan, 6. Atigund, 7. Sukarma, 8. Ghriti, 9. Shool, 10. Gand, 11. Growth, 12. Dhrav, 13. Vyaghat, 14. Harshal, 15. Vaka, 16. Siddhi, 17. Vyatipat, 18. Variyan, 19. Paridhi, 20. Shiva, 21. Siddha, 22. Saadhya, 23. Auspicious, 24. Shukla, 25. Brahma, 26. Indra, 27. Vaighriti.
Karana: Half of a Tithi is called Karana i.e. there are two Karanas in a Tithi. The names of the Karanas are as follows: 1. Bava, 2.Balav, 3.Kaulava, 4.Taitil, 5.Gara, 6.Vanijya, 7.Vishti (Bhadra), 8.Shakuni, 9.Chatushpada, 10.Nag, 11.Kinstughan.
Conclusion
If you also have faith in Panchang then do your work in Shukla Paksha only. If you want to know more about Panchang then talk to astrologers.