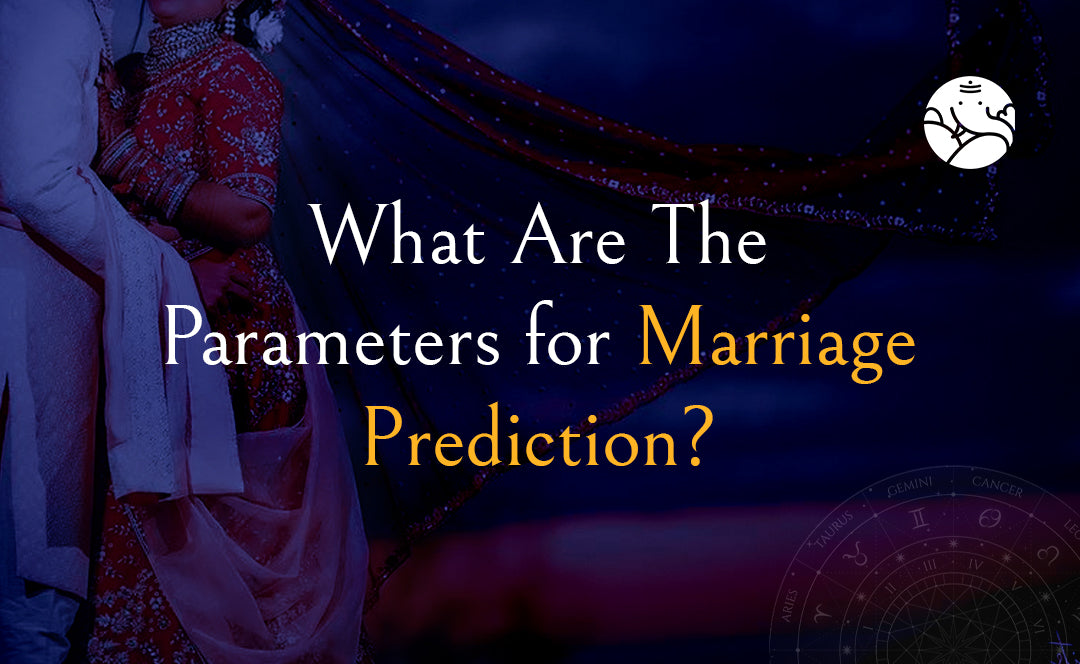 What Are The Parameters For Marriage Prediction?
Marriage is an important occasion in a person's life. This is the important ritual, which transforms everything around you. This sacred ritual binds two souls together and creates an everlasting bond between them. After marriage, your joys and sorrows are linked to your spouse. A good matrimonial bond makes your life blissful and that is the reason why everyone desires to make their marriage successful.
Marriage Prediction By Date Of Birth
People often ask pundits whether their marriage will be arranged or loved, and according to marriage predictions astrologers, or Numerology, you can know whether your marriage will be loved or arranged. In numerology, by adding the numbers of your date of birth, the number comes out, like if someone's date of birth is 24th, then his number will be 2+4=6.
The people who are born on the 1, 10, 19, and 28 of any month have number 1. People with a number are shy by nature and these people are not able to initiate their love. In such a situation, it is difficult for them to have a love marriage.
Those who are born on the 3rd, 12th, 21st, or 30th of any month then their number is 3, and such people are lucky in case of a love marriage. Actually, the number 3 is the symbol of Jupiter, and people with this number get love in life. They are successful in marriage.
Is There A Love Marriage Or Arrange Marriage In Your Horoscope?
Many youths may be curious to know whether there is a love marriage in their life or an arranged marriage. Many lovers and girlfriends also want that they should marry the one whom they like. The status of marriage in the birth chart is seen from the seventh house. To find out the yoga of love and arranged marriage from any person's horoscope, the position of the seventh house and its owner is assessed. If this is not done, then it can prove to be very difficult to predict marriage. Apart from this, some yogas show marriage is also important in this.
Love Marriage Yoga
According to love marriage specialists, the yoga of love marriage can be formed in the horoscope of a person due to many reasons. If there is any kind of relation between the fifth house-fifth lord, the seventh house seventh lord, and the ninth house-ninth lord, then this situation indicates a love marriage. Along with this, the combination of some planets also plays an important role in this. Present in the birth chart is the alliance relationship of Venus and Mars, the vision relationship is supposed to show a love marriage. 
Arranged Marriage Yoga
In the horoscope, if Sun-Moon's relationship is formed with the second house, then this situation shows arranged marriage. Similarly, if Venus is in an auspicious position in the horoscope and is in a favorable position or forming a relationship with the second, fourth and ninth house, then the chances of arranged marriage are formed. The second house of the horoscope represents the family, in such a situation, the relationship between the marriage house, the fourth house, and the Sun-Moon show the marriage with the consent of the family.
The Time Of The Wedding
If there is any question about when the marriage will happen, whether it will be early or late, then the answer to that question is also present in the horoscope of the native. It is easy to tell the time of marriage in astrology. If the seventh house and its lord are auspicious in the horoscope of a person and there is an effect of auspiciousness on them, then it is possible for the person to get married at the right age. If the marriage house is auspicious in a horoscope, then this situation is going to give happiness in marriage soon. Due to the influence of malefic planets like Shani, Mars, Rahu, and Ketu on marriage house, there is a situation of delay in marriage.
Conclusion
In today's modern society, marriages are made in heaven, and such things are counted in the old dictatorship. However, in today's new times in our country parents of marriageable-age boys and girls struggle a lot to find suitable life partners for their sons and daughters. However, online astrology consultation can help them to get out of this problem.