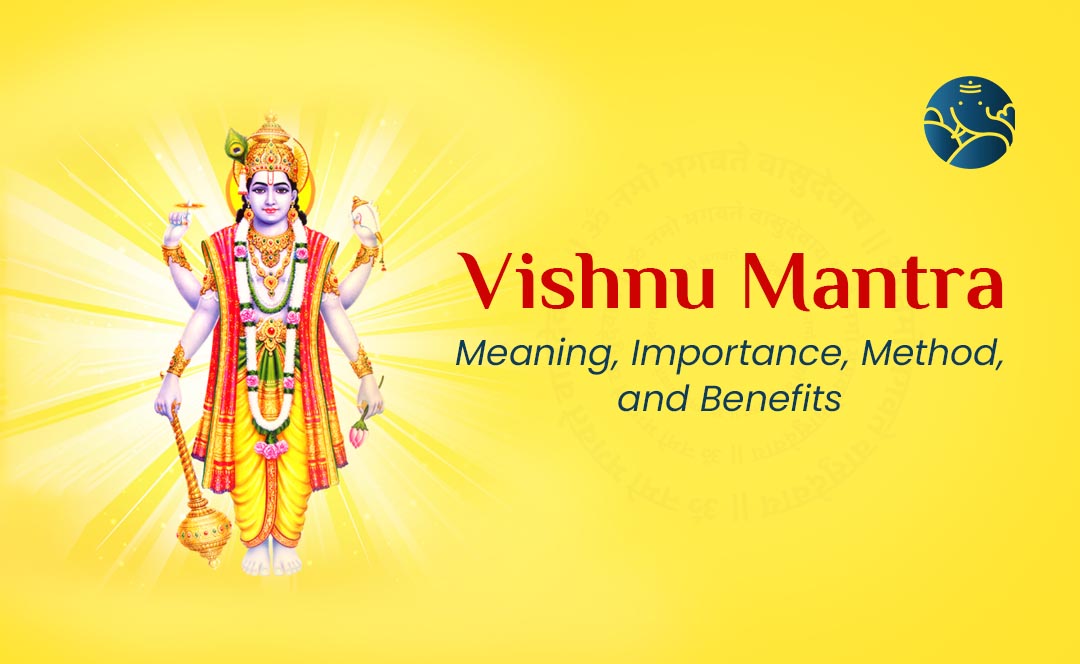 Vishnu Mantra: Meaning, Importance, Method, and Benefits
In religion, Lord Vishnu has been called Palanhar. Worshiping Lord Vishnu brings happiness, peace, and prosperity to the house. At the same time, chanting Lord Vishnu's mantras is also considered fruitful soon. For this reason, Vishnu mantras have special importance in the worship of Lord Vishnu.
Our astrology says that Lord Vishnu's wife Lakshmi is very dear to him in this entire universe. In such a situation, chanting the mantras of Lord Vishnu can not only bring blessings to Shri Hari but also establish the abode of Maa Lakshmi in the house. So let's know about those mantras of Shri Hari Narayan.
According to religious beliefs, all the wishes of the people are fulfilled by worshiping Lord Vishnu (lord Vishnu jaap) with a true heart. Along with this, Goddess Lakshmi resides in the house. If these mantras are chanted daily after worshiping Lord Shri Hari, then all the miseries of the people will go away. So, let us tell you about those mantras (powerful mantra jaap).
Vishnu Mool Mantra
ॐ नमो भगवते वासुदेवाय 
Om Namo Bhagavate Vasudevay
ॐ विष्णवे नम:
Om Vishnave Namah
ॐ हूं विष्णवे नम: 
Om Hoon Vishnave Namah
ॐ नमो नारायण। श्री मन नारायण नारायण हरि हरि। 
Om Namo Narayan. Shri Man Narayan Narayan Hari Hari
श्रीकृष्ण गोविन्द हरे मुरारे। हे नाथ नारायण वासुदेवाय।। 
Shri Krishna Govind Hare Murare. Hey Nath Narayan Vasudevay
Benefits Of Vishnu Mool Mantra
According to the scriptures, this mantra is the original mantra of Lord Vishnu. For the devotion of Lord Vishnu, this mantra should be chanted with full devotion and true heart.
Vishnu Laxmi Mantra
दन्ताभये चक्र दरो दधानं, कराग्रगस्वर्णघटं त्रिनेत्रम्। धृताब्जया लिंगितमब्धिपुत्रया लक्ष्मी गणेशं कनकाभमीडे।।
 
Dantabhaye Chakra Daro Dadhanam, Karagragaswarnaghatam Trinetram. Dhritabjaya Lingitambadhiputraya Lakshmi Ganesh Kanakabhmede.
Powerful Vishnu Mantra for Money
ॐ भूरिदा भूरि देहिनो, मा दभ्रं भूर्या भर। भूरि घेदिन्द्र दित्ससि।
ॐ भूरिदा त्यसि श्रुत: पुरूत्रा शूर वृत्रहन्। आ नो भजस्व राधसि।
Om Bhurida Bhuri Dehino, Ma Dabhram Bhurya Bhar. Bhuri Ghedindra Ditsasi.
Om Bhurida Tyasi Shrut: Purutra Shur Vritrahan. Aa no Bhajaswa Radhasi.
Vishnu Gayatri Matra
ॐ नारायणाय विद्महे। वासुदेवाय धीमहि। तन्नो विष्णु प्रचोदयात्।।
Om Narayanaya Vidmahe. Vasudevay Dhimahi. Tanno Vishnu Prachodayat.
Vishnu Gayatri Mantra Benefits
By chanting the Vishnu Gayatri mantra of Lord Vishnu, people get rid of all sorrows. It is believed that those who chant this mantra complete rituals. All their miseries go away.
Lord Vishnu Panchroop Mantra  
ॐ अं वासुदेवाय नम: 
Om Aan Vasudevaya Namah
ॐ आं संकर्षणाय नम: 
Om aam Sankarshanaya Namah
ॐ अं प्रद्युम्नाय नम: 
Om Aan Pradyumnaya Namah
ॐ अ: अनिरुद्धाय नम: 
Om Aah Aniruddhaya Namah
ॐ नारायणाय नम: 
Om Narayana Namah
Sudarshan Chakra Mantra
ॐ ह्रीं कार्तविर्यार्जुनो नाम राजा बाहु सहस्त्रवान।
यस्य स्मरेण मात्रेण ह्रतं नष्टं च लभ्यते।।
Om Hree Kartaviryarjuno Naam Raja Bahu Sahastrawan.
Yasya smaren matren hyantam nashtam ch labhyate.
Vishnu Mantra Benefits


All these mantras of Lord Vishnu are considered miraculous.



By chanting these mantras of Lord Vishnu, Lakshmi resides permanently in the house.



By chanting these mantras of Lord Vishnu, problems like financial crunch never arise in the house.

By chanting these mantras of Lord Vishnu, there is always love in the family and happiness and prosperity in the house.
Conclusion


The blessings of Lord Vishnu, the sustainer of the universe, shower on people. Those people get all kinds of happiness in life. Along with this, all the troubles of their life get destroyed and life also becomes blessed. Mother Lakshmi is the half of Lord Vishnu. In such a situation, those who are blessed by Shri Hari. They definitely get the blessings of Maa Lakshmi. Worshiping Lord Shri Hari daily and chanting mantras destroys all the troubles of people's life. Along with this wealth and prosperity are attained. If you want to know more about the Vishnu mantra then Talk to Astrologers.