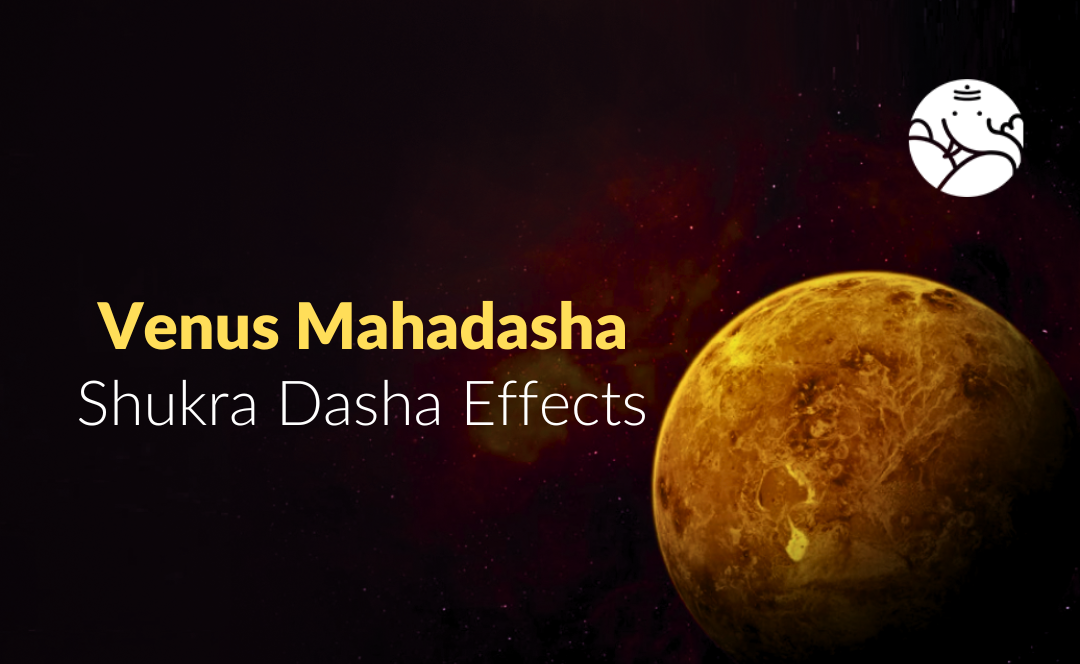 Venus Mahadasha: Shukra Dasha Effects
Most of the time the Mahadasha of Venus is either good or average bad. Apart from this, the major time period of Venus or Shukra Mahadasha sees a person's life as a vast period. It occupies the zodiac circle for 20 years. It represents happiness in a relationship. People think that shukra represents health, marriage, and luxurious life. But this fact is partially true. Venus necessarily represents money. Which is used to acquire luxury. Besides, the property you have was not always yours. Rather it may have been gifted to you after marriage by your life partner or perhaps through a determined friend. That's why Venus is the symbol of wealth only. When it rules the houses of wealth in your horoscope.
In fact, in your real horoscope, it rules the house of illness, the house of marriage, the career, and the house of children. Which depends on where it is located in your horoscope. The planet Venus mainly indicates these things in your Kundali, hence Shukra Mahadasha is based on the position and transit of Venus in different zodiac signs and accordingly affects the life of a person.
Shukra Dasha Effects
The fame, happiness, and entertainment that is included in the life of the person of Venus. It is reduced if the planet Venus is improperly positioned in the horoscope of the person. Talking about the sixth house, Venus is fine. Though your relationship has to face a lot of ups and downs and enemies. If it is in the seventh house, then problems are seen in marriage.
During the Dasha period of Shukra when Venus is not in the right order or position. So cheating can be seen in the relationship. You or your partner may cheat on each other. You can definitely feel unsettled and uncomfortable both in your personal and professional life. It may take a lot of hard work and struggle to move forward in the career and even then the desired result is not achieved. As a result, you are likely to indulge in excessive alcohol and other bad habits. 
But Venus becomes more realistic when it is in a bad position. It teaches you that not everything is easy. You will have to go through upheavals to get good results. For example, suppose you have won a lottery in which you have been offered a lot of money. But you forget to pay your taxes and the next moment government officials come and take all your money. If instead, your money came from hard work then the situation would have been different. This is what Venus teaches you.
Result of Shukra Mahadasha
When Venus is in a good position in the first house, second house, fourth house, fifth house, seventh house, and eighth house of your horoscope. So in fact Venus in the eighth house makes a person very royal. Venus also has a positive effect in the eleventh and twelfth houses. It gives immense benefits especially if it is in a particular constellation in the eleventh house. It makes you obsessed. You can see this by checking your Nakshatra. Where is Venus situated and the benefits of Shukra Mahadasha can be read.
When Shukra Mahadasha affects the native positively. So creativity and success for the individual are at their peak. People associated with professional arts, music, and the acting field see great achievements. Some people also get benefits from the wealth of their forefathers or the wealth accumulated by themselves. The damage done in the previous Mahadasha can also be compensated in this Dasha. Those engaged in the business see a huge increase in their profit numbers. Also, get gifts of new and better deals. There is a possibility of fulfillment of wishes and dreams in the Mahadasha of Venus. Apart from this, the native attracts good-looking and smart people towards him. Due to this, they can also get their potential life partner.
Venus Mahadasha Marriage
According to Marriage astrology, the planet Venus is considered to be the factor of worldly and materialistic pleasures. That's why some works are banned in the condition of Venus. Especially auspicious works get stopped. There is a possibility of getting married in the Antardasha of Venus. The marriage takes place in the Dasha of the ruling planets in which the seventh lord is in or in the dasha and sub-period of the planet that is strong Venus. There is a shower of novelty and freshness in married life. Boredom goes away. Creativity illuminates their life path and leads them to innovation. These people have completely discovered themselves in this Dasha and their soul becomes free from conflicts.
Shukra Mahadasha Remedies
Six Mukhi Rudraksha beads are believed to be a beneficial remedy for negative Shukra Dasha periods. It brings good luck, energy, and money for the purchase of property.





Wear the diamond stone in the form of a ring on the middle finger with a white gold or silver band. It will be very auspicious if you wear it on your finger on Friday night during the aarti or puja of Venus.





Cleaning the stone in Ganges water or cow's milk is also considered to increase the shine of the stone.





It is also recommended to chant the Shukra Mantra- 'Om Sham Shanaishcharaya Namah' 108 times every morning after bath.





The talisman should be wrapped with sandalwood and worn around the neck or arm.





One should keep in mind the image or page of the Shukra Yantra next to the deity every time while worshiping the planet Venus.
Conclusion
Shukra Mahadasha Antardasha is spread over a short period i.e. a period of 20 years. These short periods are 9 in count and are dedicated to a specific planet under the ruling planet Venus. Apart from this, due to the Mahadasha of Venus in the horoscope, people get promotions and candidates get their dream jobs. Businessmen benefit from big deals. This dasha period lasts for 3 years and 4 months. Talk to astrologers to know more about Venus Mahadasha.