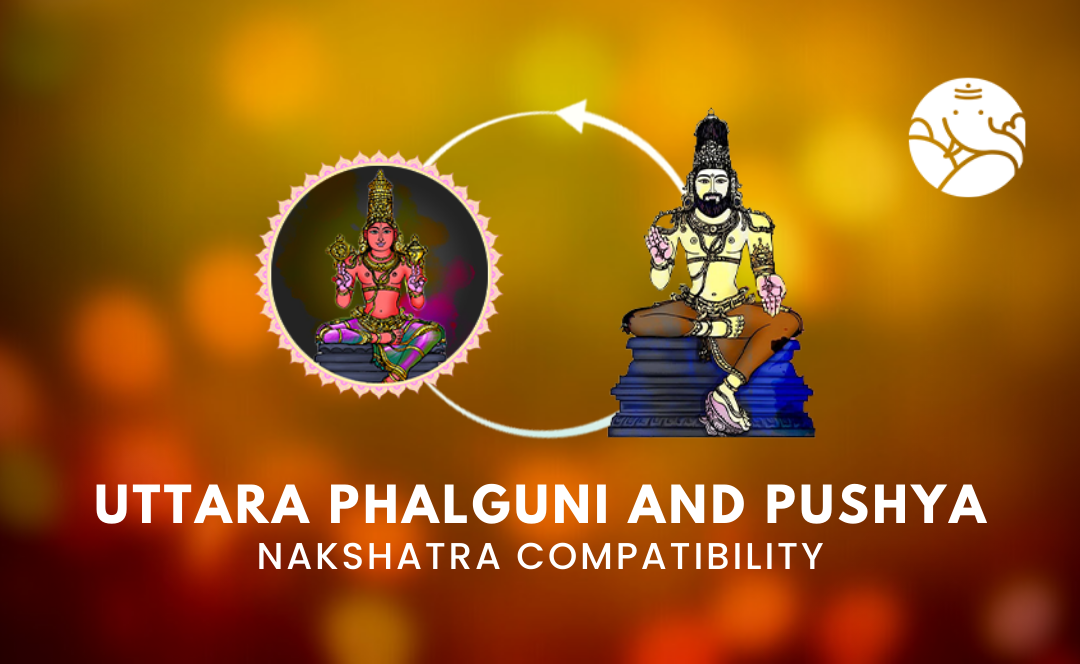 Uttara Phalguni and Pushya Nakshatra Compatibility
 According to Indian Vedic astrology, the Uttara Phalguni Nakshatra is the 12th sign of the zodiac, beginning at 26°40' degrees in Leo and extending up to 10°00' in Virgo. Due to the fact that Uttara Phalguni is a part of the larger asterism Phalguni, this lunar mansion has characteristics in common with Purva Phalguni Nakshatra, the other nakshatra that belongs to the Phalguni asterism.
Out of all 27 nakshatras, the Pushya nakshatra is ranked eighth. It spans the constellation from 93:20 to 106:40 degrees. Jupiter is the god of this nakshatra. Saturn is the planet, and the moon is the reigning lord. Pushya nakshatra's meaning is "to offer nutrition" or "to give force and vitality." Some people also refer to it as a blossom. Pushya was once known by the name Tishya, which means one who bestows delight and good fortune. The term "maha nakshatra" or "very auspicious nakshatra" is used to describe this constellation. This has three nakshatras that line up to make a long arrowhead. Many experts think that this nakshatra has a rounded shape that represents the wheel of advancement.
Uttara Phalguni and Pushya Nakshatra Love Compatibility
They might even exhibit scepticism or be overly reliant on their relationships. However, women will be quite submissive to men. It may be tough for the natives to express themselves, making it difficult for the couple to understand how they are feeling. In a relationship, there will be affected, but there will also be mistrust as predicted by our Love Marriage Specialist.
Uttara Phalguni and Pushya Nakshatra Marriage Compatibility
Your marriage may experience many peaks and troughs. Although the native may have to rely on someone else for their needs, they might gradually take responsibility for what happened. They believe they have a full obligation to their life partners. They will be successful in terms of marriage. Marriage Predictions by date of birth will forecast your married life.
Uttara Phalguni and Pushya Nakshatra Career Compatibility
According to career predictions, Pushya nakshatra locals should be employed in the areas of government, such as the leader of the country, parliamentarians, or officials, or in the fields of spirituality, such as Vedic Guru. They have ties to philanthropic organisations and generate income through the sale of property and structures. They may even work in private offices or as corporate secretaries. Even academic establishments will employ them. Operating as a maid for childcare services, as a self-serve customer, at an asylum or play school, or in sustainable construction are examples of jobs. They are capable of working as sugarcane and ash producers. They may also serve as consultants, journalists, public administration officials, diving, and conventional tradesmen.
Uttara Phalguni and Pushya Nakshatra Friendship Compatibility
This nakshatra's inhabitants are always willing to lend a hand. The inhabitants of this nakshatra are well-liked and receive everyone's respect and love. They are dependable, forgiving, and helpful. They serve the community and try to lessen others' suffering. 
Uttara Phalguni and Pushya Nakshatra Sex Compatibility
A male sheep is a symbol of Pushya's sexuality. Despite having clandestine relationships with others, their sex partner would turn blind and deaf for avoiding the situation. He could be deceived by his sex partner.
Positive Impact of Uttara Phalguni and Pushya Nakshatra 
Compatibility
The native is cheerful and enjoys food. They respect their parents, are polite, and show endurance. They have the ability to complete any task quickly and effectively since they are not frightened of strenuous work. They are spiritually inclined, enjoy travelling, work hard yet slowly to succeed, are amiable, and manage their money well. They prioritise judgement and the truth. They do not avoid the truth, and if they are forced to defend an incorrect action, they become agitated and depressed. They resist giving in to laziness and are unable to remain stationary. They play a lot.
Negative Impact of Uttara Phalguni and Pushya Nakshatra 
Compatibility
The Pushya Nakshatra native lacks a sense of confidence. He has trouble making choices. Although he acts well, it is really for his own benefit. This native plainly exhibits hypocrisy since he will put on a cheerful exterior while secretly harbouring negative feelings. Orthodoxy and narrow-mindedness are prominently undesirable characteristics.
They are protective, which makes their friends and lovers feel uneasy. The locals are obstinate, haughty, and opinionated. Overly emotional, they are quickly upset by even the tiniest things. They talk too much and get out of hand. They lack identity and are easily deceived.
Conclusion
Natives of the Pushya nakshatra have solid, well-built bodies. They have attractive spherical face that radiates light. Being overweight also has an impact on them. They may have a mark of some kind on their body. 
This nakshatra's inhabitants are constantly willing to lend a hand. They may experience various issues during their formative years. If the nakshatra is in an advantageous position, the locals will receive a large sum of money and live like royalty. Follow Online Astrology Consultations to make your life more delightful.