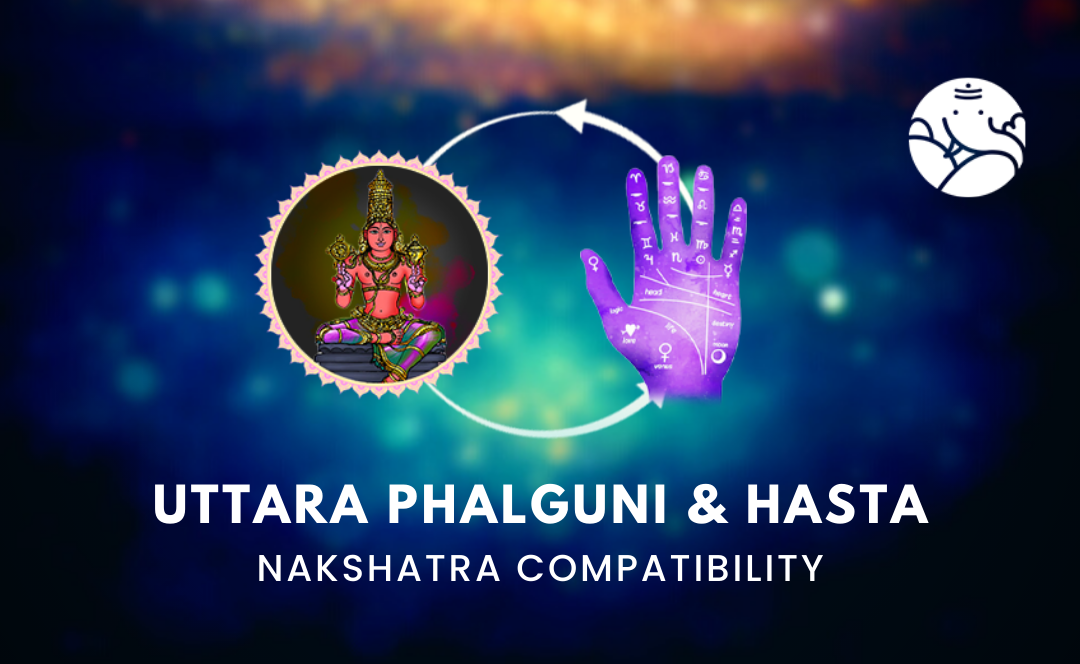 Uttara Phalguni and Hasta Nakshatra Compatibility
The Uttara Phalguni Nakshatra is the twelfth lunar constellation in the Vedic Astrology sequence of Nakshatras. The first quarter of this Nakshatra, or pada, corresponds to the sign of Leo, while the final three quarters correspond to the sign of Virgo. The full name Uttara Phalguni translates to later red one or fig tree. The word Uttara means later or later. This Nakshatra emphasizes individuality and taking a practical and pragmatic attitude to life thanks to the combined influence of Leo and Virgo. The bed or cot's back legs serve as the insignia.
The moon passes through the nakshatras, which are tiny constellations of stars, as it orbits the Earth. Nakshatras are referred to as "lunar mansions" in English. The nakshatra hasta is the thirteenth of 27. If you were born when the moon was in the Virgo sign between 10:00 and 23:20. Moon is the planet's ruler. The moon is regarded as a physical representation of God's thoughts in Vedic theology. It is linked to emotions, the mind, and creativity. In Vedic astrology, where a person's sign is considered their moon sign, the moon is particularly crucial. Godly Nakshatra Group. Monsters, people, and gods are the three categories into which nakshatras fall. Hasta is a nakshatra of the gods. The majority of this group is cheerful and prosperous in life. But they can have trouble with arrogance and ego.
Uttara Phalguni and Hasta Nakshatra Love Compatibility
Your wide, appealing eyes are a blessing that reveals a lot about your character. They stand out the most about you as a person. You have a fascinating smile and a killer attitude which will attract many partners to enter into a relationship with you. A Love Marriage Specialist can help you in your tough days.
Uttara Phalguni and Hasta Nakshatra Marriage Compatibility
You have a positive outlook on life and are very respectful of your spouse. You are constantly searching for fresh prospects and difficulties. You have a touch too much power. Your spouse will show you a lot of love, and your married life will be wonderful. Marriage Predictions by date of birth will give you a detailed analysis of marriage.
Uttara Phalguni and Hasta Nakshatra Career Compatibility
According to career predictions, there are no particularly good or terrible moments in terms of careers or professional life for those born under the Hasta Nakshatra. However, at the age of 33, things in your life will start to pick up speed since you will start to notice some positive changes at this time. You appear to be a generalist who can fit into any type of job with ease, but you will particularly shine in industries like advertising, musical theatre, entertainment, athletics, commerce, management, or even the motor industry. Publishers, fertility experts, gynecologists, estate planners, advisors, the hospitality industry, judges, lawyers, cinematography, commerce, etc. These are among the professions that are most reasonable.
Uttara Phalguni and Hasta Nakshatra Friendship Compatibility
If you are a boy born under the Hasta Nakshatra, you have the appearance of being a pleasant person who is well-liked and admired by those around you. You will have many loyal friends.
Uttara Phalguni and Hasta Nakshatra Sex Compatibility
Hasta is a particularly sexual nakshatra due to the interaction of the feminine and male Shakti. By an attraction to opposites that drives them. As a result, the native Hasta experience it, participate in it, succumb to it, and make every effort to recognize it.
Positive Impact of Uttara Phalguni and Hasta Nakshatra
Compatibility
One who is born in the Hasta nakshatra, one of the 27 nakshatras, is said to have a huge heart. You don't care whether someone is critical of you. In whatever situation, you always maintain your composure and serenity. You like taking chances and constantly try to fully experience each moment. Your capacity to make wise decisions is supported by your ability to select the appropriate course. You take great care to maintain your integrity and respect for yourself. You enjoy leading a regal lifestyle and are well-dressed. 
Negative Impact of Uttara Phalguni and Hasta Nakshatra
Compatibility
Hasta Nakshatra natives tend to be greedy, obstinate, domineering, temperamental, morally bankrupt, impulsive, susceptible, infantile, critical, and irritated, among other traits.
You always voice your opinion, even on the little issues. You'll probably shine in front of others, but you could also lose money and draw flak.
Conclusion
Being intelligent, you constantly strive to complete jobs effectively. You are obedient, impulsive, devoted to your friends and family, adventurous, brave, artistic, and creative, and you can function well in society.
You hold your parents and other senior citizens in the highest regard. You are driven to provide for yourself. You have the aptitude to succeed in sales. You are the one who creates opportunities by constantly searching for possibilities and openings to achieve your goals. You constantly like to be in charge and govern people, which could be problematic in your relationship. You come across as a bit of an aggressive person. Take Online Astrology Consultations to get help from our eminent experts.