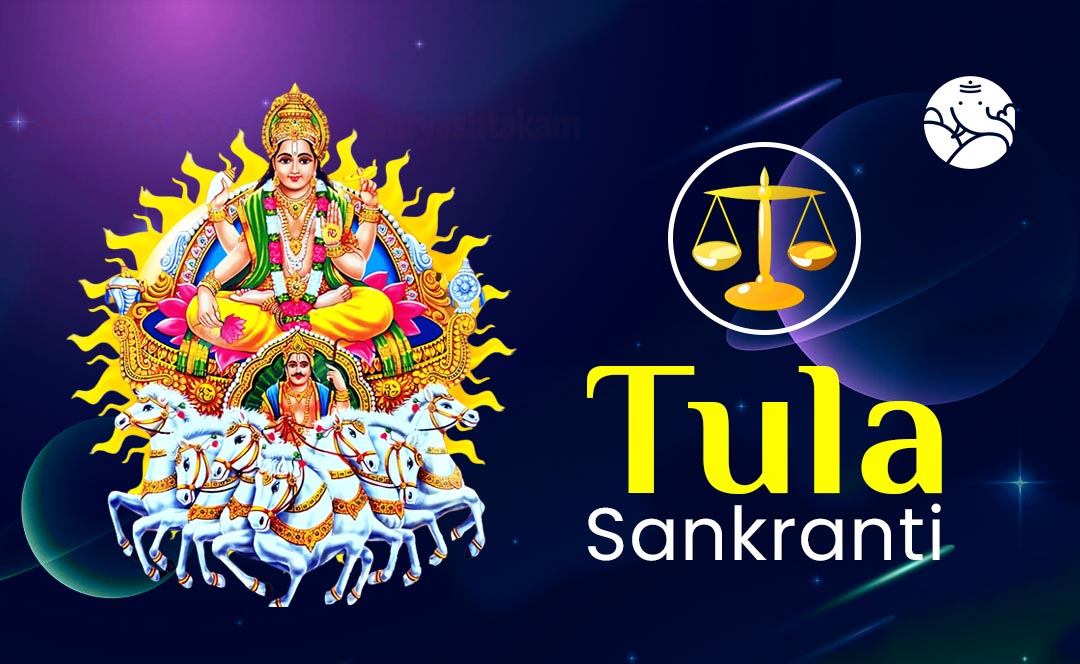 Tula Sankranti - Libra Sankranti
Every Sankranti has its own importance. The date and time of Sankranti is given great importance in the scriptures. When the sun enters Libra from Virgo, it is called Tula Sankranti. As per the Hindu calendar, it falls in the month of Kartik. Tula Sankranti sometimes also falls on Durga Ashtami during Navratri, which is celebrated with great devotion all over India. Sun God is worshiped at the time of zodiac change.
Tula Sankranti Importance
A few days after the change of the sun in Tula Sankranti, autumn ends and the Hemant season begins. According to astrology, along with Rigveda Sanhit Padma, Skanda, and Vishnu Purana, the importance of sun worship is told.

Tula Sankranti has different effects on the natives. The movement of the Sun is good for the people of some zodiacs, then it can be dangerous for people of some zodiacs. That's why to get auspicious results, all kinds of sins are removed by bathing, donating, and worshiping the sun on the day of Tula Sankranti. This increases age. Surya Puja increases positive energy and willpower.

On the day of Tula Sankranti, special importance is given to baths and charity. On this day people wake up in the Brahma Muhurta and go to a holy river to take a bath. After bathing, donations are given to Brahmins.

By doing this, the adverse effect on the person's zodiac is reduced. If for some reason it is not possible to bathe in the river, then bathing can be done at home by adding Ganges water to the bath water. After bathing, the Sun God is offered by adding Akshat and sweets to the water. Saluting the rising sun on this day is considered very virtuous.

In Orissa, during the time of Tula Sankranti, paddy plants start coming to the fields. In this happiness, gratitude is expressed to Goddess Lakshmi, and fresh paddy is offered to her. In many areas, twigs of wheat and kara plant are offered. To protect the crops from drought, flood, pests, and diseases, prayers are offered to Goddess Lakshmi for a flourishing crop.
Auspicious Work on Tula Sankranti
On the day of Tula Sankranti, some part of your food must be taken out for the needy.




On the day of Tula Sankranti, the first roti is given to the cow.




Anger and speech should be controlled on the day of Tula Sankranti.
Tula Sankranti Punya Kaal
On this day farmers celebrate the arrival of rice crop. Taking a bath in the holy tank on Tula Sankranti is considered auspicious.




Goddess Lakshmi is specially worshiped on the day of Tula Sankranti. In this puja, farmers offer some seeds of their crops to Goddess Lakshmi, and prayers are offered for a good harvest.




It is believed that by worshiping Goddess Lakshmi along with the family on the day of Tula Sankranti and offering rice to her, there is no shortage of food grains in the future.




In Karnataka, on the day of Tula Sankranti, coconut is covered with silk cloth and decorated with flowers, and offered to Goddess Parvati.
Tula Sankranti Puja Vidhi
Goddess Lakshmi and Goddess Parvati are worshiped on the day of Tula Sankranti.




On this day Goddess Lakshmi is offered Bhog with fresh rice grains, and wheat grains.




While Goddess Parvati is offered with betel leaves, sandalwood paste.




The festival of Tula Sankranti is celebrated to reduce famine and drought so that the crop is good and farmers get the benefit of maximum earnings.




In Karnataka, the coconut is covered with silk cloth and a representation of Goddess Parvati is decorated with garlands.




Another ritual in Orissa is to measure the yield of rice, wheat, and pulses so that there is no shortage.
Story of Tula Sankranti
The ancient Indian literature Skanda Purana contains several stories related to the origin of the river Kaveri. One of these stories is about a girl named Vishnu Maya. Who was the daughter of Lord Brahma who later became the daughter of Kavera Muni. Kavera Muni had given the name Kaveri to Vishnu Maya.

Agastyamuni fell in love with Kaveri and married her. One day Agastyamuni was so busy with his work that he forgot to meet his wife Kaveri.

Due to their carelessness, Kaveri falls into the bathing tank of Agastyamuni and lands as Kaveri river and all the three rivers from their full course meet Tala Kaveri. Since then this day is known as Kaveri Transition or Tula Sankranti.
Importance of donation on Tula Sankranti
Mother Lakshmi is worshiped on the day of Tula Sankranti to get good health.




In whose horoscope the Sun is debilitated, that person should worship and donate Surya Shanti.




People who do jobs should give gifts to higher officials in the month of Tula Sankranti, doing so opens the way for success.




This month one should take the blessings of his father for the rise of fortune.




On Tula Sankranti, things should be gifted to the poor according to their needs. This ends the suffering of human life.




If you are very upset due to the sun, then what should be donated on the day of Tula Sankranti.
Conclusion
Sun entry into Libra is called 'Tula Sankranti'. This Sankranti is specially celebrated in Odisha and Karnataka. On the day of Tula Sankranti, pilgrimage bath, charity, and worshiping the Sun, there is a positive increase in both the age and livelihood of the petitioner. In such a situation, there are special benefits of worshiping Tula Sankranti. According to astrologers, the importance of sun worship is mentioned in Mahabharata along with Rigveda, Padma, Skanda, and Vishnu Purana. At the time of zodiac change, one should wake up early in the morning and offer Arghya to the Sun for worshiping the Sun. Mahalakshmi should be specially praised on this day, by doing this man never faces a shortage of money, he always gets position and prestige. Let us know the story and method of worship of Tula Sankranti. To know more about the date, auspicious time, and importance of Libra Sankranti, talk to astrologers.