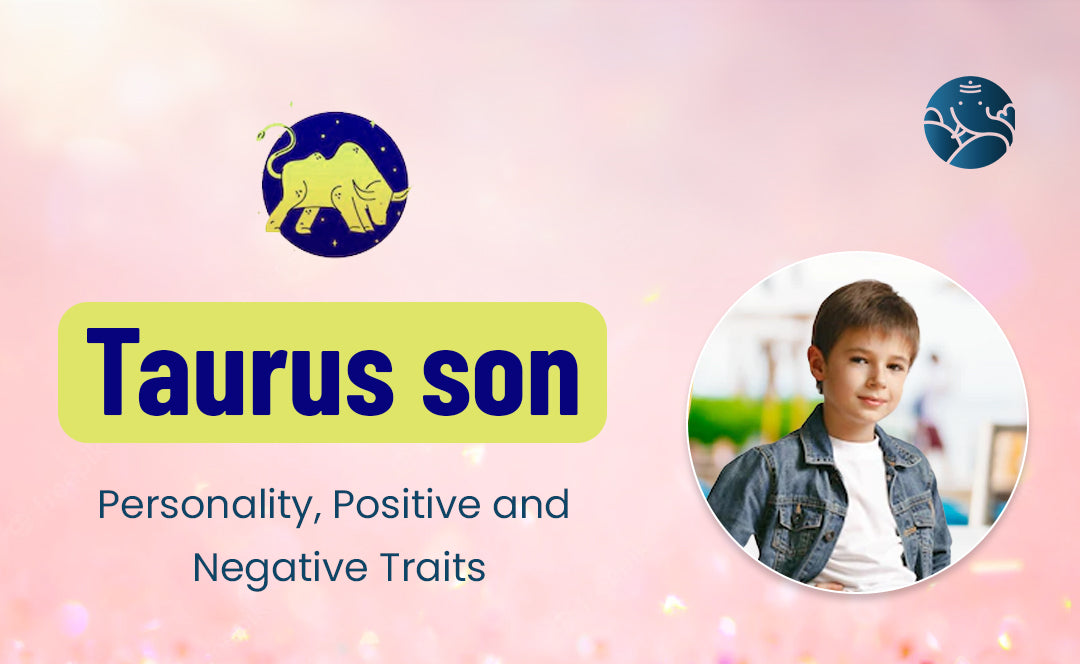 Taurus Son: Characteristics Positive and Negative
Some people can be fun to work with because they are dedicated and want to complete tasks. They appear to have enormous reserves of unity and perseverance. Before making any decisions, they carefully weigh each step's benefits and drawbacks under constant scrutiny. They never made decisions without first carefully evaluating the circumstances.
Because of their propensity to use reason in any circumstance, Taurus Sons are frequently mentioned as sources of direction. People who have such a happy outlook on life are extraordinary because very few people can.
Taurus Son Personality
Taurus is one of the zodiac's most trustworthy and reliable signs. Tauras son is materialistic, unflinching, driven, and emotionless. Your determination and areas of strength have led to your resolution. You are zealous and steadfast. You are very quick, clever, and kind. You are the best marker for growth and development. Your loved ones' lives were spared. Your ruling planet, Venus, will give you a tendency toward adoration, extravagantness, and solace. People enjoy the commonality and safety of their homes, and they detest change and being pushed around in their lives.
Taurus Son Positive Traits
The logical Taurus man has such good judgment that people sometimes ask him for advice. Your thoughtful approach towards activity and intelligent thinking has earned you respect. Friends and family turn to you for support whenever they are faced with difficult decisions or situations. Give them some of your presence of mind to help them deal with it, Taurus son.
You treat the people around you with extreme kindness
Taurus people find people who value using their power to build relationships and win the trust of others. The people of Taurus have a lot of sympathy and understanding. The Taurus son will almost always be fair and direct with those around him, and you will not play games. Son of Taurus sees the deepest truth.
Generous and Dependable
Taurus son, put a lot of hard work, faith, and focus into your work. The sons of Taurus have an amazing talent to hustle. Taurus son, your dedication towards your job is commendable. Taurus Son Makes a sincere effort to complete the task successfully and exceed everyone's expectations. Taurus sons put a lot of effort into a single project and are reliable in their field.
Understanding 
The Taurus man is a thought leader in a group with extraordinary intelligence and insight. Taurus sons have the ability to design, plan and deal with problems or make plans. Taurus Sons control reality while being grounded in all realities. It is possible to sort among those who generally fit the job description.
People love spending time with you because of your open-hearted empathy and general kindness. Taurus Son's natural strengths include caring for and protecting his loved ones. Taurus sons are known to be deeply supportive and secure individuals.
Coordination 
Taurus Sons are dominant and keep everything under control. You pay attention to the subtle intricacies and finer things before planning any task or occasion. Taurus man perseveres through difficulties and finishes well. Taurus Sons are very good at using their discretion and creativity to change events for the better.
Patient 
The people of Taurus are neither excited about this nor are they afraid to stop. The people of Taurus complete your work with extraordinary dedication. After carefully weighing all your options, you have a strong urge to thoroughly consider everything and choose your strategy. The Taurus son is then fully committed to your strategy. The Taurus man shows enough patience to wait for the result.
Taurus Son Negative Traits
Envy 
The Taurus son is extremely jealous, has areas of strength for relational ties, and is highly preoccupied with amassing wealth to work his way of life. Taurus Son becomes extremely jealous when someone challenges him for things that are close to him. Taurus Sons are naturally attracted to other people's flashy pleasures and appearances.
Apathetic
The Taurus son is usually loose, somewhat dormant, and spontaneous. The Taurus son displays poise and clarity of thought. The Taurus man likes to take a break from his regular responsibilities to relax and appreciate life.
Difficult 
The Taurus Son can be stubborn at times, especially when you are sure that you are right. When the Taurus man gets into an argument, it can be difficult to change his perspective. Taurus Son is sharp-minded.
Dependent 
The son of Taurus often struggles to achieve independence. The Taurus man should really work on focusing only on himself. The Taurus man should be aware that your dear family members may not always focus on you. The Taurus son may not always be the person everyone loves.
Unbalanced 
Taurus sons tend to postpone things a lot. You struggle to strike a balance between your work and leisure time. The Taurus son values both time spent working and time spent relaxing, but you won't be doing either right away. Taurus Son may try really hard at this time or you may be relaxed.
Materialistic 
The Taurus son is constantly on the lookout for a satisfying lifestyle. You yearn for advancement and want to continue living a happy and prosperous life. Taurus Sons often favor the good things in life. Taurus sons usually put some effort into making sure they don't see anything wrong with treating themselves from time to time. Taurus sons usually spend a lot of money and property to enjoy daily animal pleasures and luxuries.
Possessive 
Taurus son Attachment to the infallible world can sometimes cause you to become somewhat possessive, be it of other people or things. Growth and fearlessness are required. Taurus son They absolutely despise it when people praise or post about your partner. The Taurus son often takes what the Taurus son wants for himself.
Conclusion
Just like every other person, a Taurus son also has a few flaws, which were thoroughly discussed above. If you have a Taurus son, it is essential to be aware of his negative traits because they will likely have a significant impact on how you relate to him. Talk to astrologers to get effective solutions to many problems in your life.