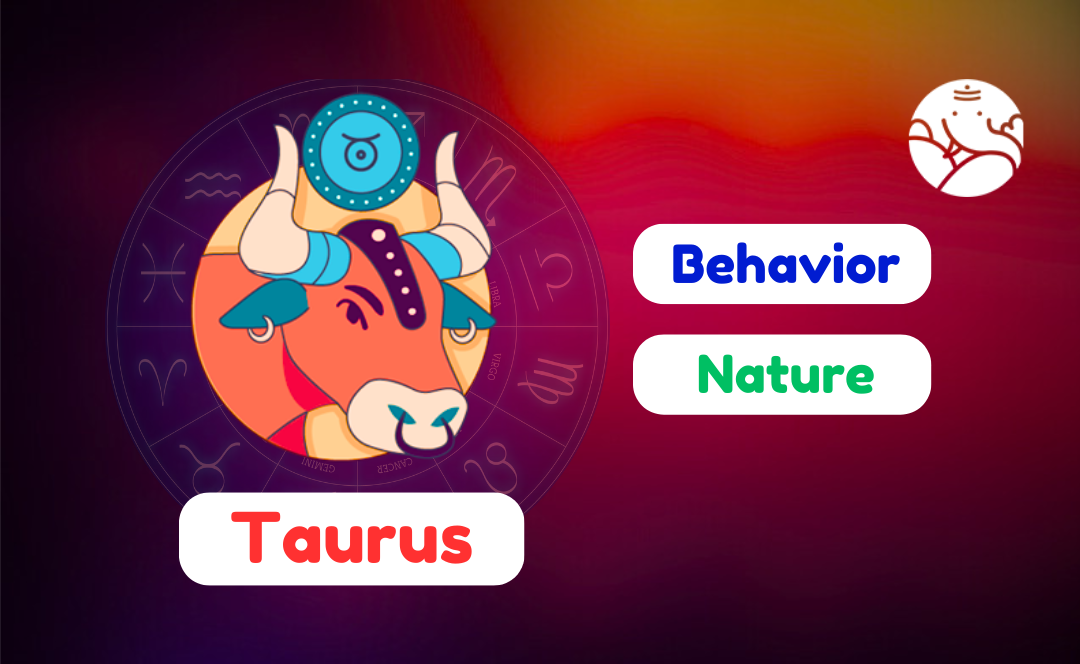 Taurus Behavior - Taurus Nature
Taurus is the second sign of the zodiac. Its symbol is the bull and its ruling planet is Venus. These people are hard workers and struggle to do any work without thinking. These people do not take any kind of risk because they like security. One of the reasons for not taking any kind of risk is their laziness. These people walk on their tested path only. Normally the mind is not fickle, it is serious. They do not find it difficult to meditate and concentrate their mind, provided their mind is calm. To control the mind, they should use white and blue colors. One should avoid eating too much tamasic food.
Taurus people are strongly attached to their environment, work, home, or thoughts. These people consider it as the reason for stability. These people accept new changes with great difficulty. Taurus people are determined. It is difficult to find such a person in terms of determination. When they are angry, they become angry and cruel, but when they are calm, it seems that nothing had happened to them. In such a situation, the nature of Taurus people is normal and attractive to others, and their love and married life are also normal. However, this is an astrological estimate and the behavior of Taurus can change anytime due to the change of any planet.
Taurus Man Nature
The man of the Taurus sign likes physical comforts very much. However, these people do not keep these facilities only for themselves. But also want for all the family members. According to astrology, the male of the Taurus zodiac gets lucky in the 33rd year, 44th year, and 61st year of his life. During these years, his luck opens. They get success in every work. The economic condition gets better.
Taurus men are of normal height and are attractive in appearance. The men of the Taurus zodiac keep on fulfilling what they decide. You cannot force people of this zodiac to do any work. These men like to do everything comfortably. They like to live luxuriously. These men are interested in art, dance, and music. Due to being more hardworking, these people get prestigious positions. The main objective of Taurus men is to earn money in any field. These men are interested in worldly pleasures. Taurus men live life happily. They are more interested in business. They spend very thoughtfully. Sometimes these men also start being very stingy.
Taurus Woman Nature
Taurus women are mainly related to Venus and this is the ascendant dominated by the earth element. Moon, Mars, and Jupiter are enemies of this ascendant while Venus, Mercury, and Saturn are friends of this ascendant. Sun remains normal for the people of this ascendant. They are very simple by nature, so they are comfortable with each other. Taurus women understand romance. The Taurus woman works towards an exciting relationship and both can enjoy materialistic pleasures. The Taurus woman likes to stay at home and generally prefers face-to-face relationships. While Gemini wants to socialize with Taurus by taking them out of the house.
The people of Taurus women are slightly bigger than the medium. Generally, the deal doll of the body is fantastic. By nature, they are patient, serious, and intelligent. She is also a very good writer and speaker. Taurus women definitely succeed in life because of their determination. They are amazingly successful in the fields of governance, medicine, and education. These people are full of compassion and are forgiving. Their health is Kapha predominant.
Conclusion
They face many problems when they get married early. There can be many problems in having a child. These people sometimes become very stubborn and violent too. These people spoil their bodies and health due to greed and food. Either these people are very spiritual or they are ultimate enjoyers. Talk to astrology to know more about the nature of Taurus.