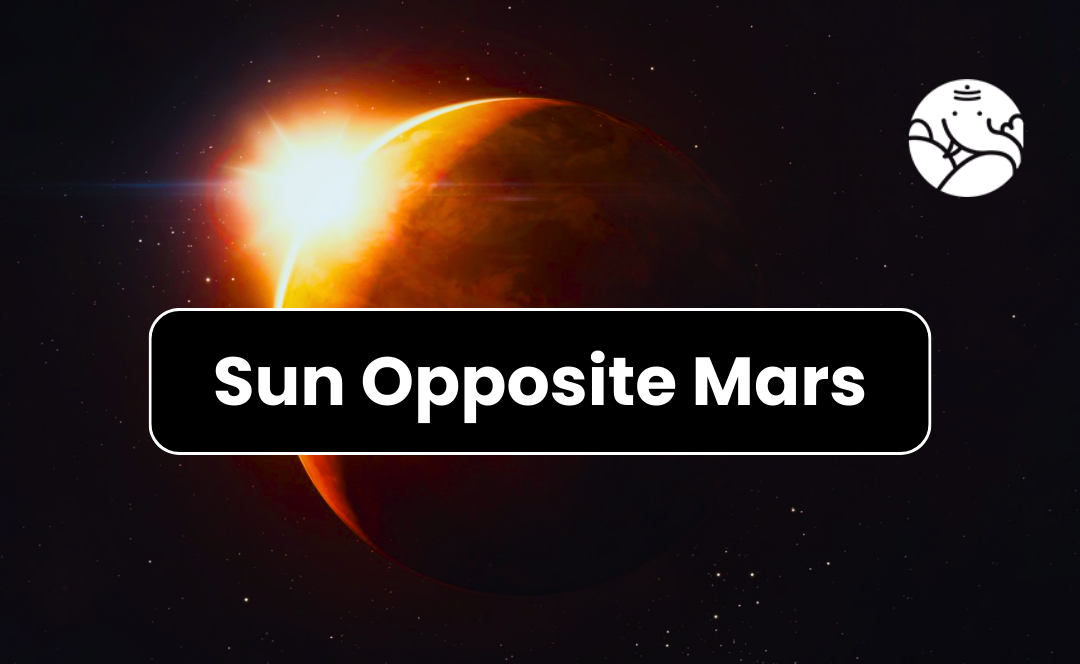 Sun Opposite Mars
The energy generated by the hard aspects between the Sun and Mars is difficult to direct. Ideally, people with these aspects have learned to channel some of their excess energy into productive areas in life, whether in career, sports, or any field where competitiveness is considered an asset. People with these aspects have experienced their share of struggle. Might encounter more, and they can certainly rub people the wrong way. They are highly motivated to get things done, to take action rather than just talk about something, and to get from point A to point B as quickly as possible.
Those in the know well can describe people born with the Sun and Mars in opposition as sometimes hot-tempered and short-tempered. They are easily frustrated, and they are attracted to impulsive actions and assertions of their will. If found in cardinal signs, it gives impulsiveness and a short temper. If aspected in fixed signs, the person can be very harsh and strong-willed. If it is in mutable signs, it gives a frustrated impatience.
Essentially, people with Sun opposition Mars in their charts have faced struggle and are not particularly afraid of it. He himself is faced with the need to claim interception. Thier parents must have done as much as they could to make up for what they felt to be excess energy. In other words, they know all about struggle and obstacles, so that when a challenge or obstacle comes their way, they don't run from it or hide under the covers feeling sorry for themselves. They face challenges head-on.
Sun opposition Mars people are more confrontational than active. In youth, they may find that they often have to face the wrath of others. They can see the energy of Mars coming from outside. If and when they face the fact that aggression is actually a part of their own personality, they are more equipped to direct that competitive energy in a productive way.
Sun Opposite Mars Natal
When Mars is opposite to the Sun in your horoscope, it means that you are born with Mars at the midpoint of the transit. You were born with the planet Mars as close to Earth as it gets to its orbit, with Mars at its brightest phase of light in the night sky. There is a strong martial aspect to your identity that gives you tremendous drive and determination to work your way up. You have a willingness to go against the current consensus cultural concepts about how to live your life. It's important to find an authentic path for yourself to follow and you won't conform to a role just to provide you with comfort and stability. You may encounter adversity early in your life, yet through difficult experiences you learn to be tough in overcoming obstacles. You are one of those people who will not give up and will fight valiantly against any setback.
Sun Opposite Mars Synastry
Sun opposition Mars synastry requires you not only to know who you are and what you want, but also to examine the values of others in order to balance your life. You need support, but you attract people with opposite views and will often challenge your ego. Seriously consider whether your beliefs are worth fighting for, as you view differences of opinion as a personal affront. Defend only what's really important to you. "All roads lead to Rome", and you can take more than one trip to get there.
With the Sun opposing Mars, you may have trouble directing your energy towards real-life goals. You sometimes lack the will to move forward, and you tend to waste valuable energy on unproductive activities. You insist on opposing or competing with authority, sometimes going against your own best interests. Emotionally, you may do and say things that seem to go against your better judgment. Emotional stand-offs are not uncommon.
Sun Opposite Mars Transit
Your current relationship with your willpower, vitality, assertiveness, anger, courage, and desires will be illuminated. These may be aspects of your desire that you have been denying. For example, if you've been holding yourself back from going after a particular goal, you may realize that you really want to be more successful in this area of your life and that you need to be more assertive. Need to. Or, you may realize that you are actually angry with the situation that you were previously suppressing feelings of conflict. If feelings of anger arise, do your best to figure out how to release the feelings in an appropriate way that doesn't lead to unnecessary conflict. Any adversity or inner fear you will have to face during this transit and overcoming it will ultimately make you stronger.
Conclusion
Sun is more powerful than Mars when it comes to the survival of the fittest, which should be considered whenever issues of survival are at stake. Note the tendency to argue and compete with others. Otherwise, you will alienate people who might otherwise support you. If you want to know more about the Sun Opposite Mars, then talk to astrologers online.