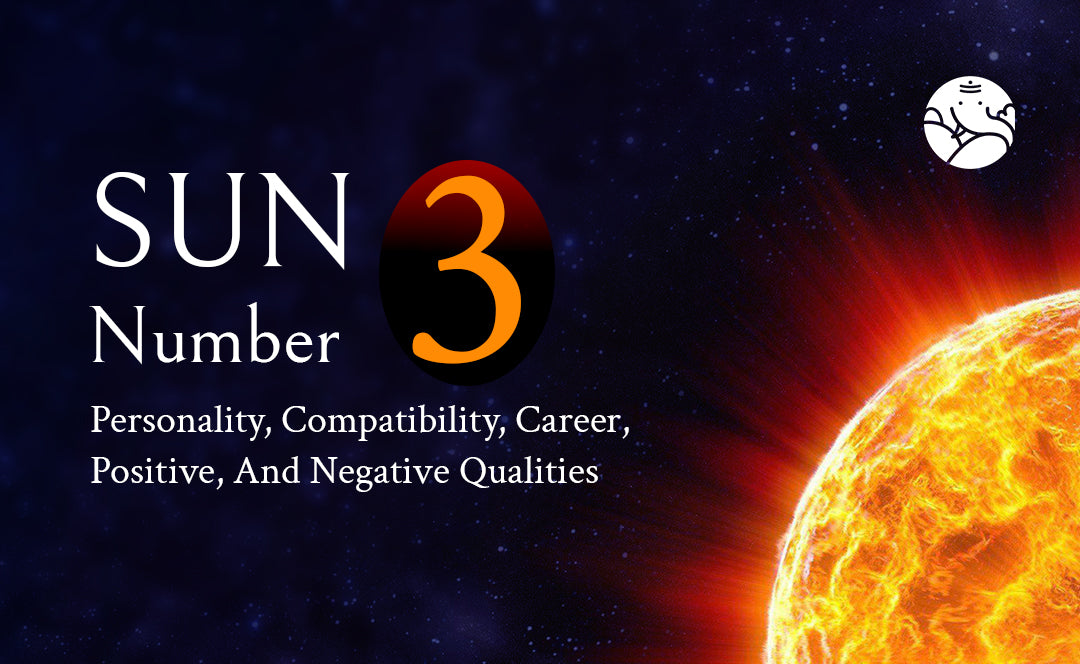 Sun Number 3 – Personality, Compatibility, Career, Positive, And Negative Qualities
Every individual is governed by a specific personality number. Other numbers have some effect on the person. Sun Numbers 1 and 2 can be seen as father and mother. Sun Number 3 personality can be seen as an extremely gifted child. Sun Number 3 is seen as very creative.
The artistic, inquisitive nature of Number 3 allows it to express abstract ideas and find solutions that may appear to work in others. A child at heart, always eager to have fun, connect with others, give hugs, and express love, and happiness.
Sun Number 3 Personality Traits
People with Sun number 3 destiny number and birth number are fun to be around. His sense of humor is very good. They are perfect in social skills. Number 3 people are very attractive. They acquire knowledge in all fields. Number 3 people are intellectual and very practical types of people. Number 3 people are very ambitious and confident in their careers.
They are also ambitious in nature just like the people of Sun Number 1. These people can never be satisfied by working under someone's influence or authority. They love their freedom very much. This freedom is my favorite principle. They wish to have the whole world under their control and always try to fulfill it. Instead of listening to someone's orders, they like to command others. They only believe in listening and obeying their mind. Sun Number 3 in numerology tends to thrive in an upbeat and exciting environment.
Nature of these people is very sociable, they get mixed up with people very quickly. Because of this, they find it easy to communicate with people. Due to his sociable nature, he is able to convey his thoughts to others very easily. The relations of Sun Number 3 people become very close with their own Sun Number  6 and Sun Number 9 people because they share the same ideology.
Sun Number 3 Compatibility
A person with Sun Number 3 has good compatibility with Sun Number 1, Sun Number 5, and Sun Number 7. 
Sun Number 3 Career
People with personality Sun number 3 destiny number and birth number are driven to succeed at the highest levels and achieve top positions in their careers. Careers in which a personality Sun number 3 will excel and find happiness. This includes politics and public office. Banking and advertising can be suitable careers. Many number 3 personalities do well in the armed forces as they rise through the ranks. The medical field can also be a good field for Sun number 3.
Positive Qualities Of Sun Number 3
Those ruled by personality number 3 are very intelligent and practical. They can achieve great success. They should take care of developing their concentration and potential through projects to achieve that success. They are lucky. But the success they yearn for. To make it, they should also work with luck. Number 3s tend to be popular and with some determination can do very well for themselves.
Negative Qualities Of Sun Number 3
They seek power and control in most situations. They become lazy and there is an inability to complete the projects started by them. They can also be a jealous person in personal relationships. However, a "lucky streak" is also present in them. But that often takes the backing of the discipline necessary to succeed. They don't have that.
Conclusion
Sun number 3 has a very magnetic personality, which attracts other people very easily with its magnetic quality. Its enthusiastic greetings and ability to communicate create a natural charisma. Combines well with others to make. It is their attractive personality that attracts the attention of others towards themselves. Which even without trying, this number is the star of everyone's eyes in Numerology. Their way of talking, and way of getting ready can attract others towards you very soon. Is. If you want to know more about the personality of Sun number 3 then go for online astrology consultation.