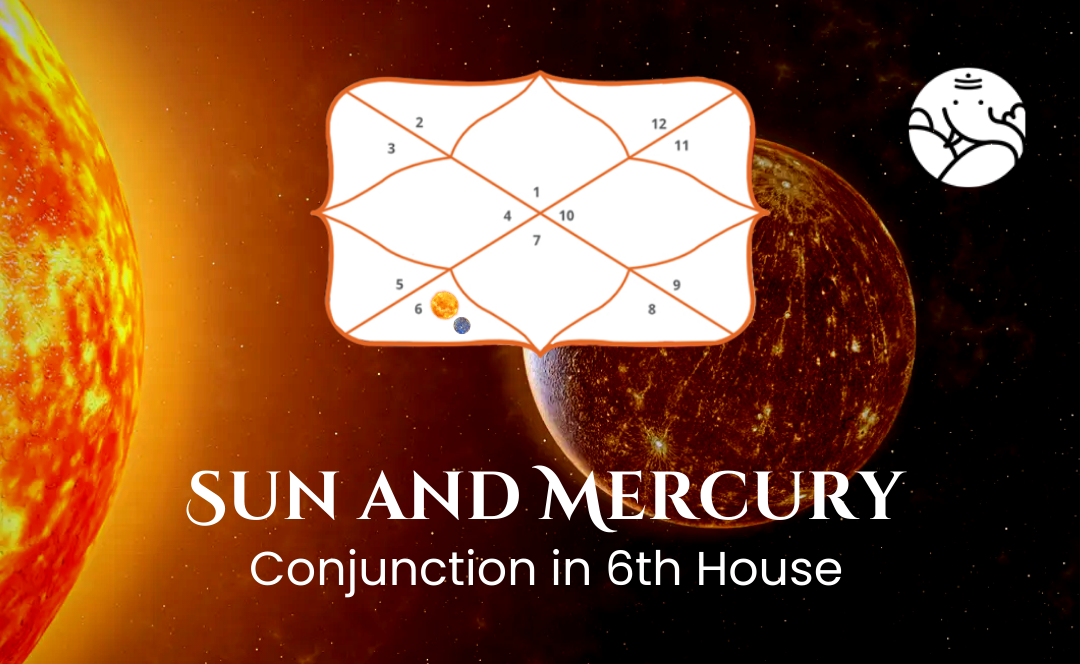 Sun and Mercury Conjunction in The 6th House
Star that is surrounded by every planet we know and pray to is also considered the father of all the planets, the planet which directs and drives human behavior according to Vedic texts. A planet in astrology that tells the motives and ultimate aims one will have in his lifetime, is the very known planet Sun. The sun represents the soul, the Father, and authority. It is also known as the true source of life. Being the most important planet, which is responsible for respect, recognition, and social status one will have in society, the sun is the most important factor for knowing someone's future achievements and pursuits in life. 
The capability to decide, understand and judge is the most important for someone to survive in this multi-dimensional world and this is only by the virtue of planet Mercury that we can understand the complexities around us. It can influence the 12 houses in the horoscopes in different ways. Mercury being the right brain of an individual represents writing, communication, expression, and calculation. It has been seen as a source of positive thoughts. We have our astrology phone consultations at your service.
Effect of Sun and Mercury Conjunction in 6th House 
The sixth house is the one associated with health, wellness, and daily routines which includes odd jobs. The position in the sixth house helps you decide what type of work should you do, whether the job is suitable or not, and how much success you can gain in your business life. When you're born the body exists in the first house and the choices you make over the lifetime build your body found in the sixth house. 
Positive Effect of Sun and Mercury Conjunction in 6th House  
While learning they begin slowly and later on progress in their life. Through competition and defeat, they boost their confidence.
They are really strong in terms of giving out services and they are also fascinated by farming and the environment.
The individual may possess great communication skills. the individual might have expertise in argument and logic.
The individual has a good name and fame. He might be popular for his victorious acts. The individual can also have a successful career in politics.
The individual may be getting victorious over enemies by his cleverness. The individual can be working in government jobs or administrative posts or might be working in big multinational companies.
Negative Effects of Sun and Mercury Conjunction in 6th House  
The individual's wife may have ill health. The individual itself can have abdominal issues and skin problems like rashes. The individual can also have mental stress.




The individual might turn out to be a criticizer because of his way of expression which can be harsh or misbehaving types. The individual might insult others.




The person may actually struggle early in life in terms of their speaking skills and language. Any kind of learning can become a tough task for this individual. They start out very slow but later on, they can progress in their life. 




This individual usually loses their childhood and youth in competing and they also fail several times but eventually, they gain confidence from these things. They might also feel that they are not receiving what they wanted, and they might think of taking a step back.




They also need a supportive environment in order to function properly. They could also feel lost in a foreign place. 




In situations like a dispute in marriage, they might fall short of words like they won't know what point to put forward.
Conclusion 
The conjunction of Mercury and the sun in the sixth house majorly focus on the learning part wherein an individual struggles with his learning in the beginning stage of his life. The individual should learn to stay consistent in his life and should not give up looking upon difficulties in his life. The person should also devote time to meditation as mental stress may be built up because of his struggles in life. He can also do breathwork to calm his mind. Ask One Question to us and get peace of mind.