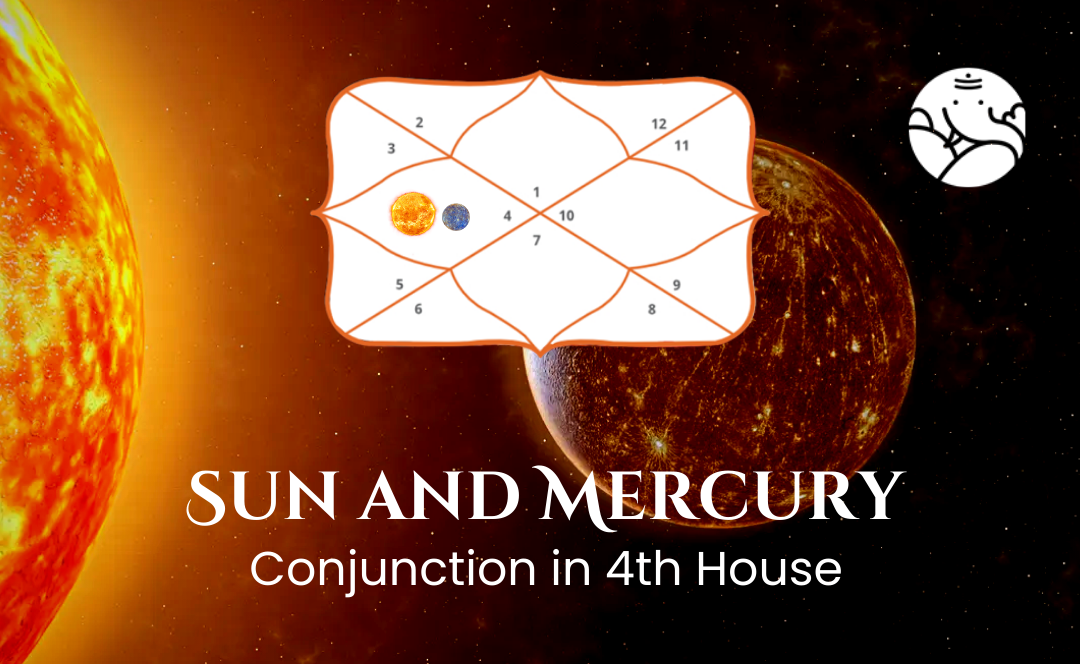 Sun And Mercury Conjunction In The 4th House
The Father of all the planets in astrology, the planet which directs and drives human behavior according to Vedic texts. A planet in astrology that tells the motives and ultimate aims one will have in his lifetime, is the very known planet Sun. Being the most important planet which is responsible for respect, recognition, and Social status one will have in society, the sun is the most important factor for knowing someone's future achievements and pursuits in life. 
The ability to decide and to judge is very important for someone to survive in this multi-dimensional world and this is only by the virtue of planet Mercury that we can understand the complexities around us. Mercury being the right brain of an individual represents writing, communication, expression, and calculation. Planet Mercury in astrology is the symbol of 'Buddhi' i.e. the brain and plays a vital role in Indian as well as western Astrology.
The fourth house is also called the house of inbuilt strength. And the house of Mother, home, and domestic happiness. The fourth house represents the domestic bliss and nature of your mother. This house solely represents the surroundings and living environment of an individual.
Effect Of Sun And Mercury Conjunction In 4th House
The conjunction of the fiery planet Sun with earthly Mercury is a good combination if present in the good conditions in one's natal chart. This only lights the path and journey the native will have in his life and allows him to take the path which will use his wits and morals. This combination is also known as Budh Aditya Yoga ( Only on certain conditions ) as it tells us about the ability of the native to make right and benevolent choices. This is a very royal combination. Wherever this conjunction will be present in the native's chart it will show the path he chooses in his life. If Sun and Mercury are conjunct with Rahu, then it shows his interest in computers. What kind of choices will he make and what will the person's character traits be like, representing his views via communication? You can take astrology phone consultations with us to know precisely about your conjunctions of other planets. The on-call consultations are there to provide you with the best possible solution.
Positive Effect Of Sun And Mercury Conjunction In 4th House
As this house of Moon represents Mother and home, the Budha Aditya Yoga can occur only if an individual is a Gemini Ascendant native and this conjunction is taking place in the sign of Virgo. This house allows the Native to be extremely intelligent and scholarly. This conjunction in astrology allows the native to show his diligence and sincerity toward education. It is generally seen that the native can become anything he wants and can grow as a powerful being using their knowledge and intelligence. 
This astrological conjunction also sparkles its light in one's married and love life. If venus is in a good position in the natal chart then this conjunction in the 4th house can have a beautiful impact on the married life of an individual. He will always spread his knowledge to the needy and might become a consultant or guide misguided students. The children of such a native are also seen to be like-minded with the father.
Native may have a good name in society. He may be getting support from friends and relatives. He may also be a good representative or speaker for a marketing company. 
The sun and mercury conjunction in astrology also represents that the wealth of the individual will not be a problem for him in most of his/her life. He might be getting a good government job or might get good rewards from the government. It favors the native with good wealth and income, extravagant houses, comfy vehicles, and travel in foreign countries. This yoga bestows a native a very comfortable and relaxed lifestyle. 
Negative Effects Of Sun And Mercury Conjunction In 4th House
Sun never forces a native to work against its will but the mind can distract it from the actual purpose. Because of this conjunction in the house of the moon, the native might be restless from the mind or sometimes distracted. He might be brave and possess power but he would lack confidence from within. He might suffer from Mental stress as this makes the person more outward about his/her thoughts and makes him more expressive than required which puts him in troublesome situations.
Sometimes more diligent than required. He may be sometimes too proud of himself and on bad days he would make this worse by losing arguments with himself, making him less confident. Though this does not remain for long.
Native may also be suffering from lung issues and sometimes feel congestion in his chest. Heart-related issues are also common in this conjunction.
Conclusion
The overall conclusion that this conjunction gives us is that if a native understands the real meaning of life and chooses to control his mood swings then he will be able to become a well-reputed and looked-up person in society. And with his wits and ethics, he can become a good teacher or teach people many subjects of interest. His love life will be good and he might gain parental property too, but with some problems. This kind of native should take care of himself and should take astrology as help and should not override the Occult. 
For a one-on-one consultation ask One question to our astrologer to get the best potential solution and remedies for the issue.
The best part for a person with this conjunction is to believe in things and not take astrology for granted.