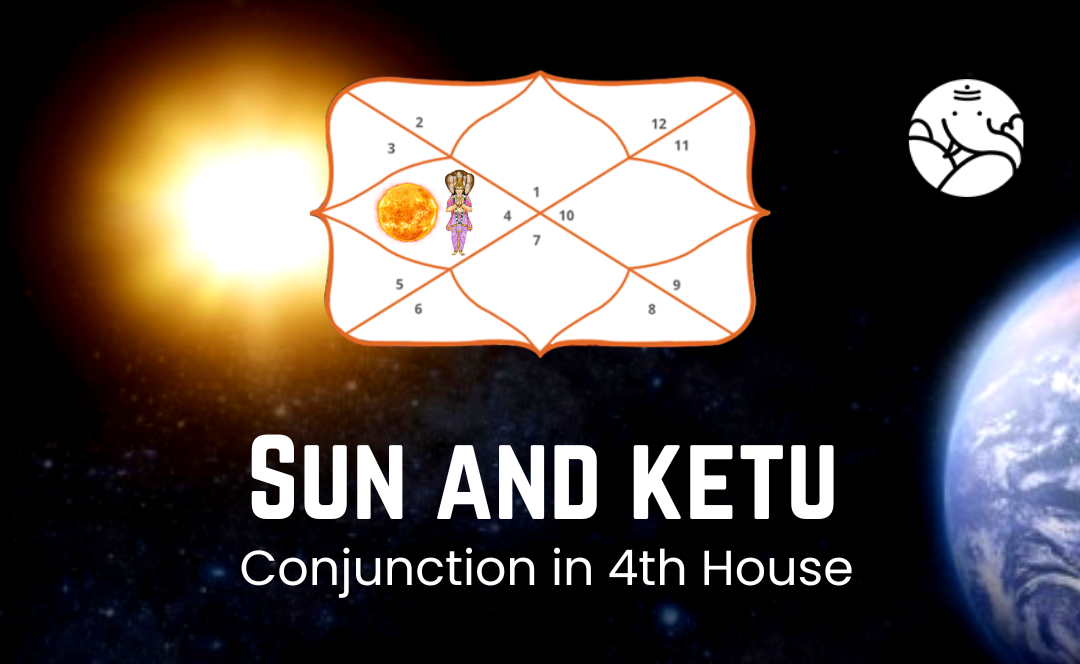 Sun and Ketu Conjunction in 4th house
Sun is the planet that is related to our parents, especially our father. Sun is the representation of the teacher and father and a person needs to get blessings from the sun for individual to grow and prosper in life. The sun also represents the social nature and attitude of a person. Sun is a planet of high ethics and has authority over other planets. Therefore, the person who has the high significance of the sun in the natal chart will have an authoritative position and will be a leader in their profession. Sun makes a person boss and high position in government. This planet makes a person's lifestyle royal.
Ketu is the planet of the past, karma, and detachments. Ketu in general terms represents moksha or the enlightenment of an individual. Ketu is the planet that is responsible for skills and learning. The knowledge that the soul inherits from past lives can be seen by Ketu. Ketu represents short-term trips and trips for jobs.
The conjunction of Sun and Ketu Conjunction in the fourth house is not very good as it may make a person agitated and burdened with wrong choices in life. But this person by being inclined toward spirituality and religion can make themself more empowered and blissful.
Positive Effects of Sun and Ketu Conjunction in 4th House
The individual may be very influenced by higher philosophies of life. They may also be a philosophical person by nature.





The person may be very keen to understand the hidden meaning of life and may follow some spiritual gurus. 





The native will be very inclined towards the occult and may present themselves as a genius in the occult. 





Natives may find peace in isolation near home. This person loves to be around home and will create a soothing environment for their home.
Negative Effects of Sun and Ketu Conjunction in 4th House
The individual may be presented as very unpolite or egotistical. They may fail to present themselves as a team.





The person with this conjunction may be great at finding faults. They may have critical and criticizing personalities, making them intolerable in some situations.





The native with this conjunction may be very lazy or always running to find comfort which makes them unsuccessful.





The native may find it difficult to find comfort in other places than their home, and they may feel very depressed when they are unable to find it.





The native with this conjunction may have differences with the mother and may face challenges in constructing a good relationship with the mother.





The mother of this native may be very bold and uneasy to be understood, therefore may destroy the happiness and blessings of the house. This will only be after some major triggering.





The native will not be able to ascend or prosper in their homeland compelling them to leave their hometown for success.
Conclusion
Sun and Ketu conjunction in the fourth house are not so bad as it leads to discomfort but this is something that a person needs to prosper in life. The individual may face problems with their mother and homeland but this is only to make them realize their true potential outside their comfort zone. These problems sometimes may be very long-lasting but not everlasting and can be overcome with faith and enthusiasm for ambition. These people should read spiritual texts to understand the true purpose and release the agitation they feel in most of their lives. You can get an astrology phone consultation for more information about the Sun and Ketu Conjunction in 4th house and ask one question for particular insights.