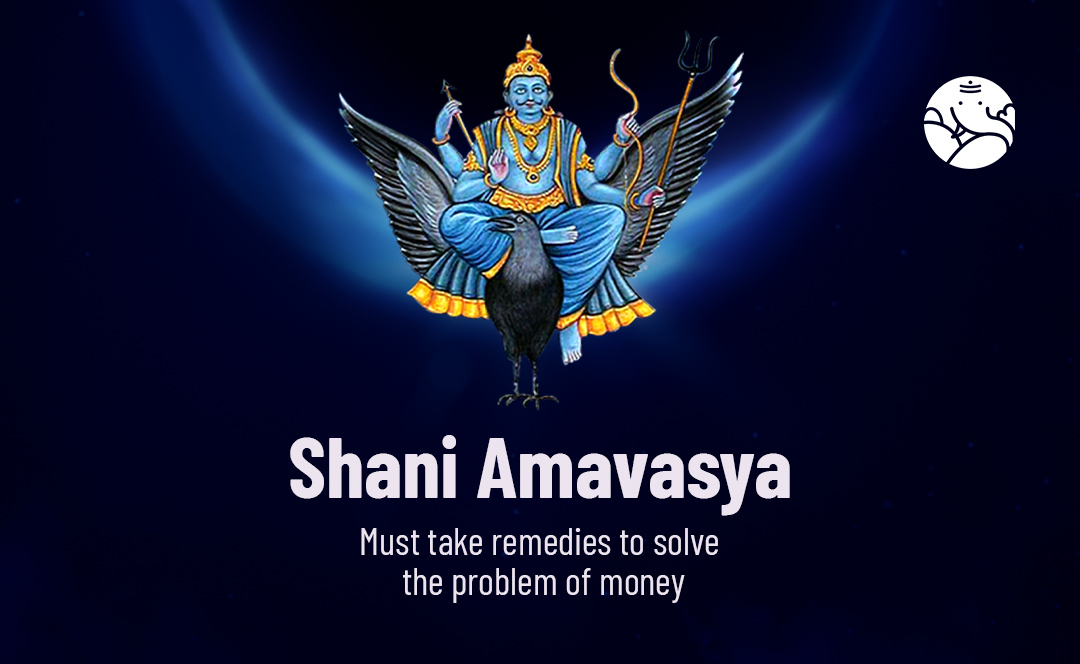 Shani Amavasya - Must Take Remedies To Solve The Problem Of Money
Saturday is dedicated to Shani Dev. At the same time, when Amavasya falls on Saturday, it is known as Shani Amavasya. Shani Amavasya has a lot of importance in Hinduism. It is also called Shanishchari Amavasya. Shani Dev is pleased by taking some special measures on this day. If there is Shani Dhaiyya, Sade Sati, or Shani Dosh in your Kundali, then you can get a lot of benefits by doing some remedies on this day. It is considered very auspicious to offer to ancestors on the day of Shani Amavasya.
By the way, on Saturday, we worship Lord Shani and many people also worship Hanuman Ji. Apart from the solar eclipse, there is a big coincidence of Shani Amavasya on this day. By taking a very small remedy on this day, your poverty of many births can be removed. It is said that, if this remedy is done on the day of Shani Amavasya, then due to Shani's wrath on you and any Vastu defect or any planetary defect, if you people are troubled or there is a hindrance in any of your work, due to which If you are getting to see a lot of problems or if any of your wishes and desires are not being fulfilled or any kind of trouble, if you do this small remedy on Shani Amavasya, then you will get to see a lot of benefits. So let's know about that remedy of Shani Amavasya ...
Do These Remedies On Shani Amavasya
On the day of Shani Amavasya, you bring a lamp and a peepal leaf to your house, and on the day of Shani Amavasya, go to the Peepal tree in any nearby temple, fill mustard oil in the lamp and burn it near that Peepal tree and with folded hands While remembering Lord Shani Dev and meditating on Hanuman Ji, tell your thoughts and problems and whatever your wishes are to him.
It is said that if this small remedy is taken on the day of Shani Amavasya, then your planetary defects, Vastu defects, and whatever if there is a defect in your horoscope or if Shani Dosh is troubling you, then it will end and in your house. Lakshmi Ji will reside. And your bad work will start getting completed.
Don't Do This Work On Shani Amavasya
Offering mustard oil to Shani Dev on Shani Amavasya is considered very auspicious. But keep in mind that while returning from the temple, do not show your back to Shani Dev. It is considered very inauspicious to do so.
While worshiping Shani Dev, one should not look into his eyes. One should always worship Shani Dev by bowing his eyes. The sight of Shani Dev is considered to be retrograde. It is believed that on whomever Shani Dev casts his eyes, his life is spent in trouble.
On Shani Amavasya, it is considered very bad to insult the parents, gurus, elders, and women. Those who do this have to face the ill effects of Shani Dev in the future.
Conclusion
When Amavasya Tithi falls on Saturday, it is called Shani Amavasya. There is a lot of importance in bathing, charity, and charity on this day. Along with this, you can do Shradh for ancestors. It is considered very auspicious to do some work on this day and it is forbidden to do some work. To know about the importance of Shani Amavasya, talk to astrologers.