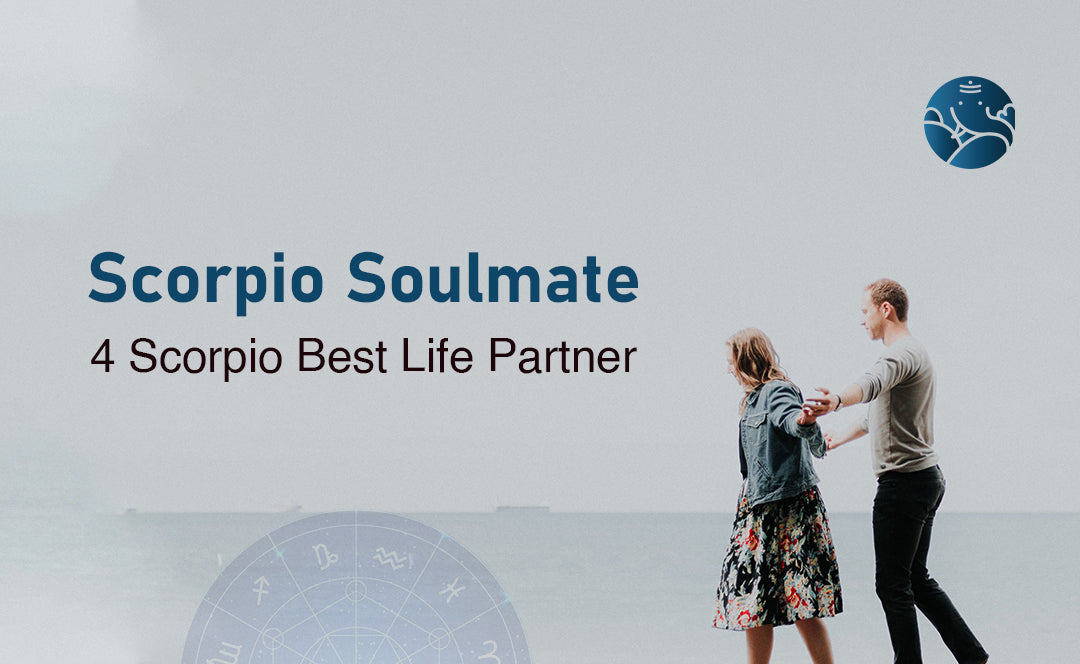 Scorpio Soulmate: 4 Scorpio Best Life Partner
Scorpio people are clear in their minds in their life and they expect clarity from their life partners as well. They love traditions. People of the Scorpio zodiac hesitate to make physical relations before marriage.
Scorpio people are loyal in love and if their life partner shows loyalty to them, then they become their excellent partner. Apart from this, they are also very emotional.
Scorpios are stubborn, courageous, competitive, and mysterious. They leave only after completing the work they decide to do. They need a partner who is independent, ambitious, loyal, and understanding.
Scorpio Soulmate Sign 
Scorpio and Cancer Soulmate
In astrology, Cancer is considered to be the best life partner of Scorpio. Both these zodiac signs can easily spend their life together. When two zodiac signs of the same element come together, it becomes easy for them to come closer. Since both Scorpio and Cancer are water signs, they are sensitive, understanding, and empathetic to each other's feelings.
Many times, even when there is no conversation between Cancer and Scorpio, they understand each other's words emotionally. This is a big reason for them to keep the relations right. Cancer is attracted to Scorpio's depth and strength while Scorpio appreciates Cancer's caring ability. It also improves their sexual relations.
Cancer and Scorpio compatibility is very good. Both are comfortable with each other. Cancer feels very secure when he is with Scorpio and Scorpio feels loved and cherished with Kar. This is what makes their relationship the best.
Scorpio and Virgo Soulmate
Virgo is ruled by the planet Mercury which is the lord of communication but Virgo tends to hold on to the calm and intellectual side of Buddha while Scorpio tends to be more emotional. Both Virgo and Scorpio represent peace. This is a great similarity between these two. Together these two can experience being silent.
Scorpio is a water element and Virgo is an earth element. Just as water gives life to the earth and the earth helps water to flow, similarly, Scorpio and Virgo prove to be helpful to each other. Virgos are a bit timid whereas Scorpios live in a fearless and bold manner. These two opposites attract each other. Virgo has less sense of fear when she is with Scorpio.
Scorpio and Capricorn Soulmate
Scorpio and Capricorn have the same ambitions. They are both hard workers and value security very much. Capricorn has less emotional power than Scorpio, but Capricorn is so adept at speaking that he expresses his feelings with his words, which helps in strengthening the relationship of both.
Scorpio is a water element and Capricorn is an earth element. Just as water gives life to the earth and earth helps water to flow, similarly, Scorpio and Capricorn prove to be helpful to each other.
Scorpio and Pisces Soulmate
Pisces turns out to be a great option as a life partner for Scorpio. In fact, this couple can make other people jealous as their relationship is so deep and satisfying that it makes the onlookers harbor grudges.
Both Pisces and Scorpio are made up of water elements, so it becomes easy for them to live together. Both easily understand each other's state of mind, this also makes their relationship deep and satisfying.
Scorpio is a very devoted and protective partner, which is exactly what Pisces needs. If someone misbehaves with Pisces, then his fate is bad. Perhaps this is Scorpio's way of showing love. Scorpio and Pisces are very romantic and value privacy. Together these two can also go towards spirituality.
Conclusion
A Scorpio can have a life partner who understands their true nature and truly appreciates them. It is not easy to maintain a relationship with them, especially when you do not understand them. If you treat the people of the Scorpio zodiac well, then they can be your most loyal friends, but your one wrong step can distance you from them. The life partners of Scorpio can usually be from Cancer, Virgo, Capricorn, and Pisces. If you want to know more about which zodiac sign is compatible with Scorpio then talk to astrology.