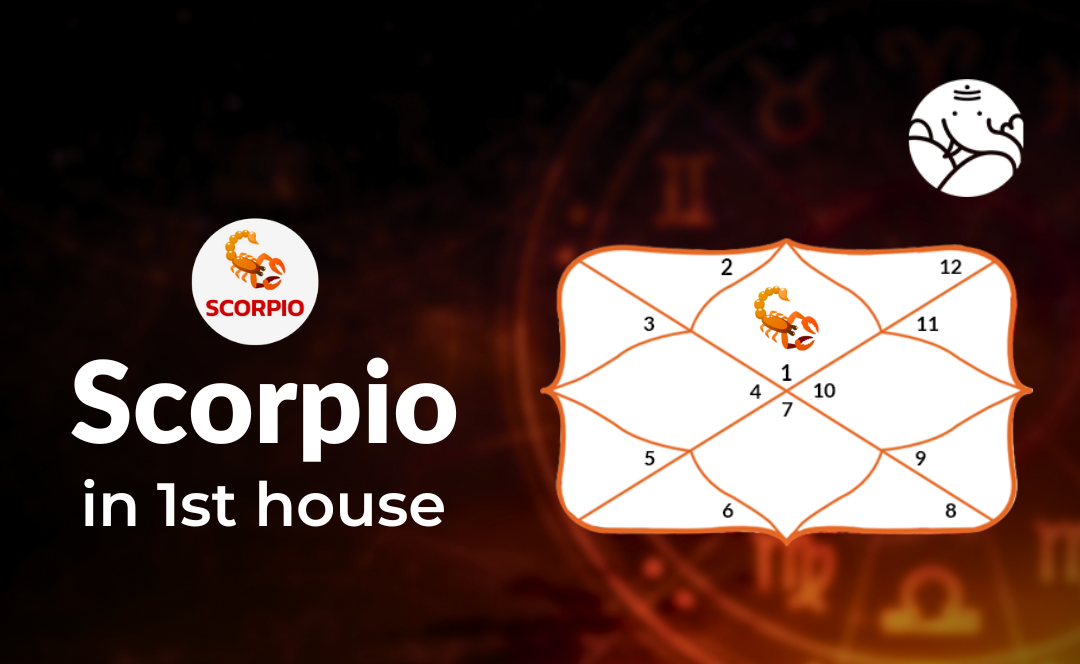 Scorpio in 1st house
Scorpio in the first house is a celestial configuration that gives one's personality a magnetic aura and a sense of intensity. Scorpio's placement in the first house, representing the self, bestows people with a mystical and transforming spirit. Individuals with such a position frequently have tremendous resolve and willpower, making them mighty powers to achieve their objectives. Others may be drawn to them like a moth drawn to the fire by their menacing glance and mysterious demeanor. Individuals are gifted with a firm grasp of their ambitions and a bold approach to self-discovery because of the Scorpio impact in the first house. They have the uncanny power to reinvent themselves, emerging from the ruins like a phoenix, thanks to their intrinsic ability to dive into the very core of their consciousness.
Scorpio in 1st house Astrology
Scorpio in the first house of your astrological chart indicates a dynamic fusion of self-expression and energy. This placement gives you a mysterious and alluring atmosphere, which attracts people to you. You are naturally magnetic and have a piercing glance that makes an impact. Your fierce resolve and willpower help you overcome obstacles and accomplish your objectives. But it's crucial to be aware of any dangers this location might bring with it. Scorpio's passionate personality can occasionally show up as entitlement and a propensity to dominate others. Healthy boundaries must always be upheld in partnerships; excessive suspicion or secrecy must never be allowed. You can make the most of this situation by accepting your authority and pursuing a self-discovery quest. Consider requesting an online jyotish consultation if you require assistance in comprehending and navigating the effects of Scorpio in your first house to receive insightful knowledge and specific direction.
First House Astrology
The astrological First House, sometimes called the Ascendant or the House of Self, is crucial in determining a person's personality and outward appearance. This house is a metaphor for one's exterior and initial impression of others. It denotes an individual's outward appearance and way of living. The sign's characteristics in this home significantly impact a person's demeanor, fashion sense, and behavior. The First House serves as a lens by which the outside world sees a person, reflecting their sense of self and who they are. It holds the secret to comprehending one's fundamental essence, driving forces, and life philosophy.
Positive Effects of Scorpio in 1st House
Scorpio in the first house has a wealth of favorable impacts that mold a person's personality and experiences in life. People under the sway of Scorpio have an unmatched intensity and resolve that enables them to overcome obstacles and achieve their objectives with steadfast focus. They radiate an enticing energy that entices people to be around them, giving them a natural charm and sway. Others find them appealing and intriguing due to their piercing stare and enigmatic presence. The Scorpio energy stokes their need to learn about themselves in the first house, which enables them to dive deeply into their psyche and change themselves from the inside out. Due to this placement, people are given the tools to embrace change, claim their power, and grow wiser, more powerful, and more enduring.
Negative Effects of Scorpio in 1st House
While Scorpio is a sign with many beneficial qualities in the first house, there can also be some drawbacks. People with Scorpio in the first house may have a propensity for being possessive and dominating. Their emotional ferocity and sporadic outbursts might result from their ardent character, straining relationships. They could have trust issues and frequently worry about people's ulterior motivations. Scorpio's mysterious and reclusive character might cause loneliness or make it tough to open up to people. They may occasionally exhibit a fascination or detrimental behavior due to their tireless search for self-discovery and transformation. People in this position must manage their intensity and keep reasonable limits in their interpersonal relationships.
Conclusion
Finally, Scorpio in the first house imbues people with a compelling and transformational force that molds their personalities and experiences in life. Although there are benefits, such as unwavering resolve, irresistible appeal, and a daring dedication to self-discovery, there may also be difficulties to overcome. Scorpio's passion can cause jealousy, violent emotions, and a lack of trust in others. People in such a position must focus their energies constructively and uphold sound limits in their interpersonal interactions. People with Scorpio in the first house can transform themselves and become healthier, wiser, and more robust by discovering themselves by embracing their unique power, utilizing their innate charisma, and managing their passionate nature.