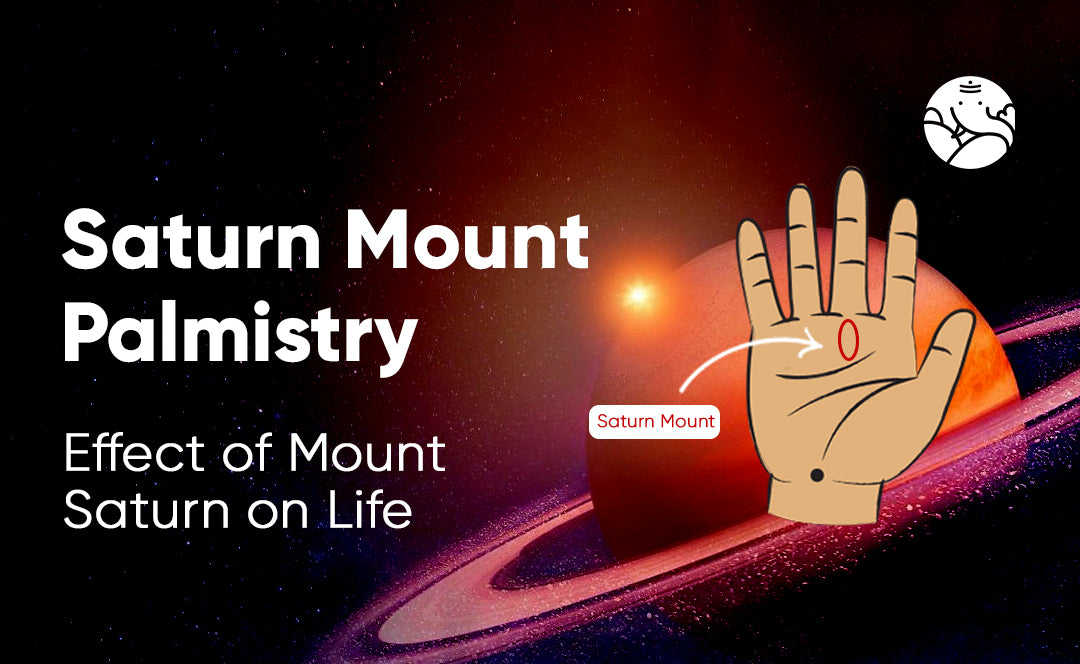 Saturn Mount Palmistry: Effect of Mount Saturn on Life
The base of this mountain is at the root of the middle finger, that is, the place where the middle finger begins on the palm, that place is called Shani Kshetra or Shani Parvat. The development of this mountain in the palm is considered to be an indicator of extraordinary tendencies. If a person lacks this mountain in his hand, then such a person does not get any special respect or any special success in life. In many places, the middle finger has also been referred to as the "goddess of fortune" because, in most hands, the fate line ends at this Shani region or Shani Parvat.
Mount Saturn Effect on Life
If the planet Saturn is fully developed then the person is tremendously fortunate and rises very high in life through his efforts. On being a developed mountain, such a person is reclusive and constantly moving toward his goal. A person gets so engrossed in his tasks or goals that he does not worry about the household. By nature, such people are irritable and suspicious. As age increases, in the same way, such people become mysterious. Shani mountain dominant person becomes a magician, engineer, scientist, writer, or chemist.
Such people are completely frugal in their life and have more faith in immovable property. They have less interest in music, dance, etc. Suspicion lives in his life since childhood and growing up, he doubts his wife and children as well. If this Mount of Saturn is highly developed in a hand, then such a person can even commit suicide. In the hands of dacoits, thugs, robbers, etc. this mountain has been seen to develop more than necessary. The number of such persons is generally yellowish in color. Their palms and skin are yellow and irritability is clearly visible in their nature.
It is considered auspicious for Shani Parvat to be inclined towards Guru Parvat. Such persons have been seen getting a respectable place in society and they can be seen in the best way. If Shani Parvat is inclined towards Sun Parvat in the palm, then such a person is lazy, poor, and depends on luck to survive. Such people have more disappointment than necessary and they see more of the negative aspect of every work or should say that they see more unpublished parts of any work. Such people do not earn much profit even in business and they do not get profit from their family members.
If a person has more than the necessary lines on Shani mountain in his palm, then the person is cowardly and excessively indulgent. If the Mount of Mercury is also developed along with the Mount of Saturn, then the person becomes a successful doctor or a successful businessman and financially such a person also prevails, there is no lack of any kind.
If there is a lack of Mount Shani in the palm of a person, then that person's life becomes insignificant. If this mountain is normally raised, then that person is a person who believes in luck more than necessary and gets failure in his work. The number of friends in the life of such people is also very less. Such people are stubborn by nature and do not believe in religion at all.
According to palmistry, if the tip of the middle finger in a hand is pointed and the Mount of Saturn is developed, then the person is fond of imagination, that is, the person likes to live in fantasies, but the tip of the finger is square, then such a person makes special progress in the field of agriculture or chemistry.
The part below the middle finger in the palm is called Shani Parvat. If Shani Parvat is in an auspicious position in the hand, then it can make the person the owner of immense wealth and also brings a lot of success. If Shani Parvat is well-developed then the person is very fortunate. Such a person attains a high position and respect in life. These people are very passionate about their goals, and they die only after completing their goals. If Shani Parvat is developed too much, then the person's nature does not remain the same. His behavior keeps on changing again and again. It can be said that it is not easy to understand such people. A person whose palm has a well-developed mount of Shani, apart from this the Sun and Mount of Jupiter are also prominent, such a person gets immense wealth. They also earn a lot of money in life and get a high position in the field they go to.
Conclusion
Apart from the lines on the hand, the mountains, auspicious-inauspicious marks, shapes, and symbols made in the palm are also very important. They have good or bad effects on various aspects of a person's life. Also tells the future of the person and his nature. Shani Rekha and Shani Parvat are also included in these lines and mountains of the hand. The auspicious and inauspicious position of Shani Parvat and Shani Rekha has a deep impact on life. We are going to tell about the auspicious and inauspicious symptoms of Shani Parvat. Let us know about the auspicious and inauspicious effects caused by Mount Shani today. If you want to know more about Shani Parvat, then go through the online Jyotish consultation.