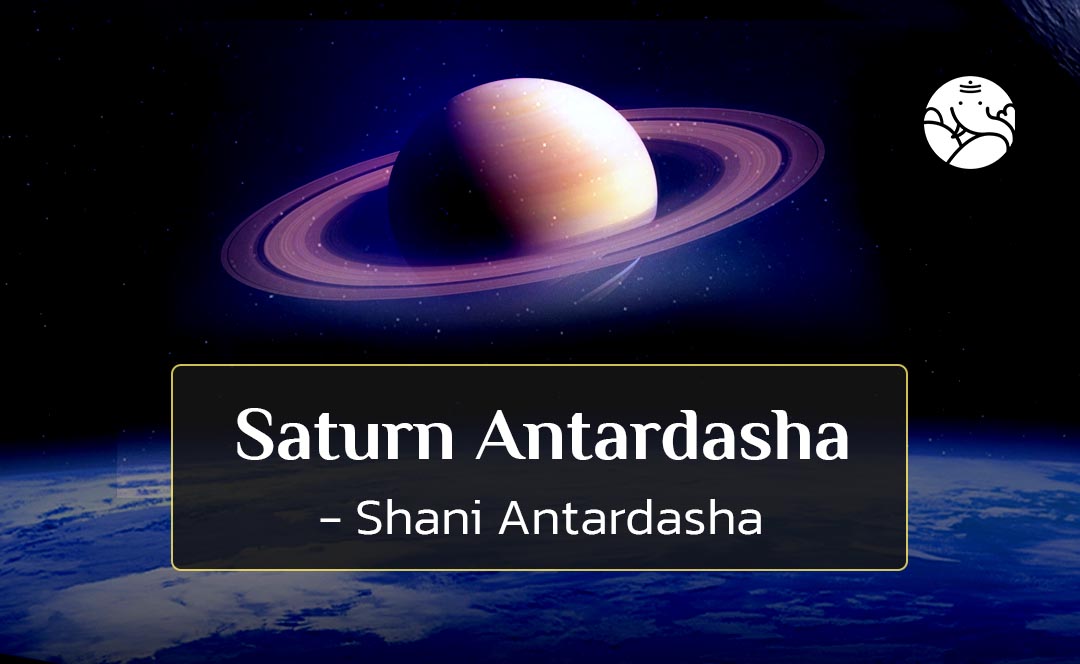 Saturn Antardasha - Shani Antardasha
More information can be found in Vedic texts about the malefic effects of Shani due to which people have developed a fear of Shani Sade Sati and Shani Antardasha or Shani Mahadasha. But the reality is different, just as two sides of the same coin are not the same, in the same way, Saturn introduces a person to all kinds of situations in life. The planet Saturn is generally considered to be one of the most powerful planets in astrology and has the most negative effects on a person depending on the planetary positions and deeds of the native. It is considered the ultimate purifier. It leads the person to an overall wiser and more successful person in the most difficult times of his life.
If Shani is in Kendra or Trikona from Lagna, then the destruction of enemies, complete happiness, getting some grains, marriage, etc. are auspicious works in the house. If Saturn is in its exalted sign, in its friendly sign, and if Saturn conjoins with a friendly planet, then the person gets all-around well-being, more wealth, recognition from the highest priority, fame in the country, and gains. Money from multiple sources. If Saturn is in the 8th or 12th house from the dasha lord or is associated with malefic planets, then diseases like arthritis, pain, fever, dysentery, imprisonment, loss of enterprise, loss of money, quarrels, and disputes occur. With coparceners, claimants, etc. If Shani is in its debilitated sign, there will be separation from the parents and exile or wandering.
During Saturn's Antardasha, the native becomes aware of the possibility of his death and becomes neurotic in all aspects of life. Shani's Antardasha leads to detachment from worldly concerns, emphasis will be on spirituality, concentration, dutifulness, honesty, integrity, and constancy. Ill health, death of loved ones, and/or fear of those things will happen. On the other hand, Shani also provides good results based on the person's actions such as a sense of responsibility, ambition, practicality, and perseverance. Hospitals, old people, inheritance and legacy, wills, and money matters will be prominent.
Saturn Antardasha Saturn Mahadasha
Unafflicted Shani in Kundli gives you a better position and status in life during this period of Shani Antardasha in Shani Mahadasha. Native plays a leadership role in the society. There is also a benefit in land-related matters.
This time will also be good for a life partner and children-related matters. The person also gets a lot of social cooperation. However, if there is an inauspicious effect of Shani, there may be many obstacles in career and professional life during this period. Natives may also have problems in their relations with family and siblings. This period is also marked by increased aggressiveness, jealousy, disputes, and gastric problems.
Debilitated Shani makes the native suffer from various health problems like chronic and painful diseases, cancer, skin diseases, paralysis, rheumatism, rheumatism, emaciation, indigestion, dyspepsia, insanity, impotence in men, asthma, urinary obstruction, and intestinal obstruction. 
Conclusion
When Shani's introspection comes into a person's life, then the person may be bereft of a son, lose money, suffer from incurable diseases, and die of a superior birth like father, uncle, teacher, etc. Also reduces the sources of income. In this way Shani makes the natives suffer from phlegm-related diseases. Talk to astrologers to know more about Saturn Antardasha.