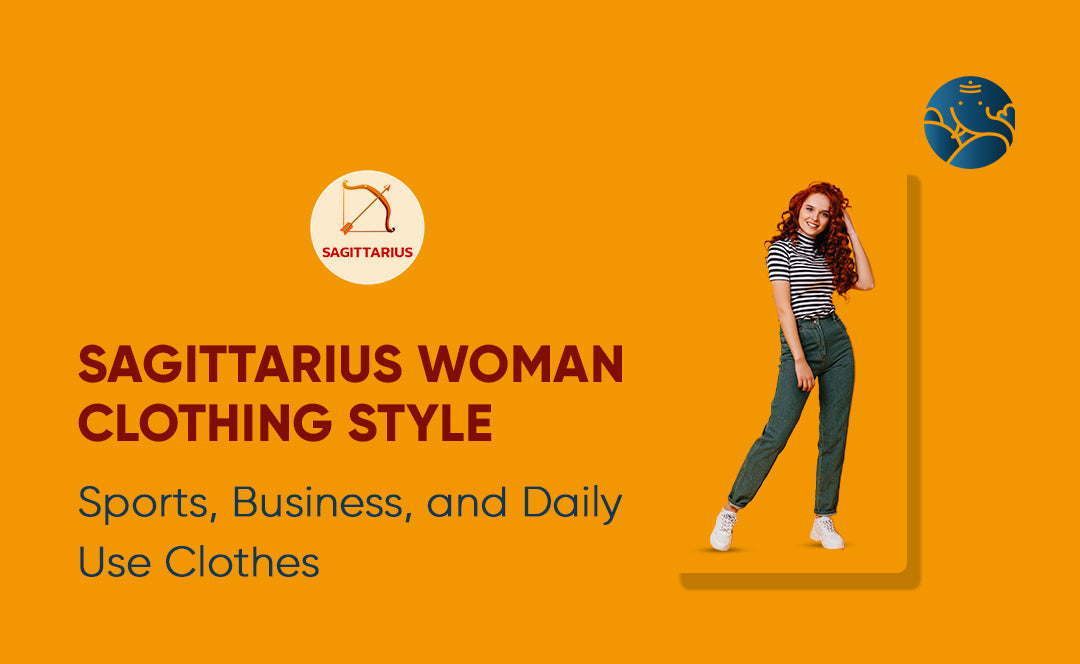 Sagittarius Woman Clothing Style: Sports, Business, and Daily Use Clothes
You get to see a unique enthusiasm in the personality of Sagittarius women who are ruled by the planet Jupiter and influenced by the element of fire, which also affects their costumes. Costumes are like a reflection of your personality. Your outfits in bright colors and prints have the potential to stun people. One can define your personality and outfits based on the position of planets and constellations in your horoscope.
The position of the Sun in the horoscope tells how majestic and influential you will be, while your looks and beauty increase according to the position of the planet Venus. With the Sun rising in Sagittarius, you are playful, fun-loving, and competitive, especially when it comes to sports. Because you have a fast-paced personality, you like to wear clothing that May you keep up the pace and complete each of your quests.
Sagittarius Fashion Style is influenced by the element of fire never dressing according to pre-determined costumes. According to the time and occasion, you simply like to choose it. You are not too serious about your attire and instead of getting bogged down in the little details, you make decisions based on what is available at the moment. No other person can pre-create any image in his mind about your dress, because you also do not know in advance what you are going to wear tomorrow.
Suddenly you get attracted to the latest fashion styles, then the next moment you are following the retro look. You mostly like to spruce up your dressing style with bold and bright colors. Orange, red, and purple colors full of life energy are very dear to you. All shades of purple work to increase the inner energy and self-confidence of Sagittarius women. This color also suits your personality very well. You are always inquisitive about every subject and do not rest until you find the end of anything. You get attracted to anything or anyone very easily. At the same time, your clear conduct and attitude are successful in pulling others towards you. With every new day that comes, you look forward to discovering something new for yourself. By nature, you are very practical, courageous, lively, and optimistic.
Sagittarius Women Wear Daily Use Clothes
Sagittarian women prefer to pair a pair of denim jeans with a variety of kurtis, tops, and jackets for their daily wear. Equally, Sagittarius women also wear simple kurtis with different churidars or salwars. You also like to include different types of blazers in your dress style.
Sagittarius women's first choice is high heels. You can find them in abundance in your shoe rack. Instead of closed shoes, you prefer sandals with straps. With the right branded sling bag or handbag, you can enhance your style. You look great wearing slightly bigger size tops in your ears, which can cover your ear lobes.  Sagittarius women have long black and thick hair, which you like to make and decorate in different ways. Often young girls like to make different types of braids or open-hair hairstyles. You wear jewelry made of different types of shells or stones in your daily style.
Sagittarius Women Sport Dresses
Women are very active in the field of sports, and that is why you also like to exercise. You always take membership of some or the other gym. You always like to learn new sports, like sometimes karate or sometimes badminton or horse riding. You like to be physically active. For sportswear, she prefers easy, comfortable sportswear that she can mix and match. Colorful tracksuits, especially brown ones, are your go-to choice while jogging or working out. Comfortable sports shoes also play an important role in your sports attire. You always like to wear stylish glasses during outdoor sporting events. Light makeup is your first priority so that your look is always perfect.
Sagittarius Women Business Dresses
The glory of Sagittarius women influenced by the element of fire can never be hidden from anyone, but still leaves no stone unturned in exerting their influence on others. Being a self-sufficient woman, you are always associated with some business or job, and you pay special attention to your costumes to make your professional image impressive. Even though you do not like to get lost in the fashion crowd, but still you become the showstopper everywhere. You always determine your business attire by choosing on-trend colors and prints.
She chooses her dress style according to her work area, while also taking care of her comfort and personality. If you feel that Indian wear will suit you at your workplace, then you can experiment with salwar kameez to make your professional look impressive. Same if your work area allows you western and modern costumes, then you choose jeans, tops, blazers or jackets, etc. for yourself.
Your hair contributes a lot to enhancing your beauty, so by paying special attention to your hairstyle, you try to assert not only your beauty but also your personality. To match Indian outfits, you prefer to make braids or buns according to the outfit, while with western outfits, you prefer to make open hair or ponytails. Along with your dress, you also take care of your comfort while choosing your shoes. If you have to stand in the workplace for a long time, then you choose flat heels. If you've opted for jeans or office suits, you can add a confident pace to your step by wearing a pair of bellies or shoes.
Conclusion
The dressing style of Sagittarius women is extremely bold, enthusiastic, and full of energy, breaking all the rules related to fashion, and leaving behind all conventional style statements. Sagittarius women are always full of enthusiasm and energy and spread happiness among others wherever they go. Although wherever you are, an atmosphere of celebration is created automatically, you yourself also like to party. If you want to know more about the fashion style of Sagittarius women, then go for an astrology phone consultation.