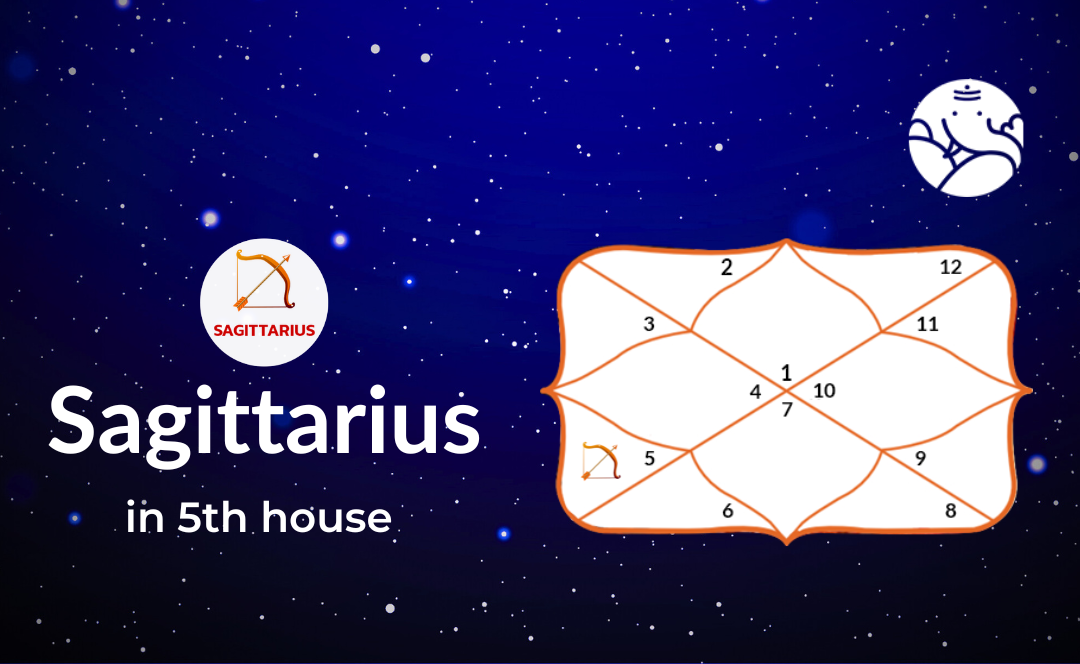 Sagittarius in 5th House
The realms of imaginative thinking, expressing yourself, and romance are given a lively and daring vitality by Sagittarius in the fifth house. People with this placement have a ferocious zeal for life and welcome chances for development and exploration. Sagittarius' influence brings excitement and spontaneity to the 5th House, typically linked to joy, pleasure, and children. These people are frequently inherently extroverted and on the lookout for adventure. They have a strong passion for academic pursuits and might discover fulfilment in philosophical debates, travel, or creative endeavours. Their outgoing, upbeat personalities draw people to them and foster an adventurous, fun-loving spirit in their relationships.
Sagittarius In 5th House Astrology
A person's creative expression, romantic relationships, and personal interests are all influenced by the lively and energetic energy Sagittarius represents when it rules the 5th House in its birth chart. People with this placement are passionate and daring, seeking independence and development in their artistic endeavours. They are passionate, gregarious, open-minded, and eager to learn more about the world.
Sagittarius, a fire sign governed by Jupiter, magnifies these aspects of life because the 5th House symbolises love, interests, and self-expression. Individuals with Sagittarius in the 5th House are often drawn to partners who enjoy intellectual challenges, adventure, and cultural exploration. They frequently enjoy imparting their expertise and experiences to others through instruction, narrative storytelling, or theatrical performances.
Understanding the impact of Sagittarius in the 5th House can offer crucial insights about a person's creative potential, love tendencies, and prospects for personal development for those seeking online Jyotish consultations. An astrologer will assist you in understanding the subtleties of this location and provide direction on how to best utilise its beneficial energies for a happy and peaceful life path.
Fifth House Astrology
The Fifth House stands for joy, romance, self-expression, and creativity in astrology. It is the realm of uniqueness and personal satisfaction. This house controls our creative abilities, pastimes, and methods of seeking enjoyment. Additionally, it represents romantic partnerships, dating, and parent-child ties. The Fifth House influences how we handle various facets of life when astrological signs are conjunct. Every placement has a certain energy and effect that affects how spontaneously, playful, and creatively we express ourselves. We can accept joyful experiences, develop meaningful relationships, and access our inner skills by solidly understanding the Fifth House.
Positive Effects Of Sagittarius In 5th House
Sagittarius, in the fifth house, has various advantageous effects on people. A spirit of adventure, energy, and optimism is sparked by this setting, inspiring amazing self-expression. They naturally bring joy and enthusiasm to their pastimes, infusing their artistic endeavours with contagious energy. They approach partnerships with a willingness to learn and an appetite for experimentation since Sagittarius impacts love and romantic affairs, forging exciting and dynamic connections. Their passion for knowledge and philosophy feeds their creativity and enables them to include significant concepts and wide-ranging viewpoints in their works of art. Overall, Sagittarius, in the fifth house, encourages people to live life to the fullest, motivating them and those around them.
Negative Effects Of Sagittarius In 5th House
While having Sagittarius in the fifth house has numerous advantages, there are additionally certain drawbacks. One potential drawback is a propensity for restlessness and impulsivity when engaging in creative activities. People with trouble concentrating their energies may move from one endeavour to another without finishing any of them. This could result in a lack of sophistication or depth in their artistic endeavours. Long-term partnerships can be difficult to maintain since Sagittarius' sway in romance might foster an apprehension of attachment or a craving for perpetual novelty. The need for travel and individual independence may occasionally precede the need for emotional security and closeness, which could present problems in romantic relationships. It is crucial for people with this kind of position to strike a balance in their imaginative and social endeavours and to develop patience and devotion.
Conclusion
Sagittarius presents a mix of favourable and unfavourable results in the fifth house. On the plus side, it gives self-expression, romance, and creativity a lively and adventurous vitality. People with this placement are enthusiastic, upbeat, and passionate learners driven to pursue their artistic passions. They enliven their relationships and encourage people with their infectious zeal for life. However, drawbacks can also include impatience and recklessness in artistic endeavours and a propensity to value personal independence over devotion in romantic relationships. Finding an appropriate equilibrium between inquiry and security is vital for people with this placement, allowing them to maximise their positive attributes while handling potential obstacles.