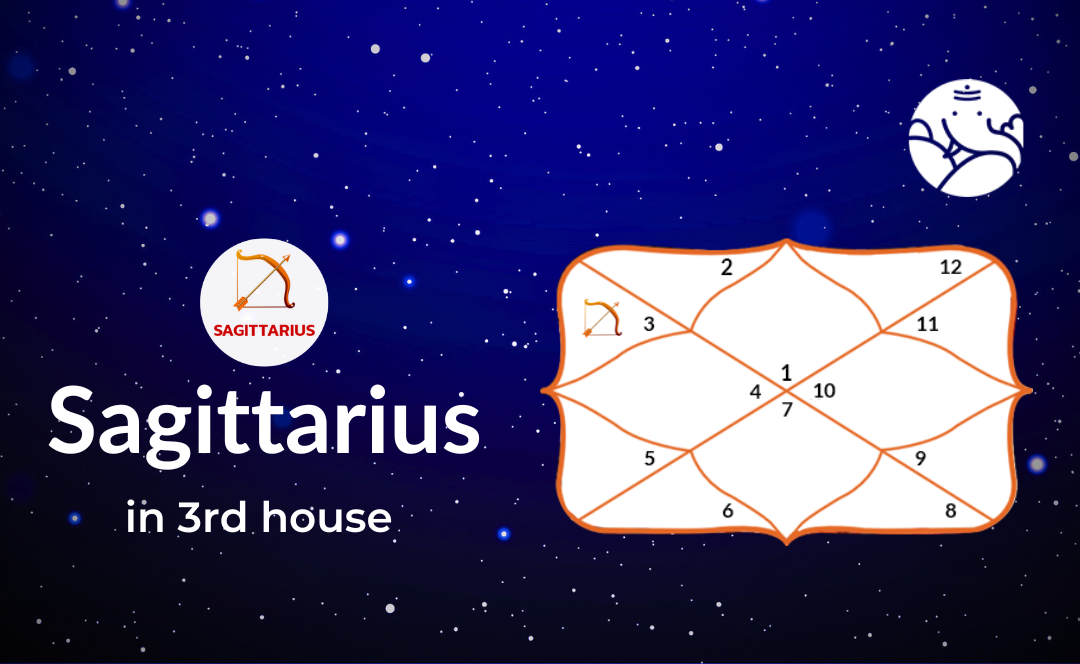 Sagittarius in 3rd House
Sagittarius has specific characteristics and influences that affect a person's communication style, cognitive ability, and immediate surroundings while in the 3rd House of their Kundali. The third house is related to interactions with relatives and neighbours, communication, intellectual pursuits, and brief journeys. People with Sagittarius in this house frequently approach knowledge and idea-sharing enthusiastically and openly. They are eager to learn and are natural learners. They seek wisdom through travel, advanced study, and philosophical inquiry. They frequently communicate in a straightforward, sincere, and adventurous manner. This setting promotes a love of learning, openness, and an eagerness to investigate many viewpoints to broaden one's intellectual horizons.
Sagittarius In 3rd House Astrology
According to astrology, Sagittarius, which rules the third house of learning and communication, symbolises an active and broad communication style. Individuals with this trait naturally like learning and exploring various subjects and philosophical concepts. They are skilled storytellers and outstanding speakers, inspiring others with their ideas. Sagittarius also emphasises a love of travel in the third house, encouraging people to go on quick vacations and explore new cultures to broaden their horizons.
When learning, people who fit this description may need assistance since their lack of focus and impulsivity can keep them from getting involved in a subject. Additionally, their tactless or abrasive communication style can occasionally come off as honest and direct, which causes misunderstandings. To get personalised advice on how to maximise the greatest use of this placement, manage their irritability, and cultivate charge and considerate interpersonal skills for the greatest possible development of themselves and fulfilment in connections and pursuits of knowledge, individuals who have Sagittarius in the third house should consult an online jyotish consultation.
Third House Astrology
The Third House in astrology is the house of speech, intellect, education, the near environment, siblings, and neighbours. It displays individuals' written and spoken communication techniques, information-gathering, and learning methods. In this house, emphasis is placed on practical communication skills, adaptability, and cognitive flexibility. Additionally, it suggests close ties to family and neighbours, short commutes, and involvement in the neighbourhood community. The Third House encourages curiosity, sharing of ideas, and intellectual research. We may understand how people interact with one another, how they prefer to study, and how their immediate surroundings affect their overall well-being by analysing the dynamics of this house.
Positive Effects Of Sagittarius In 3rd House
Sagittarius in a birth chart's third house has several positive effects. A contagious enthusiasm for learning and information sharing characterises this internship. They are fascinated by intellectual exploration and drawn to various subjects and viewpoints. They frequently engage in direct, honest, and daring communication. They are skilled storytellers and outstanding speakers, inspiring others with their ideas. Sagittarius' influence in the third house inspires individuals to embark on brief journeys that extend their horizons and provide them with useful experiences. This location enhances their ability to communicate with siblings and neighbours and forms strong bonds based on shared interests and intellectual pursuits. When Sagittarius is in the third house, it encourages a comprehensive plan for expressing themselves, acquiring knowledge, and interacting with others that is upbeat, broad, and bold.
Negative Effects Of Sagittarius In 3rd House
Sagittarius placement in the third house of a birth chart may not be advantageous. People in this situation may require assistance learning and communicating due to a tendency for restlessness and an inability to focus. They could require assistance concentrating on a particular subject or area of study, constantly looking for new chances and knowledge without delving deeply into any one subject. Sometimes their direct and sincere speech can come across as rude or insulting, which can cause misunderstandings or arguments with others. Additionally, they could be continuously on the go, which makes it challenging to build meaningful ties with siblings and neighbours. To minimise these drawbacks and maximise the advantages of possessing Sagittarius in the third house, people must practise self-control, focus, and considerate communication.
Conclusion
Finally, Sagittarius, in the third house of a birth chart, has positive and negative effects on a person's communication style, learning potential, and conversations with their siblings and neighbours. It also fosters a natural desire for learning, knowledge sharing, and intellectual exploration. Their frank communication style can amaze others. Their love of travelling improves their everyday lives and expands their perspectives. The disadvantages of this position, however, include a tendency for impulsivity and a lack of concentration, which may hinder their attempts to acquire knowledge and interact. Their agitation might affect their relationships, and their directness can occasionally cause misunderstandings. For those who have Sagittarius in the third house, balancing their desire for exploration and the necessity of control and careful dialogue to take advantage of this placement's benefits properly is critical.