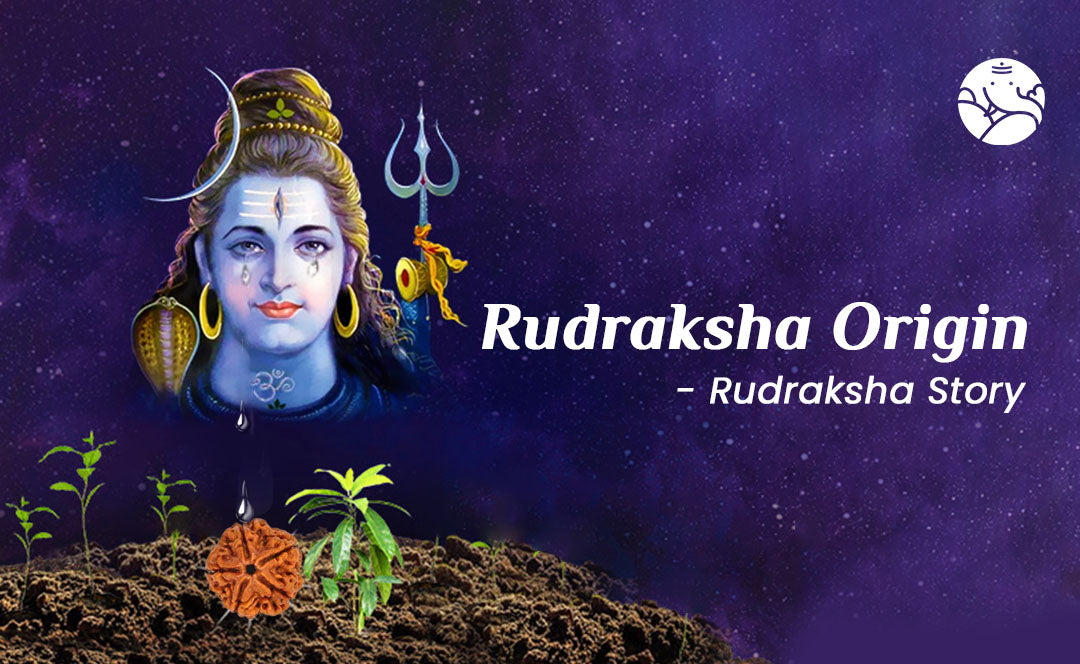 Rudraksha Origin - Rudraksha Story
Rudraksha in Sanskrit means the tear of Lord Shiva.  Rudra is the name of Lord Mahadev and 'Aksha' means tears. Rudraksha also means "under the protection of Lord Rudra (Mahadev)". The origin of Rudraksha is linked to the story of the Tripurasura slaughter.
Rudraksha Story
According to the Devi Bhagavata Purana (a religious text), a long time ago there used to be a very powerful demon named Maya. He made three towns of three different metals, which included gold, silver, and iron.
These cities were indestructible and were called Tripura. Hence the demon is also known as Tripurasura. He became arrogant with time and started troubling the gods and sages. Then Brahma and Vishnu expressed their inability to subdue the demon.
The deities then prayed to Lord Shiva to protect them from the demon Tripurasura. At the request of the gods, Lord Shiva decided to kill the demon. Then with half-closed eyes, he entered a deep state of meditation.
After that, he used the fire weapon named Aghor to kill Tripurasura. That weapon killed the demon with a single stroke but also blinded Shiva for some time due to its dazzling light.
When Lord Shiva opened his eyes, tears rolled down his cheeks and fell on the earth. Since nothing sacred ever goes to waste, those tears turned into seeds and grew into the Rudraksha tree.
The three eyes of Lord Shiva represent the Sun, Moon, and Agni. Twelve types of Rudrakshas originated from Suryanetra (right eye) and sixteen types of Rudrakshas originated from Chandranetra (left eye). Ten types of Rudrakshas originated from the fire eye (in his forehead).
The Rudrakshas born from the tears of the sun-eyes are of the color of blood red. On the other hand, there are white Rudraksha with moon-eye and black Rudraksha born with fire-eye. In this way total of 38 (thirty-eight) types of Rudraksh are born.
Rudraksha trees now grow in very few places in the world in Himalayan regions like Nepal. In Hindu scriptures, Rudraksha beads (also known as Rudraksha Ratna) are considered to be the most sacred object with mystical powers.
Rudraksha is used for spiritual, and material benefits and the wearer's well-being. Rudraksha with mantra chanting and meditation helps get the best results.
They are very useful in awakening the Kundalini of a human being (as per the Hindu science of Yoga). Basically, these are worn for self-empowerment. They have also been used for medicinal purposes since ancient times.
Saints, Sadhus, Yogis, and Priests often wear Rudraksha beads. Its effect is visible within 40 days of wearing Rudraksha. However, Rudraksha must be examined properly before wearing it.
Origin of Rudraksha from the Tears of Shiva
As per legend, once upon a time, Lord Shiva went into deep meditation for thousands of years. It is said that one day when Shiva opened his eyes after thousands of years of intense penance, his teardrops fell on the ground, from which Rudraksha trees grew. Being born from Rudra's eyes, it got its name Rudraksha.
Similarly, another legend is prevalent, according to which due to his arrogance, a demon named Tripurasura started troubling the deities. After this, all the deities went to the shelter of Lord Brahma, Vishnu, and Bholenath. Hearing the pain of the deities, Lord Bholenath went into deep meditation, and then when Shiva opened his eyes, tears flowed from his eyes.
It is said that wherever his tears fell, trees grew there. The fruits that grow on these trees are known as Rudraksha. This is how Rudraksha originated.
Conclusion
Rudraksha is derived from two words "Rudra" and "Aksha", where Rudra means "Shiva" and Aksha means "Eye of Lord Shiva". The origin story of Rudraksha is related to Lord Shiva(Rudra). Many mythological stories are prevalent regarding the origin of Rudraksha. Rudraksha also has special importance in the worship of Lord Shiva. By wearing Rudraksha in the month of Sawan, one gets the blessings of the Tridevs. If you want to know more about the origin of Rudraksha then go for an online astrology consultation.