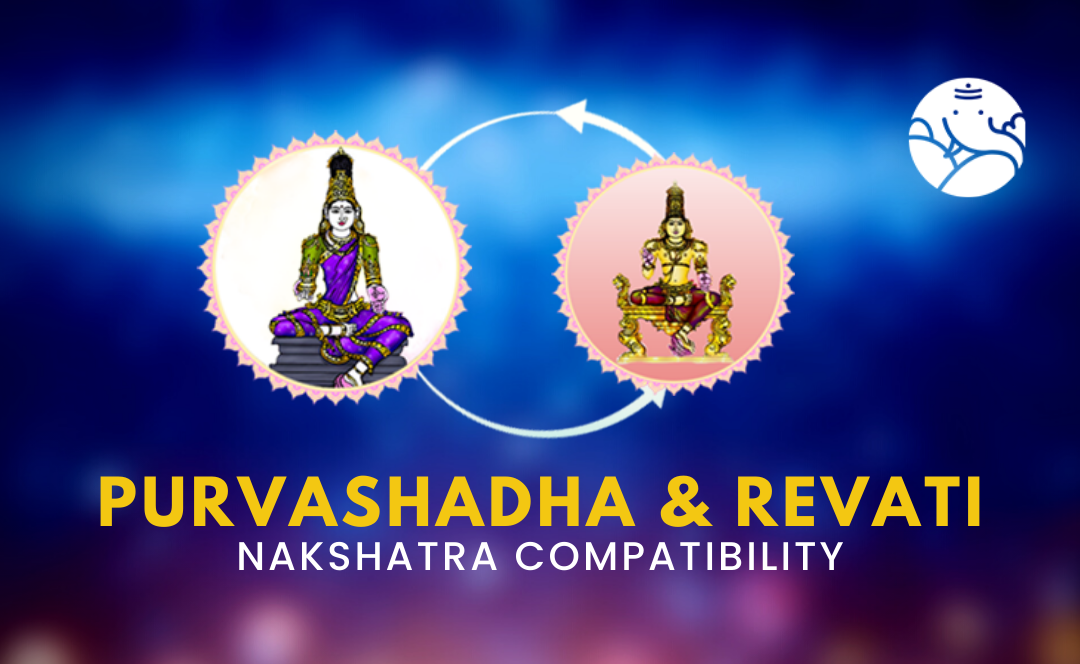 Purvashadha and Revati Nakshatra Compatibility
The twentieth Nakshatra in astrology is Purvashadha, which is literally translated as "Initiating Victory," this Nakshatra is linked to Madhyama Rajju. Venus or Shukra is in charge of it. Purvashadha is located in the Western zodiac at 9°20' - 22°40' Capricorn and the Indian zodiac at 13°20' - 26°40' Dhanu. Elephant tusks or fans are used to represent this harmonious nakshatra. Purvashadha, a female nakshatra, has a downward-facing aspect and a Manushya, or human, nature.
Revati Nakshatra, often known as the "Affluent Zodiac," is the last and twenty-seventh star in the sequence of lunar constellations. This Nakshatra is also known as the "Constellation of Expectations".  Revati stretches from 16°40' to 30°00' Meen Rashi in the lunar zodiac, and from 12°40' to 26°00' Pisces in Western Astrology. Revati's symbols are a "fish swimming in the water" and a "drum." The fish swimming in the sea denotes the soul's voyage in celestial seas, while the drum symbolizes the connotation of giving news. Pushan, the sun deity, is Revati's ruling deity.
Purvashadha and Revati Nakshatra Love Compatibility
They seek the approval and adoration of their loved ones. They want a long and enduring connection, thus they respect their tie as precious and pure. There is tranquility, contentment, and mutual harmony in Revati and Purvasadha's relationship. They can overcome any obstacles as a team and emerge as successful pairs. You may experience many heartbreaks in your romantic life as per our Love Marriage Specialist.
Purvashadha and Revati Nakshatra Marriage Compatibility
Revati has strong marital compatibility with Purvashadha. They have a strong relationship and mutual understanding. Both of them strive for perfection in their relationships, which is practically difficult to achieve. They have utopian viewpoints and set unrealistic and onerous standards. These locals must be practical and down to earth in order for their relationship to succeed. They should also be wary of other people's envy, which might derail their hope of a long-term relationship. Marriage predictions by date of birth will allow you to know the positive and negative sides of your wife.
Purvashadha and Revati Nakshatra Career Compatibility
According to career predictions, Both the residents are incredibly responsible. They are so focused on the tasks that they neglect to take time out for themselves to have fun. All vocations are beneficial to them, particularly Water-related occupations such as shipping, sailing, and navy, as well as marine life. They are also suited for services related to administration.
Purvashadha and Revati Nakshatra Friendship Compatibility
Revati cultivates particular relationships with their friends. They return the favor to their pal. They both make an effort to anticipate and satisfy each other's needs and wishes. They will be completed by their faith. Purvashadha encourages people to indulge in even more irrational fantasies as they assist them in balancing their inner and outward selves.
Purvashadha and Revati Nakshatra Sex Compatibility
They are unexpected and passionate in bed. They enjoy sexual activities. This is why they will have a balanced sexual relationship.
Positive Impact of Purvashadha and Revati Nakshatra
Compatibility
Both natives have rapid physical and emotional growth. Since they are the pioneers of society, they command the respect and regard of others. Because they like getting compliments from others, they regularly partake in meaningless and frivolous activities.  They naturally have a lot of objectives and work toward them all. These folks seem highly aspirational to others.
Negative Impact of Purvashadha and Revati Nakshatra
Compatibility
This Revati Nakshatra's inhabitants tend to be extremely angry, egocentric, depressed, and stubborn. Although it happens, people are sensible enough to set limits so that no one may take advantage of their innocence. Their selfish nature may create a gap in their relationship.
Conclusion
Purvashadha Nakshatra is related to water, which is ubiquitous and universal. This lunar palace also encourages river and marine travel. Revati can reflect both sexual excesses and watery disorders such as water retention or faulty kidney or bladder functioning. Purvashadha looks to be ideal to you since they are creative, clever, brilliant, and intellectual. They rapidly fall for them. Purvashadha has the power to astonish you with their insight and creativity. A wonderful connection in which love thrives. Take Online astrology consultations to put your problems aside.