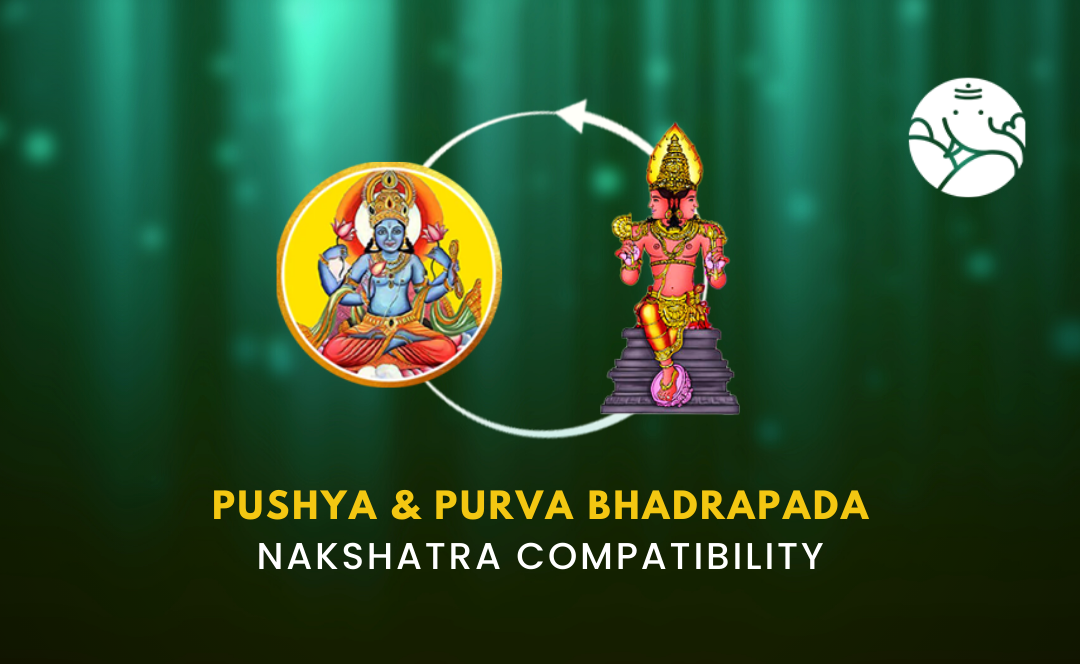 Purva Phalguni and Purva Bhadrapada Nakshatra Compatibility
The twenty-fifth constellation in Vedic astrology is called Purva Bhadrapada Nakshatra, also known as Poorattati in Tamil and Poorattathi in Malayalam. This Masculine Nakshatra, which is upward-looking, is connected to Prathama Rajju. This constellation's name, which translates as "The Burning Pair," explains why its inhabitants are passionate and impetuous. It is represented by a man with two faces or by swords and is ruled by Guru or Jupiter. It is located in the Western zodiac at 16° - 29°20' Pisces and the Indian zodiac at 20° Kumbh - 3°20' Meen.
Purva Phalguni and Purva Bhadrapada Nakshatra Love
Compatibility
Creativity, interest, and sophistication characterize Purva Phalguni. They live life to the fullest but are also dedicated to building a house and a family, which is what you want. They are delighted to take control of domestic matters and excel at it. They'll put a lot of effort into taking care of you in return predicts Love Marriage Specialist.
Purva Phalguni and Purva Bhadrapada Nakshatra Marriage
Compatibility
You make an effort to fulfill their utopian perception of you. Conflicts arise when they are not always willing to interact with you and you fail to comprehend their desire for solitude revealing Marriage Predictions by date of birth.
Purva Phalguni and Purva Bhadrapada Nakshatra Career
Compatibility
According to career predictions, People from Purva-Bhadrapada can succeed in occupations that are exciting and offer a wide range of engagements. Although they are competent at producing money from any job they pick, they do need a certain amount of autonomy in their work.
A few examples of ideal careers are:
Entrepreneurial Reformer or revolutionary Detective or consultant Priest, monk, mystic, astrologer, or psychic.
Purva Phalguni and Purva Bhadrapada Nakshatra Friendship
Compatibility
You instantly warm to Purva Bhadra because they are friendly, giving, and loving. They are content with you managing your relationship.
Purva Phalguni and Purva Bhadrapada Nakshatra Sex
Compatibility
A lion's sexual representation of the Purva Bhadrapada Nakshatra explains why it is violent. It comes across as a little bit forceful and domineering sexually. Natives of Purva Bhadrapada rarely treat their mates with charity, compassion, or respect. They enjoy controlling them.
Positive Impact of Purva Phalguni and Purva Bhadrapada
Nakshatra Compatibility
Natives of Purva Bhadrapada are frequently inclined toward religion. However, they frequently look for the core of religion and may not place as much emphasis on ceremony or dogma. They abhor hypocrisy and shallow ways of thinking. They are academic, and bright, and use these qualities to forge their own paths in life.
Your way of living is autonomous and quirky. This adds interest to your life, however, it could also make your journey more challenging than that of those who merely travel the well-traveled path.
Negative Impact of Purva Phalguni and Purva Bhadrapada
Nakshatra Compatibility
Natives of Purva Bhadrapada may lose their resolve when faced with uncertainty. This is a result of their propensity to question their own talents and innate dread of failing. Instead of viewing the experience favorably after losing, they could get irate and frustrated.
You tend to remain to yourself, so it could be challenging for others to approach you. Your health and emotional well-being may suffer if you are unable to manage your stress levels. However, you may easily avoid the traps of your lower nature if you have the correct companions and mentors, as well as good physical and spiritual routines.
Conclusion
Your personal health will be great up until the age of 50, but from the age of 40 to 60, there will be troubles with the liver, digestion, skin, and eyes. You'll have a lot of energy and immunity when you're young.
Early on, some patients may experience tooth troubles and nerve concerns. The health of your family, though, may cause a lot of stress and difficulty in life. Your overall health will be excellent if you have good physical strength. Diabetes and acidosis are additional conditions that some people may have. Online Astrology Consultations are there to provide the required assistance.