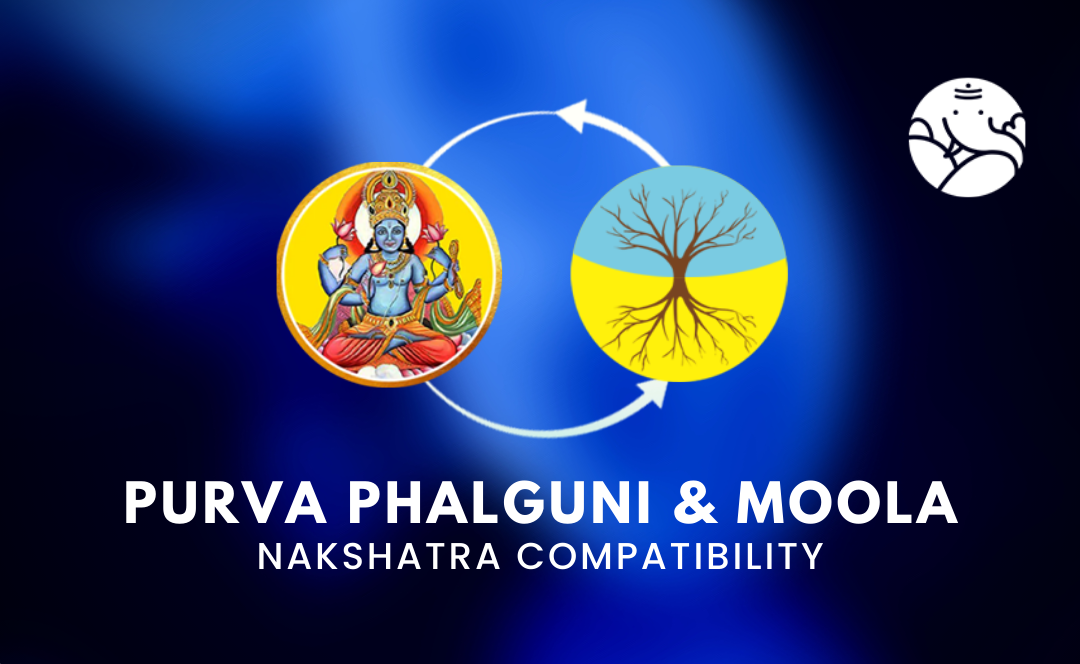 Purva Phalguni and Moola Nakshatra Compatibility
Moola Nakshatra is a tenacious Nakshatra that persists till its objective is reached. These folks pursue personal fulfillment and have their own set of traditions and ideals. They possess strength, ambition, pride, piety, and strong opinions. They enjoy solitude and dive deeply into everyone, everything, and every location they encounter. Moola's unpredictable nature, rage, adamance, and stubbornness are their negative characteristics. They frequently act in a way that leaves them in significant danger. They have the potential to be vicious, dangerous, and self-inflicting individuals. Because of their muddled state of mind, they are unable to make decisions and display instability, anxiousness, and a restless attitude.
Purva Phalguni and Moola Nakshatra Love Compatibility
It's challenging to keep a relationship going when Purva Phalguni doesn't comprehend your spiritual needs. You may easily intimidate the rat Purva Phalguni as a dog Nakshatra, and they can tease you predicting our Love Marriage Specialist.
Purva Phalguni and Moola Nakshatra Marriage Compatibility
You are drawn to their spiritual, liberated, and carefree way of life, but you soon want to adapt it to fit your needs. To discover their better selves, they require independence. If you try to control them, they'll get angry. They can get farther away over time. Gain their trust, accept them for who they are, and they will stick by you revealing Marriage Predictions by date of birth.
Purva Phalguni and Moola Nakshatra Career Compatibility
According to career predictions, researchers and investigators of all stripes.




politicians, litigants, and speakers.




those working in the medical field or in medicine.




officers and ministers.




individuals selling fruits, flowers, and roots.




those who propose opposing viewpoints, or contrarians.
Purva Phalguni and Moola Nakshatra Friendship Compatibility
Purva Phalguni is very different from you in that they are creative, entertaining, and party animals who are content to enjoy life to the fullest. They would share a deep bond of Friendship where both would enjoy each other's company. 
Purva Phalguni and Moola Nakshatra Sex Compatibility
A male represents the sexuality of Moola. This makes them a perfect fit in terms of physical compatibility for people born under the Purva Phalguni nakshatra.
Positive Impact of Purva Phalguni and Moola Nakshatra
Compatibility
Those with a Mula birth sign are disciplined and determined in their goals. Rarely do they concede loss; instead, they keep going until they succeed, despite all odds. Mulas is admired by many people who are moved by their bravery because of this.
You have a charming appearance, a curious nature, and a natural desire to study. You carefully analyze all of your alternatives and the effects of your decisions before making them in life.
Negative Impact of Purva Phalguni and Moola Nakshatra
Compatibility
Ironically, moola is sometimes ungrateful for the many blessings they do possess, insecure, have low self-esteem, and sometimes have destructive addictions. Keeping a thankfulness notebook is a strong habit with lots of advantages. It may significantly affect both your mental health and general well-being.
You have a shaky mental state and become easily upset by environmental factors. Your mental health may suffer as a result of your compulsive nature. You might be rude and sarcastic to other people. However, frequent self-care routines like meditation, journaling, and nature walks might help to offset these shortcomings.
Conclusion
Some people from Moola may eventually develop paralysis or TB. Young children who experience a great deal of agitation and emotional distress may develop blood pressure and digestive issues. When you get older, both of your eyes will have issues. Consult Online Astrology Consultations to lead a healthy and prosperous life.