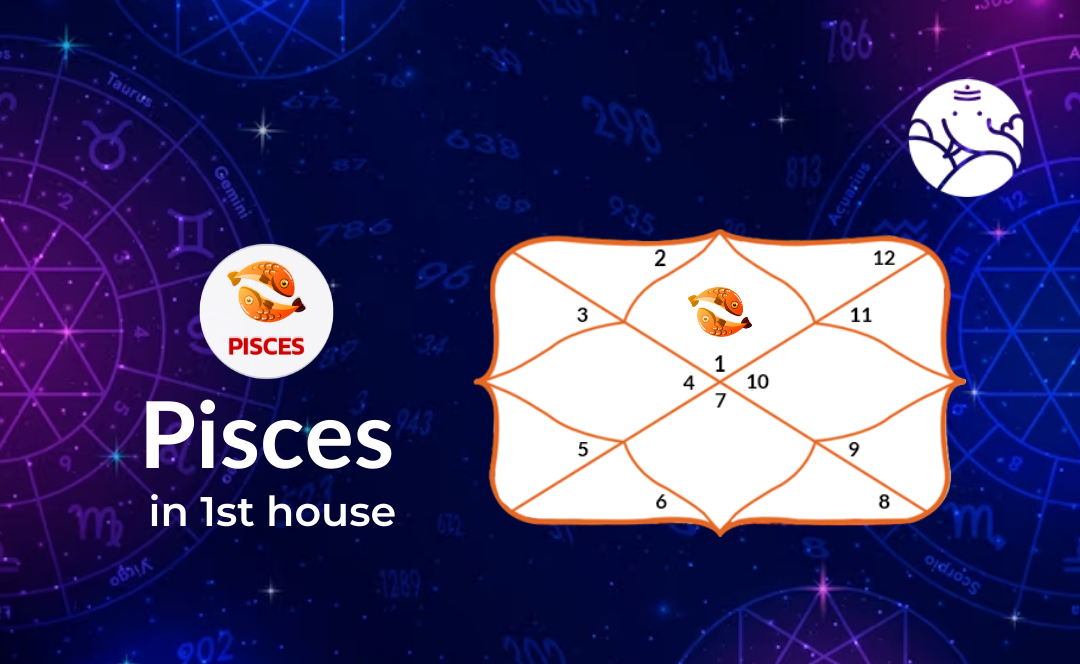 Pisces in 1st House
When Pisces is in the first house of astrology, one's personality and self-expression benefit from a mix of sensitivity, instinct, and empathy. People holding this position have a strong emotional core and an inner sense of being human. The first house represents the person, their physical appearance, and how they portray themselves to the outside world.
When Pisces is in this sign, people give off a dreamy, ethereal air, often enchanting others with their soft, sympathetic nature. They can have a strong sense of intuition and perception and are adept at understanding the emotions and impulses of those around them. Pisces in the first house give their identity spiritual and empathic qualities, which shape their outlook on life and their interactions with others.
Pisces in 1st House Astrology
A sensitive and empathic person with an intimate connection to the intellectual and psychological worlds is represented by Pisces in the first house of astrology. Thanks to this placement, they are more able to detect the feelings and impulses of individuals around them, which strengthens their intuitive abilities. They are endowed with a kind and gentle disposition that draws people to them and encourages lasting relationships. Their dreamlike and imaginative atmosphere shapes their identity, creating a magical aspect that draws people to them.
For those with Pisces in the first house, there may be difficulties, such as trouble setting boundaries and emotional exhaustion. Avoiding important responsibilities might result from an overwhelming desire to flee from reality. For those with this placement, online jyotish consultation can offer insightful guidance to help them traverse their emotional world and strike a balance between the material and spiritual parts of life. Pisces can harness their perceptive and empathetic nature, motivating personal growth and having a beneficial influence on other people's life by being aware of Pisces's potential difficulties and advantages in the first house.
First House Astrology
One's own identity, physical existence, and how he portrays himself to the outside world is represented by the first house in astrology. It is the abode of individuality and creative expression. People with significant positions in the First House have a strong sense of identity and are often perceived as strong and confident. His lifestyle, conduct, and external appearance are all influenced by this mansion.
It is determined by their physical characteristics, sense of design, and how they initiate. Their true personality is reflected in the first house, which sets the mood to interact with others. Through knowledge of the dynamic forces of the First House individuals can develop a deeper awareness of themselves and make conscious decisions about how they present themselves to the outside world.
Positive Effects of Pisces in 1st House
Having Pisces in the first house has several advantageous consequences. People with this placement have a rich reservoir of compassion, sensitivity, and intuition that permeates every aspect of their personality and expressing oneself. They radiate a kind and compassionate aura that draws people to them and fosters a secure environment for emotional connection. Thanks to their enhanced sensitivity, they can comprehend and empathize with the difficulties and feelings of individuals around them.
They can easily handle difficult circumstances and provide insightful advice thanks to their intuitive abilities. Their inventiveness, creative thinking, and spiritual maturity are all strengthened by the Piscean presence in the first house, allowing them to access their inner knowledge and establish a connection with the divine. Their empathetic personality uplifts others, making them optimal healers and mentors on the road to emotional and self-discovery healing.
Negative Effects of Pisces in 1st House
While having Pisces in the first house has numerous advantages, there can also be drawbacks to this placement. People who suffer from both of these conditions may have a propensity to lose themselves in their emotions to the point that they lose their sense of self and personal limits. Due to their extreme sensitivity and capacity for empathy, they may be vulnerable to manipulation of emotions or experience emotional overload from others.
They might also be prone to escape and turn to undesirable coping strategies like substance misuse or daydreaming. Sometimes Pisces's dreamy and romantic character in the first house can result in a lack of reality and difficulty making decisions. People in this job must develop appropriate boundaries and establish grounding practices to preserve their sense of self amid turbulent emotional currents. 
Conclusion 
The combination of sensibility, compassion, and intuition offered by Pisces in the first house is exceptional for enhancing one's sense of self and ability to express it. Although its location can have beneficial and detrimental effects, it gives people a tremendous awareness of emotions and an intense connection to the spiritual world. Pisces people are more empathetic, making bonding with others easier and establishing deep relationships. However, Pisces' dreamy nature can occasionally result in escapism or emotional overwhelm, making it difficult to maintain personal limits and reality. People with this placement can travel their path of discovery of themselves, motivate other people, and contribute compassion and healing to the world by embracing their intuitive skills, creating appropriate limitations, and grounding themselves.