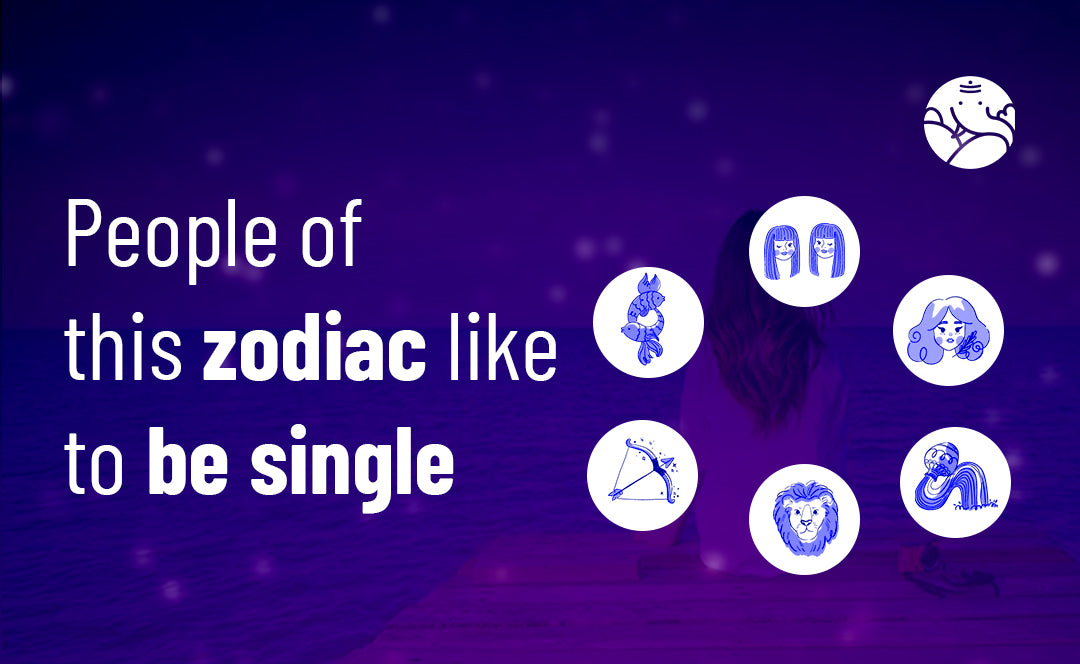 People Of This Zodiac Like To Be Single
It is one of the best feelings to be in a relationship. It gives you a feeling of being with someone. But this is not the only thing that defines a relationship.
Not everyone in life gets the same amount of love and romance in a relationship. There may come a time in life when a person cannot handle the pressure of a relationship and instead prefers to be single.
If we talk about zodiac signs or zodiac signs, then many zodiac signs believe in being single. In this article, I will talk about those zodiac signs who prefer to be single rather than in a relationship.
Gemini
People of this zodiac avoid getting into long-lasting relationships. He can control himself very well. It's not that he doesn't want to get close to someone but he tries to save himself from a lot of difficulties by finding a normal relationship. He is very moody. Recognizing his habits, he likes to be in such a relationship.
Leo
Leos are very dominant personalities, they always want to be at the center of attraction. They always love the limelight and whenever they have to share this limelight with someone, they are very choosy.
Their personality is always very charming which is why he always likes to be surrounded by people. They do not have a dearth of friends and this is the reason why they do not accept being bound in any relationship. Nor do they have any yearning for romance, but they don't like to compromise their popularity for the sake of it.
Virgo
According to Astrology predictions, Virgo people are amazing perfectionists. They believe in doing any work with perfection. They do not compromise with time management and their work. So, the chances of them thinking about a broken relationship or an unfinished love story are very less.
For a Virgo, their plans, goals, and ambitions are everything. This is what prevents him from living up to everyone's expectations. This is probably the reason why they prefer to be single than to be in a bad relationship.
​Sagittarius
Sagittarians value their freedom very much and they do not like any hindrance in the way of their unhindered freedom. It's not that they don't like the idea of love and romance, but they'd rather be single than be in a bad relationship.
Aquarius
Aquarius people are born independent and free-spirited. In such a situation, living with a commitment in a relationship rarely suits these people. It is very difficult for them to find their existence in a relationship. For them, the relationship is like a bond. Mostly it is like taking away the freedom of someone else to maintain one's feelings.
Aquarius people take a long time to build trust. These people cannot believe in the concept of romance and feelings. That's why they believe in being freer and more alive instead of being bound by a relationship.
Pisces
When it comes to love, Pisces are very indecisive. Pisces need attention and care and want others to value them. He will commit to you and show lots of affection towards you in happiness. But their downside is that they can get overwhelmed very quickly thinking that they don't deserve such a good partner, taking a small comment as a big criticism in their mind which often causes Pisces to walk out of the relationship. Start looking for a way.
Conclusion
Many zodiac signs in the zodiac always prefer to be single or take a long time before deciding to be with someone. The purpose of many people's life is to find true love for themselves and spend their whole life with it. At the same time, some people like to remain independent throughout their life. He does not want to keep himself tied to any one relationship. Many zodiac signs in the zodiac always prefer to be single or take a long time before deciding to be with someone.