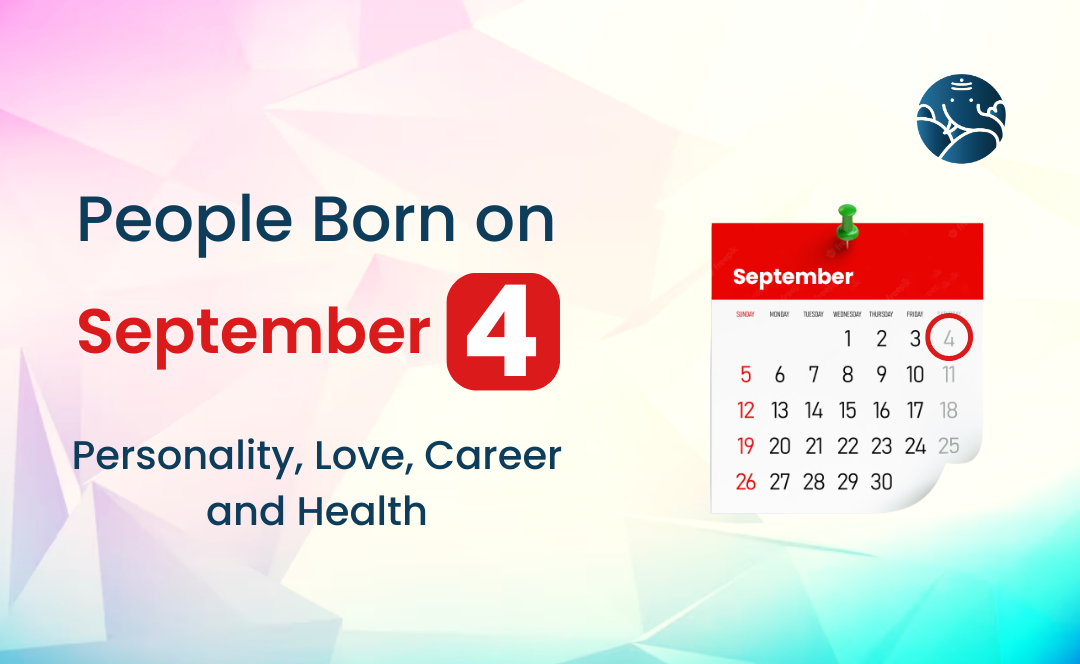 People Born on September 4: Personality, Love, Career, And Health
Those born on September 4th are self-confident people who can stand up for their claims without fear of being victimized. You are endowed with natural patience and hard work just as you are. You are very diligent at work and make every effort to ensure that everything you put your hands to succeeds. You are also a skilled planner who plans every event in such a way that failure will not reflect on it.
September 4 Birthday Personality
Those born on September 4th are not known for plunging into a difficult situation without finding solutions. Although you prefer to take the right path for a situation, you would not mind if it is safe to take shortcuts. How careful and highly disciplined you are. It is also the case that you are logical and a bit stubborn compared to other people around you. Another thing you are known for is your imagination which is enhanced by numerology. They'll be a perfectionist who expects people to be like them. You need to understand that people may not do things the way you do, and not everyone will be as organized as you are.
September 4 Zodiac Sign
The zodiac sign of a person born on September 4 is Virgo.
September 4 Zodiac Sign Compatibility
Well compatible with Taurus and Capricorn born on September 4.
People Born on September 4 Positive Traits
Those born on September 4th are endowed with a lot of positive traits that set them apart from other people. It is also the case that your positive qualities are the reason why you are considered one of the smartest people around. Your core strength lies in your methodical approach to life's issues. In addition, you are a friendly person who is kind and easygoing. Astrologically, you have an irresistible charm that people find very hard to resist. They are able to help the poor and the people around them. You believe that helping people will open the door to your success. Thus, it is expedient to be a helper to you as well as a motivator to others around you. You are a kind and determined person who always runs after what will bring him success in life. You also make sure that your family is stable and secure.
People Born on September 4 Negative Traits
Those born on September 4th are a worrisome person who worries about almost everything in the world, including trivial things. You also find it difficult to relate to people around you because of your aggressiveness. It is advisable for you to learn how to keep yourself away from your relationship with angry people as it enables people to hate you. The more respect you have among the people around you Ownership can be lost to you. Learn to be less possessive with the people around you; This will give them a chance to perform well.
People Born on September 4 Love
As per Love marriage astrology, those born on September 5th are sensational and affectionate lovers who are highly dependable and passionate about life. You always do everything possible to build a relationship where trust and love will be the order of the day. You are also attracted to an understanding and highly reliable lover who is as emotional as you are. Also, you want someone who can support and guide you in all your endeavors. Another thing you have to know is that whoever will win your heart must be someone with the ability to listen to you and accept you for who you are. You will seek fulfillment and peace in your relationship with your lover. Furthermore, you are most compatible with someone who was born on the 1st, 2nd, 8th, 10th, 11th, 19th, 20th, 28th, and 29th of the month.
People Born on September 4 Career
As per Career astrology, those born on the 4th of September will be sensual and affectionate lovers who are dependable. The one who will win your heart must be an understanding and reliable person. You are an emotional person who is helpful and original. You make sure you follow someone who is settled and stable. You are the youngest to fall in love with someone who can communicate and interact with different people. You are likely to be compatible with someone who is born on the 1st, 8th, or 10th of the month, born on the 17th, 19th, 26th, or 28th.
People Born on September 4 Health
As per health astrology, those born on the 4th of September are known to have good health but are less likely to fall sick. The disease you know is the result of your careless attitude toward your health. You are a workaholic and it is very difficult for you to relax. You're going to be taking in too many calories, which is capable of slowing down your metabolism. You are advised to reduce the additional mental stress that you are aware of. Try to stay healthy by visiting the dentist for regular checkups. Plus, exercise will help you reduce the stress and gloom you're known for.
Conclusion
Those born on the 4th of September are capable and patient individuals, who believe that honesty is the key to success in life. You are most likely going to choose a job that will make you wiser and kinder. Talk to astrology to know about the personality of the person born on 4th September.