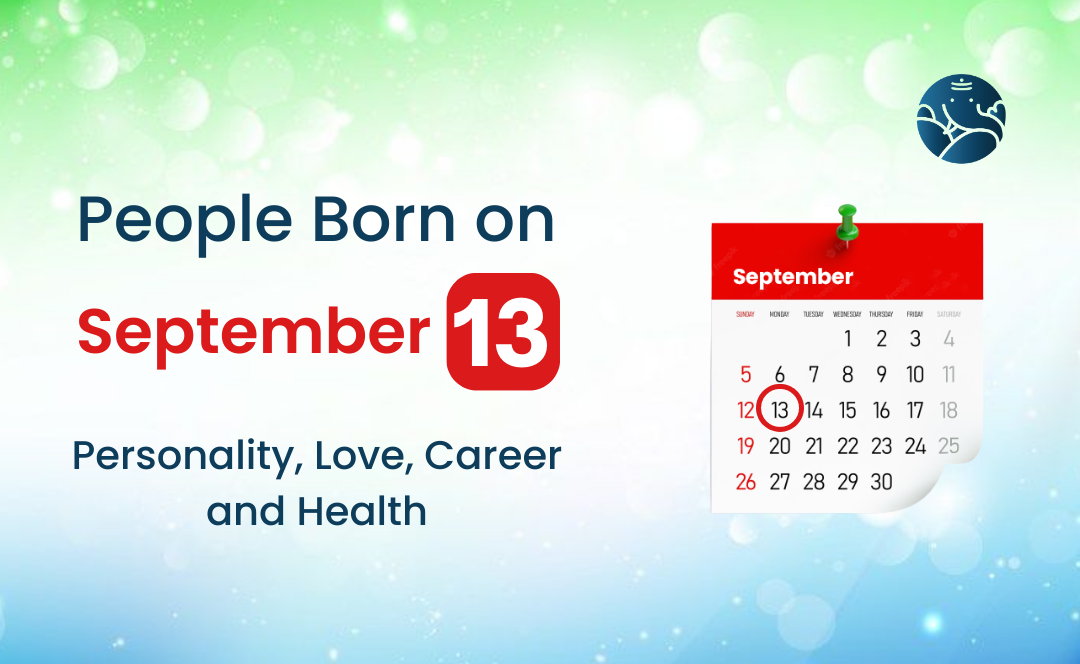 People Born on September 13: Personality, Love, Career, And Health
You find it easy to relate to everyone around you because of the sociable nature of those born on September 13th. You are caring, helpful and loving. The one thing that makes you different is your determination and passion. You are a determined and passionate person who often does everything possible to fulfill your goals and aspirations. Furthermore, you are a planner who is organized and caring. You are also a kind person who is not alienating your relationships with the people around you.
September 13 Birthday Personality
Those born on September 13 are going to be logical and intuitive person who is critical and hardworking. It is also the case that you are a bit stubborn and imaginative. Learn to make connections with the people around you and build a legacy that will never die for you. Another problem that you as a person born on this day are known to have is your tendency to be an autocratic and inflexible person. Try to listen to people's opinions about your plan because their opinion may be the kind of opinion you need to be successful in life.
September 13 Zodiac Sign
The zodiac sign of a person born on September 13 is Virgo.
September 13 Zodiac Sign Compatibility
Well compatible with Taurus and Capricorn born on September 13.
People Born on September 13 Positive Traits
You are loved and cherished by people as a result of the qualities possessed by those born on the 13th of September. It is the case that you are a quick-witted person who takes challenges to be a piece of cheese that can be easily brushed away. You often try your best to inspire and motivate people to do something that will make them successful in life. You are a philanthropist who always helps poor and wretched people to overcome their poverty. He is an honest person who believes in the essence of honesty in every relationship. Oftentimes, you brainstorm realistic ideas that can stand the test of time. Furthermore, you have a unique ability to turn your ideas into reality.
People Born on September 13 Negative Traits
Those born on September 13 will have a lot of negative traits that will most likely make them lose their abilities, respect, and the benefits their personality brings. You often get worried about small things because of your personality. Learn to take risks because sometimes this is the step towards success. You also need to learn how to be less frustrated with the way you treat the people around you. Do whatever you can to reduce the anxiety you are aware of. You cannot be successful if you keep worrying or worrying about things in life. You need to allow yourself to be a little predictable because you always seem to experience mood swings.
People Born on September 13 Love
As per Love marriage astrology, those born on September 13th are a highly dependable lover who is optimistic and intelligent. They have a high tendency to bond with their lover with love and care. In fact, you don't just fall in love; You always commit yourself to a relationship for which you believe that such a relationship is a good relationship that is devoid of lies and deceit. In addition, you will be attractive to emotional and vulnerable people to whom you can provide your support and care. You most likely won't be a party freak type, but you do often have fun. You are also going to be a loving person who can only fall in love with an altruistic and passionate person. Falling in love can be a difficult test for you because you always want to study the kind of lover you have before committing yourself to a relationship. Those born on the 1st, 8th, 10th, 17th, 19th, 26th, and 28th of the month are favorable for you.
People Born on September 13 Career
As per Career astrology, those born on September 13 know that job prospects are numerous. It so happens that you are going to face a lot of difficulties in choosing a job that will make you successful and respected. You are going to have a long list of job history as a result of your pursuit of a good job that will be satisfying. Apart from this, you believe in helping the people around you, especially the poor. Thus, you pursue a position so that you can help the poor around you.
People Born on September 13 Health
As per health astrology, It is your health that will make the person born on September 13 successful in life. Good health is an essential condition for a successful career. If you are in poor health, there is no way for you to perform well as an individual in your chosen career path. In such a situation, you need to pay maximum attention to your health. You need to make sure that you are in good health and that is free from stress-related health problems that you are prone to. You're a workaholic who doesn't always take rest or naps. You are advised to rest or sleep to give your brain a chance to rest and prevent accidents. Also, you are advised to eat as per WHO regulations to avoid slow metabolism.
Conclusion
The intelligence and creativity of those born on September 13 will be your greatest assets at your workplace, as you often use them to brainstorm good ideas. To know more about the nature of those born on September 13, talk to astrology.