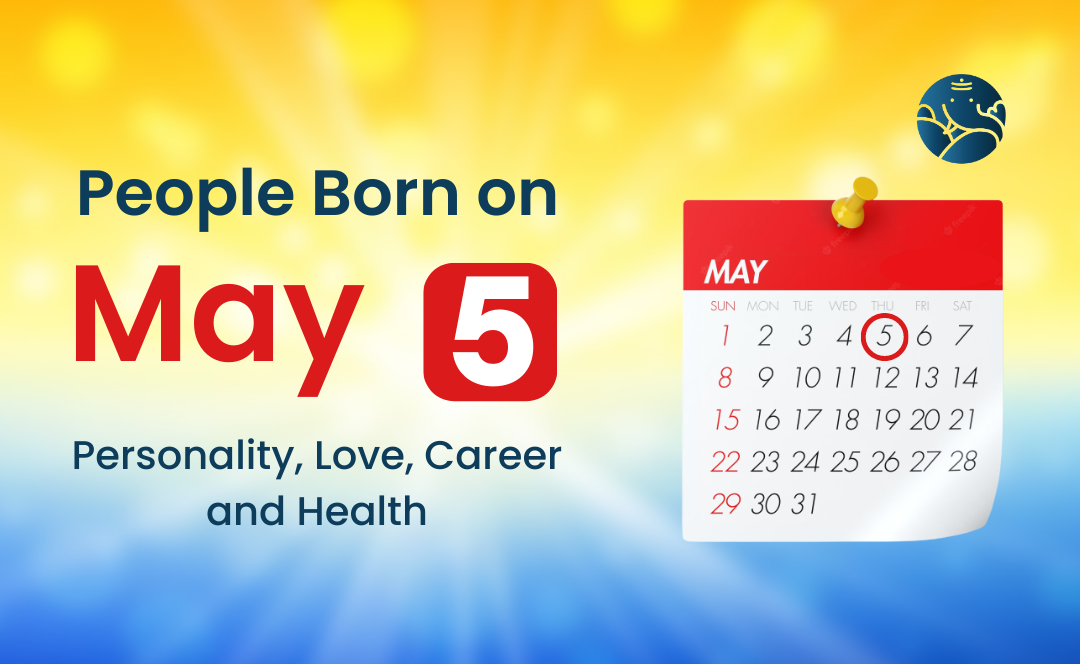 People Born on May 5: Personality, Love, Career, And Health
Those born on May 5 are freedom fighters and freedom-lover who pride themselves in their headstrong and passionate ways. They are very creative and intelligent in their approach to things. He is also a very creative person who is always up for challenges. You are stable and also a good listener who understands and listens to people's problems. You are good at analyzing what might happen to someone in the future and always try your best to prevent any bad thing from happening to such a person.
May 5 Birthday Personality
You have an affable spirit that is naturally determined. You are always ready to fulfill the promises as a result of your determination. You reveal a very active and hardworking person. It also reveals someone who understands the world and always makes sure that they manage their time well. You are work-oriented and have lots of life experience. You also have a friendly and personable personality which gives you the ability to stay calm and composed even when agitated. Another thing that sets you apart is your detachment from the world. They are very idealistic and loyal to the people around them, especially their loved ones.
May 5 Zodiac Sign
The zodiac sign of a person born on May 5th is Taurus.
May 5 Zodiac Sign Compatibility
Born on May 5 is favorable to Scorpio.
People Born on May 5 Positive Traits
You are very energetic and loyal to the course of the people. You are always ready to hold a secret and stand by it without considering the consequences of doing so. In fact, you find yourself passionate about things and existence determined to succeed. You have an invincible nature that is irresistible as a result of your charm. They are always ready to overcome any obstacle that comes their way. You have always known, it is your unique approach toward life that enables you to convert opportunities into your success. You are always going to allow anyone to change anything that you believe in and want.
People Born on May 5 Negative Traits
What your personality is known for includes your tendency to be a perfectionist who will always set a high standard for people. Oftentimes, this high standard is too high for any personality. When this standard is not met, you become impulsive and aggressive. It will help if you try to understand that not compromising on your stand is not the best thing in life. Sometimes, the best thing that happens is when you understand people's plight and change your stand because of it. It is easy for you to get involved in something irrelevant. You are prone to order and command people for your own self-interest. You should also keep in mind that work and health are two things that go hand in hand when given a chance to relate to each other. Learn to use your goodwill to make others happy.
People Born on May 5 Love
As per Love marriage astrology, Your personality says that you are a loving person who would like to make it real. A focused person who is always ready to do whatever it takes. Your heart is won over by someone who is very free and independent. You are always ready to be cool and calm in your relationships with others. Most compatible with those born on 1, 6, 9, 10, 9, 10, 15, 18, 19, 24, and 27.
People Born on May 5 Career
As per Career astrology, those born on May 5 have a passionate and unique personality that gives them the ability to fight against injustice. You are an eloquent person who has a good understanding of the people around you as you are often able to solve some of their problems. You have the determination and passion required to be successful in life. You're great at what you do, and you're always ready to bask in the sun. You don't always settle for a low-paying job. In fact, you don't always care about the type of job. A job is as tempting as it is. You are very curious and always ready to use the accumulated energy for your business. You can make people in your favor with your good communication skills. You will be a lover of money who is not always ready to part with his money.
People Born on May 5 Health
As per health astrology, your personality gives you strong health, which is hard for disease. You do not fall ill easily because of your good health. However, you have a high tendency to get stressed and stressed because of your inability to take care of your health. They should be mindful of the food they consume. Excess calories are not good for your health; They can lead to obesity, which is dangerous for your health. It is also advisable for you to take serious rest to reduce the stress you are under. You will be a better person free from mood swings or stress if you exercise regularly.
Conclusion
Those born on May 5 are imaginative and passionate as a result of this connection with their element. Like your health, you have a high tendency to be conservative. Brace yourself and run away from any situation that would point towards conservatism. Talk to astrology to know about the love life of those born on 5th May.