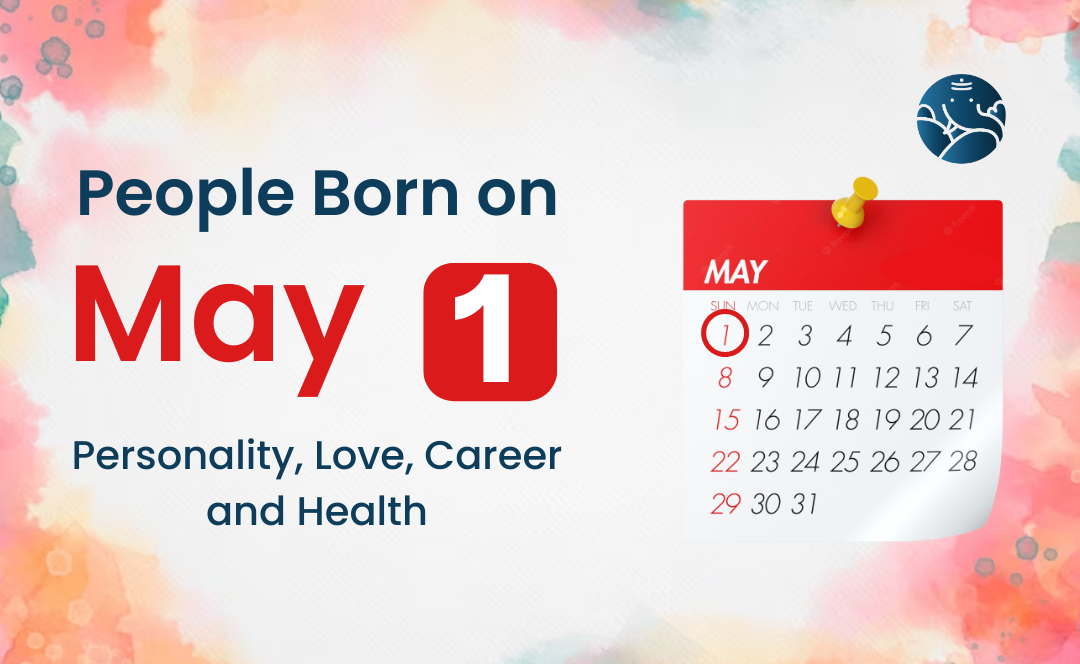 People Born on May 1: Personality, Love, Career, And Health
Those born on May 1 are practical and charming people. You also have great social skills, which makes you quite approachable among people. You are very good at communicating with people because you connect well with nature and your natural endowment. Your natural charm also enables you to control the people around you. You are a lover of beauty who does not know how to control impulses. You have a caring and persistent nature, which is considered to be your greatest potential.
May 1 Birthday Personality
Those born on May 1 are strong-willed and stubborn with their approach to the things of the world. You are full of enthusiasm, vigor, and energy to succeed in life. It is also the case that you possess intelligence and emotion, which are always combined to make a gentle and rational creature like you. You possess a strong personality that is wrapped up in a charming nature. Also, you have a practical nature of life and approach towards things. You tend to be temperamental in your approach toward things. It is because of their impatience and restlessness. You have an insightful and humorous nature that sets you apart as a romantic partner among others.
May 1 Zodiac Sign
The zodiac sign of a person born on May 1st is Taurus.
May 1 Zodiac Sign Compatibility
Compatible well with Capricorn born on May 1st.
People Born on May 1 Positive Traits
The strengths of a May 1 Born body cannot be overstated, and it is clear that you have many positive traits. Also, you have a special nature, which proves that you have a lot of positive traits. You are energetic and take care of your personality. You are also humorous and rich in calmness and realism. You are easygoing and gentle in your behavior.
You tend to be very loyal and loyal to the people around you. You appear to be affectionate because of your good approach toward matters of life. Furthermore, you are dependable and always try to get things done. You hate problems and work hard to solve them. Your hard work will ensure that you are successful in life. You have great bravery and intelligence, which makes it easy for you to express yourself. You often make sure that you express your love to the people around you and make sure that you equip them with the best things in life, which are care and happiness.
People Born on May 1 Negative Traits
Those born on May 1 are stubborn and inflexible people. Your weakness is also related to your persistence and your tendency to be perfect all the time. In fact, you are a perfectionist dressed in the clothes of a hard-working person. Oftentimes, you become emotional and too stubborn to listen to what people tell you. Also, you have some kind of difficulty in making decisions because of your indecision.
You are very lazy and try your best to avoid any kind of obstacle. If possible, you will go to the extent of piling up your problems and obstacles. You must learn to compromise less and clear your heart of complex issues. Also, try to be less upset with things; It will only bring you down emotionally.
People Born on May 1 Love
As per Love marriage astrology, those born on May 1st are committed to their love. They are caring and loving and always ready for a serious relationship. You are very creative and always ready to ignite your relationship with love. You want a relationship that is alive and full of fun. You often seek out people who you can lovingly spoil and protect at the same time. In fact, you tend to be very loyal and dependable because of the relationships you have with the people around you. You are full of independence and individuality and always easily let them reflect in your relationships. Dates 4, 6, 8, 13, 15, 17, 22, 24, 26, and 31 are favorable for you.
People Born on May 1 Career
As per Career astrology, your many talents and abilities are essential to your success. You have a greater potential to succeed and overcome any kind of obstacle that comes your way. Job choices are a bit tough for you, but you often choose jobs based on the financial incentives you earn. You also go for jobs that pay well and better, irrespective of the number of hours required to be spent. You have a charming nature and the ability to turn opportunities into success. Often, you manage your money to such an extent that you make double what you have. They are good at keeping money and managing your finances; Thus, running into financial trouble is not your cup of tea. There are many businesses that you can venture into, according to which customer service is one of them.
People Born on May 1 Health
As per health astrology, you have good health that often clouds your thinking, making you feel like you've arrived, and you should be able to learn how to combine sensitivity with the way you relate to your health. This help Would if you didn't try to make your life more complicated than it already is. Stick to the simple persona you are known for. You should make every effort to work on your lifestyle and adopt a lifestyle that makes you healthy by exercising and eating good food. The more you exercise yourself, the less you are prone to any disease. It is also advisable for you to always be in touch with your dentist to help you with your decayed tooth. There is also some weakness in your throat and voice; Always be alert.
Conclusion
You will be more realistic and well-grounded in your approach to life towards the things of the world. You are a judicious person whose rationality can make you lose your mind. They are persistent and determined as a result of their element. You are also a headstrong person who always chooses to stand on your own feet instead of compromising with others stand. To know more about the personality and love life of a person born on 1st May take an Astrology Phone Consultation.