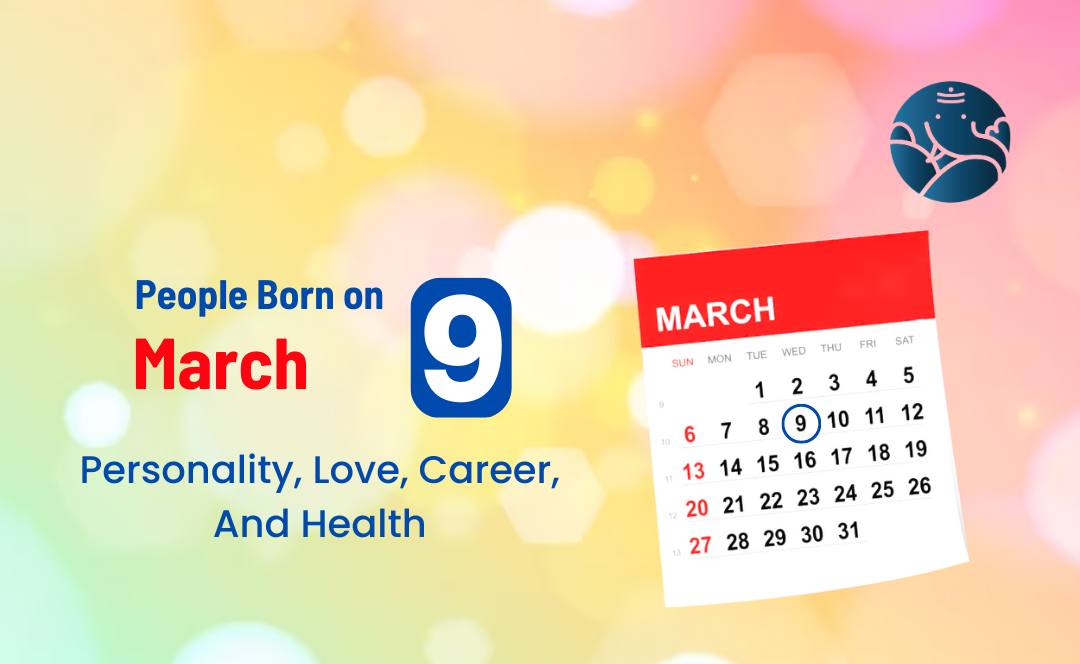 People Born on March 9: Personality, Love, Career, And Health
Those born on March 9 will have a better chance of being successful when they know the predictions. You are creatively endowed with a strong imagination. You have a way of overcoming any challenge without any problems. Many people often take you as a mind reader because you often know what is wrong with people. It so happens that when you find out what is wrong with people, you are not idle; You often find a way to help them. You have a charming and kind nature and always look for ways to help people even at your own expense. People born on march 9 is a sensitive person who loves self-sacrifice for the betterment of the world.




March 9 Birthday Personality
This number reveals a character who is very eager to change the world with his innovation. It also shows a humanitarian who is basically ready to fight for the people. Furthermore, it shows that you are a progressive, creative idealist.

You are blessed with the ability to better relate to the world and see beyond the world. Another thing that you possess is the ability to separate the good from the bad. Although you know how to tell them apart, you don't understand how to apply the differences. You tend to isolate yourself from social settings, especially when scolded. Find your enthusiasm and interest, and find yourself in the euphoria of the peak of your energy. You are careless about your behavior, thoughts, and choices most of the time. It is also the case that nervousness and indecision are not far from you. It is the result of your confused life ways that arise from your relationship with water.
March 9
 

Zodiac Sign

 

The zodiac sign of a person born on March 9th is Pisces.

 
March 9
Zodiac Sign Compatibility
Born on March 9 is favorable to Taurus and Cancer.
People Born on March 9 Positive Traits
Those born on March 9 have a sense of fulfillment and love. You are a person who keeps an eye on spiritual things. Also, you have a deep acceptance of world conditions and are well nurtured according to March 9 personality traits. Often creatively there are many methods devised that can help overcome a particular problem. Talking about your manner of speech, you have a special way of putting your words. Your special manner often gives you an edge over others in the subject of persuasion.

You believe that the world will be meaningful only when people are ready to embrace peace. You will do your best to ensure that peace reigns in the universe. Most of the time, you find beauty in them. Talking about your behavior, you have an altruistic and kind demeanor that allows you to help others even without any reward. You are generally honest and loyal to the people you meet. You don't just do any work, and you often make sure that you maintain your innocence.
People Born on March 9 Negative Traits
Your negative characteristics are capable of overpowering your positive qualities, and you need to learn how to suppress them. You must do your best to fight any alienating feelings in your heart. You tend to isolate yourself, especially when you are sad or scolded. You are prone to be gullible and will give others a chance to rely on your stupidity and get some benefit from you. You have a contradictory demeanor that makes you very unpredictable and unreliable, despite your loyalty and dependability. You can be very indecisive and fickle about things. Your over-sensitivity towards things often allows you to get hurt easily and thus increases your chances of getting frustrated.
People Born on March 9 Love
As per Love marriage astrology, Those born on March 9 cannot be separated from love at all. March What You Need to Know It is true that pain is inevitable in love, but love is not only about pain. Love is about trust, caring, commitment, and compassion. If there is commitment or trust in your relationship, you will have no trouble in love. You are someone who is very eager to love but hesitant to trust or commit. You are always on the lookout for the right energetic person with emotional stability. Your volatile energy constantly makes your search for someone with a lot more energy. Your relationship/marriage will be happy and beautiful, and at the same time, you will have a high tendency to create sourness in your relationship. Your compatibility is based on those born on the 3rd, 5th, 6th, 12th, 14th, 15th, 21st, 23rd, 24th, and 31st. with any person taking it.
People Born on March 9 Career
As per Career astrology, You are so endowed with talent and intelligence that people often approach you to take work from them. Your intelligence and creativity allow you to think out of the box to find a quick and easy solution to a problem. Nothing is a challenge to you; Even you are challenged to insurmountable challenges. You often go for a job that will give you a chance to showcase your abilities.

You don't want your potential to be hidden or undeveloped. Thus, you go to new ideas and information for the development of your abilities. You are well aware of people's suffering, you are always eager to be their advocate to fight for them. Also, your awareness of the problem may lead to a fight, you are always ready to be a mediator. You are an accomplished and tenacious negotiator who can make a successful and favorable bid. You know how to earn money, but you do not know how to spend it carelessly. You often consider the problem you go through while earning money before spending it. You are a good financial manager.
People Born on March 9 Health
As per health astrology, your intelligence and ability to overcome any challenge attract people to you and always keeps you busy. You become a workaholic who will not consider rest or food while working. Most of the time, you complain of back pain and headache and your health because of your restless nature. You are at risk of getting a particular disease since childhood. Thus you need to get a family doctor who will always treat you.

You are very prone to nervous system problems, and you get scared easily. Try to run away from anything that causes you depression as it can lead to insomnia. It is the case that you are not addicted to exercise; You need to get at least some exercise. Exercise will help you calm your soul and nerves. You will also be less stressed and depressed with your continued practice.
Conclusion
Those born on March 9 are very kind and caring. The cause of your connection can go a long way in helping others. However, you are a little distant and narrow-minded from the world. You often land on your feet with your position. You can also become aggressive when you realize that you are not being led. Overindulgence or mortification can also be one of your negative characteristics. If you want to know more about the person born on March 9, then talk to astrology.