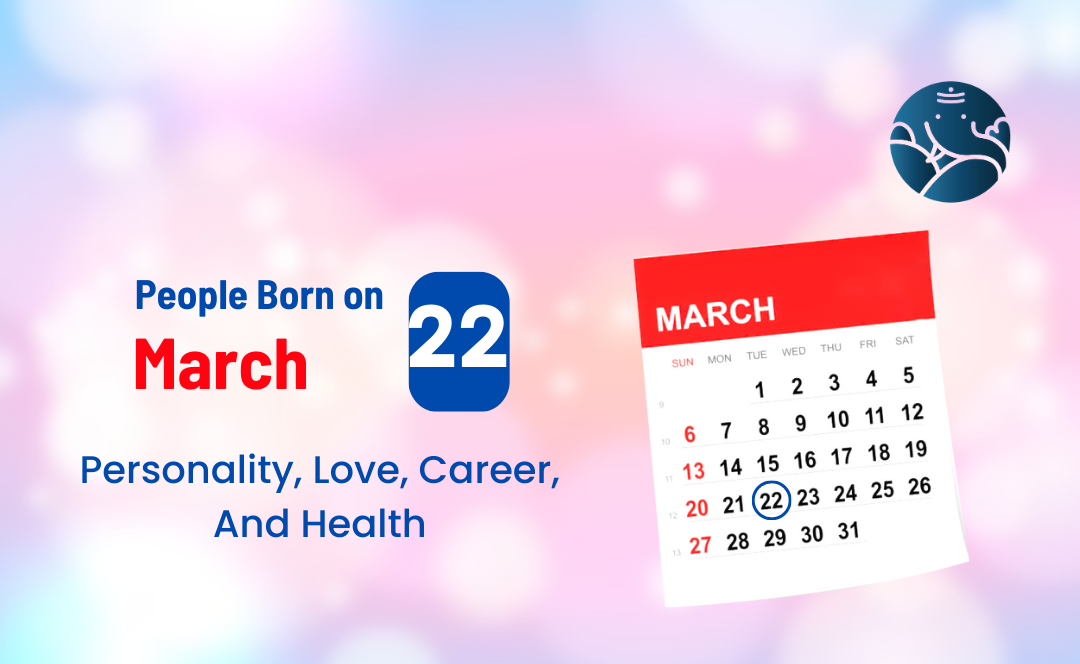 People Born on March 22: Personality, Love, Career, And Health
Those born on march 22 are risk taker who doesn't care what kind of risks it may lead to, such as the amount of money that can be gained from it. No wonder you always look at the bright side of an issue in every situation. The person has possessed a high sense of logic, stubbornness, and self-confidence. You are a skillful and forever self-confident person ready to stand up for justice. It also happens that they are very critical of things and hardworking.





March 22 Birthday Personality
Do not mind the things born on March 22, even if they are bad. He is a strong and stubborn person with powerful determination and excellent management skills. They believe that innovation is one of the ingredients of success. Thus, you introduce innovation into your businesses. It will help if you always try not to be mean to people again. Learn to respect their personality as well. They are human like you. Also, you are known to be a little overconfident about things. People who are far away from you think that you are arrogant, whereas it is quite the opposite.
March 22 Zodiac Sign
The zodiac sign of a person born on March 22nd is Aries.
March 22
Zodiac Sign Compatibility
Born on March 22 is favorable to Leo and Sagittarius.
People Born on March 22 Positive Traits
Honesty born on march 22 is what sets you apart from the people of the world. You are a passionate and determined person. You are very confident and can stand up to defend your opinion without any fear. They are very determined and creative with your skills. Thus, it is easy for you to destroy the problems and challenges. You are dignified in your ways and highly reliable and responsible. Gives you a chance to have a fairly large number of followers.

You may wish to chase and achieve your goal. You believe that your goal is your goal, and it is yours to achieve in spite of any adversaries. Also, you are known to always speak your mind for people to learn, understand and connect with. You are a speaker who inspires and motivates people to work for their country and society.
People Born on March 22 Negative Traits
You may lead to a depressing state of a life plagued by negative symptoms. Known to have some negative traits capable of bothering those around him. It bothers me when you find that people don't understand you when you become angry, resentful, and perhaps physically reprimanded. You can fake the truth. You are very domineering and proud in your way of life. March 22 baby is narrow-minded in your approach to things because you're always on your toes. This inflexibility of yours does not mean that you are always inflexible towards knowledge. You often get easily carried away by your victories and thus lose the grip of the present situation.
People Born on March 22 Love
As per Love marriage astrology, the impulsiveness of a March 22 Born person makes it a little difficult to find someone to date. You are a person who, with the awareness of his attractiveness, began to change relationships, like clothes. You are also prone to remain single for a long time as you engage in various works. Said to be always ready to help others. It will help if you have someone who will be ambitious and very determined in their approach to life. One is always attracted to a naturally attractive partner who lives their life with utmost fun and enjoyment. When you find someone you love, you will fall in love with the relationship. You will be methodical, dependable, and peaceful. Your compatibility is with people born on the 1st, 8th, 10th, 17th, 19th, 26th, and 28th.
People Born on March 22 Career
As per Career astrology, those born on March 22 need to know a whole lot as this is one rule that you must learn and learn thoroughly. Without learning how to choose a more suitable career, you will make the wrong choice in need of a career change. You don't just go after it, it will naturally give you happiness. You care about a career that is commensurate with the salary. Your confidence and logic can make you a lawyer or a politician.

They have a mind of their own and always respect seniority. It is the case that some of you are as career ambitious as most of you go after your hobbies. You can find commerce and business a successful catapult for you because of your ability to easily adapt to people and competitors. You find yourself in a research or task that requires analysis because of your analytical skills. Furthermore, you are often tasteless about money as you are an impulsive buyer who is always on the lookout for bargains.
People Born on March 22 Health
As per health astrology, there are not many known health problems for those born on March 22nd. You seem to be an active person who often takes his health issue lightly. You find it very difficult to relax your nerves and having some emotional turbulence can go a long way. Also, it will help if you learn to keep your anxiety down. Save yourself disappointment or a heart attack by not expecting too much from people. You should always consider food that will provide you with energy to avoid any metabolic hiccups. You should always try to reduce your sugar and fat as you are a high consumer of fat and sugar.
Conclusion
Those born on March 22nd are always filled with a strong desire to do what they want to do at a fast pace. You're passionate and determined to make it happen. Your energy can sometimes get you into trouble; You need to know when to hold back when you are passionate. There is always a thin line between impatience and obsession. You are most likely to succeed because of your burning desire and determination. If you want to know more about the career of the person born on March 22, then talk to astrology.